Holiday makeup 2018 is here!
I know, it's only mid-October, but obviously all the holiday items are launching already. I am preparing a few Holiday 2018 wish lists for Y'all, and they will be ready the first or second week of November. But today I wanted to share holiday makeup 2018 because I have no clue how long these goods will be around.
Just prior to the holiday collection launch, I found a great article on the Mamavation website titled, "The Ultimate Non-Toxic Multi-Level Marketing (MLM) Investigation." In the post, she breaks down the MLM's ranked from bad to best from a non-toxic standpoint. Only one company shocked me for being on the "bad" list. The rest were quite obvious.
Beautycounter was in the best (green) zone. It always is, and as long as it stay there, I will continue to use, support, and promote how much I love it with all of you.
I'll always stand for something. There are better ways for including everything from food to skincare in your life for living your best life. Okay?!
If you're ready for some holiday 2018 fun, here you go. The holiday sets sell out fast so whether you're buying for yourself or someone else, don't wait. If the answer is, "For myself," there is absolutely no judgements over here. I'm totally doing the same.
p.s. Heading into holiday is the best time to join the A Gutsy Girl Beautycounter team [6 reasons why HERE]. Not only will you receive the discount on all your own purchases, but you'll be able to share better beauty with friends, family, and co-workers while making money. And obviously working with me 🙂 Click HERE to learn more about joining us. CONTACT ME for any and all questions.
Holiday Makeup 2018
Click HERE to save this post for later.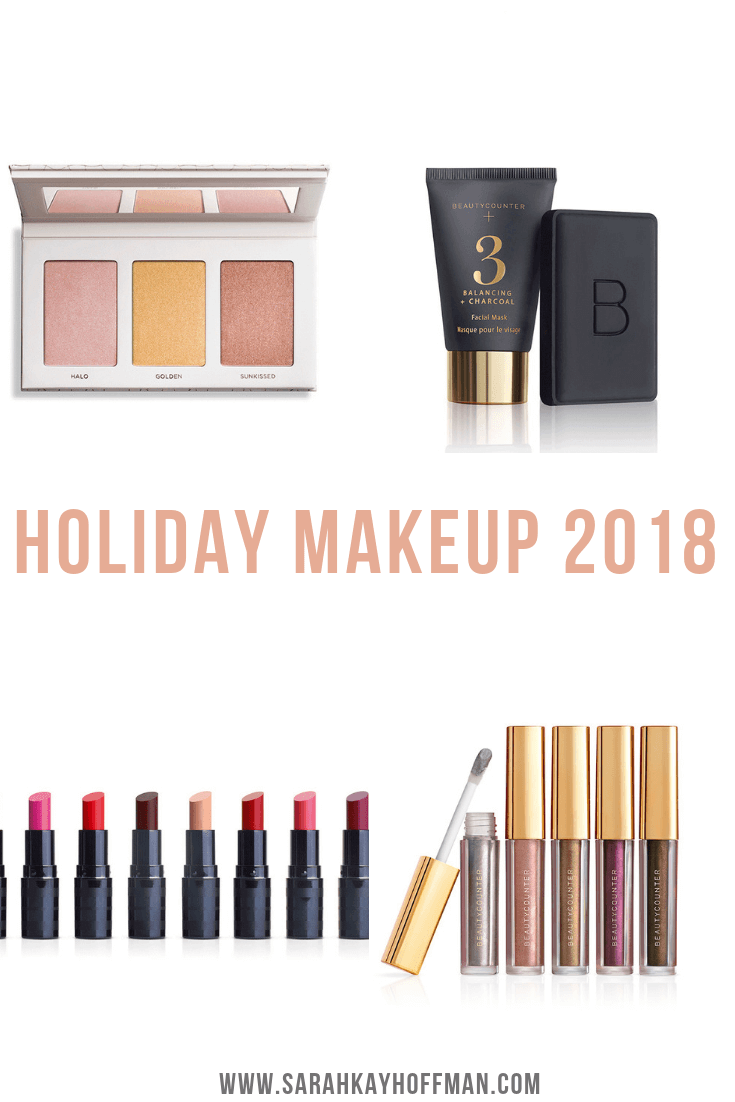 There are 19 holiday 2018 items (both makeup and skincare). They include:
Velvet Eyeshadow Palette – Iconic. It comes in an elegant gold-patterned compact includes a removable mirror.

Mini Color Intense Lipstick Vault. Includes eight universally flattering long-wearing shades, including five limited-edition hues ranging from nudes and pinks to berries and reds—providing on-point options for virtually any occasion.
Color Intense Lipstick Duo. Comes with two essential long-wearing shades, Boardwalk and Sunset. This duo features two full-size lipsticks that deliver rich color payoff, a moisturizing satin finish and a hint of mint.
Stardust Cream Eyeshadow Set. Five lustrous cream shadows with the perfect balance of pearl and sheen.
Mini Lip Gloss Vault. This 10-piece collection instantly delivers sheer color in shimmering and pearlescent finishes for utmost versatility—plus conditioning moisture and high-impact shine, all with no stickiness and a whisper of fresh peppermint.

Transforming Duo. The Transforming Lip Tint instantly delivers the ideal shade of sheer, customized pink color —while Crystal Gloss provides high-impact shine for a flawless finish. Both are infused with a sophisticated hint of natural vanilla.
New Nudes Lip Gloss Trio. The most foolproof gift: three flattering, new nude lip glosses that instantly elevate any look.

First Light Highlighter Palette. This palette includes the best-selling Halo highlighter and two new shades—Golden and Sunkissed—with a high-impact glow to instantly elevate any look.
Necessary Neutrals Eyeshadow Palette. This palette features 18 long-wearing shades designed to flatter all skin tones—the perfect gift for the beauty obsessed.

Glow & Go Mini Oils. The Glow & Go Mini Oils set contains our best-selling facial oil formulas in special take-anywhere sizes—the perfect stocking stuffer for anyone craving a gorgeous natural glow that helps brighten, plump and balance skin.
Instant Awakening Trio. I need this, and am getting it for myself! The Instant Awakening Trio is a must-have for revealing radiant skin, perking up tired eyes and creating an all-over glowing complexion.
Charcoal Essentials. The Charcoal products seem to be one of the "safest" places people are most comfortable with dipping their toes into the wide world of Beautycounter. And once they try the Charcoal, they are hooked. I have both of these, and love them. Holiday skin detox, delivered.
Best of Beautycounter. This is a set of four best sellers formulated to hydrate, purify, brighten and balance the skin—all sized to tuck easily into your toiletry kit, gym bag or work tote.
Special Edition Cleansing Balm. I have this in the original and am obsessed. This is a must-have Beautycounter item. Part nourishing daily cleanser, part makeup-melting balm and part replenishing overnight mask, this hydration hero is infused with nourishing oils for healthier-looking skin day and night.

Shimmer & Shine Body Set. Gentle exfoliation, nourishing moisture and a hint of bronzing shimmer leave skin smooth and radiant all over.
Travel Body Essentials. For anyone on-the-go. Travel-size versions of our popular Citrus Mimosa body products (hand wash, lotion, bar, and hand cream) tuck easily into a toiletry kit, gym bag or work tote for skin that's clean, soft and cared-for—anywhere. (Speaking of travels, if you don't already have it, grab my free Travel and Convenience Snack Guide to help guide you during the busy holiday season. It's complete with over 200 items.)
Holiday Hand Cream Trio. The perfect co-worker, teacher or hostess gift, the Holiday Hand Cream Trio delivers an instant boost of moisture that absorbs quickly for a non-greasy finish.
Counterman Travel Set. Don't you dare think we forgot about the men. I mean, mostly we did, but this is for them 🙂 This comprehensive kit includes travel-size versions of four men's skin care and shave essentials—all tucked into a sleek limited-edition dopp kit.
Splashtime Kids Set. And last, but not least, for the babes. Safer shampoo and soothing suds make bathtime a breeze—and the Splashtime Kids Set makes the perfect holiday gift for friends and family members with little ones. Set includes a jumbo shampoo, jumbo body wash and a generously sized hooded towel for good clean fun in the tub.
Band of Beauty
And there you have it, the holiday makeup 2018 guide from Beautycounter.
By the way, in case these products aren't available yet, it's because this year the Band of Beauty Members are being given exclusive access to the Beautycounter Holiday items.
What it means is that while everybody is able to look at the collection, only Band of Beauty Members can purchase them (until they officially launch). If you've ever considered this membership, now would be the time. Not only do Band of Beauty Members get free shipping on orders of $100 or more and 15% product credit, BOB Members have been given exclusive access to the all-new Beautycounter Holiday Sets.
As always, I'm here to help with any questions. If you enjoy all the Safer Skincare information, come join the Safer Skincare group on Facebook to learn all about safer skincare.
Xox,
SKH
You will heal. I will help.