It's been quite some time since I released The Gutsy Girl's Bible: an approach to healing the gut, 3.0 (the final version) which is ample time for me to be able to put together The Gutsy Girl's Bible 3.0 FAQ…..because I am asked questions weekly around the e-book.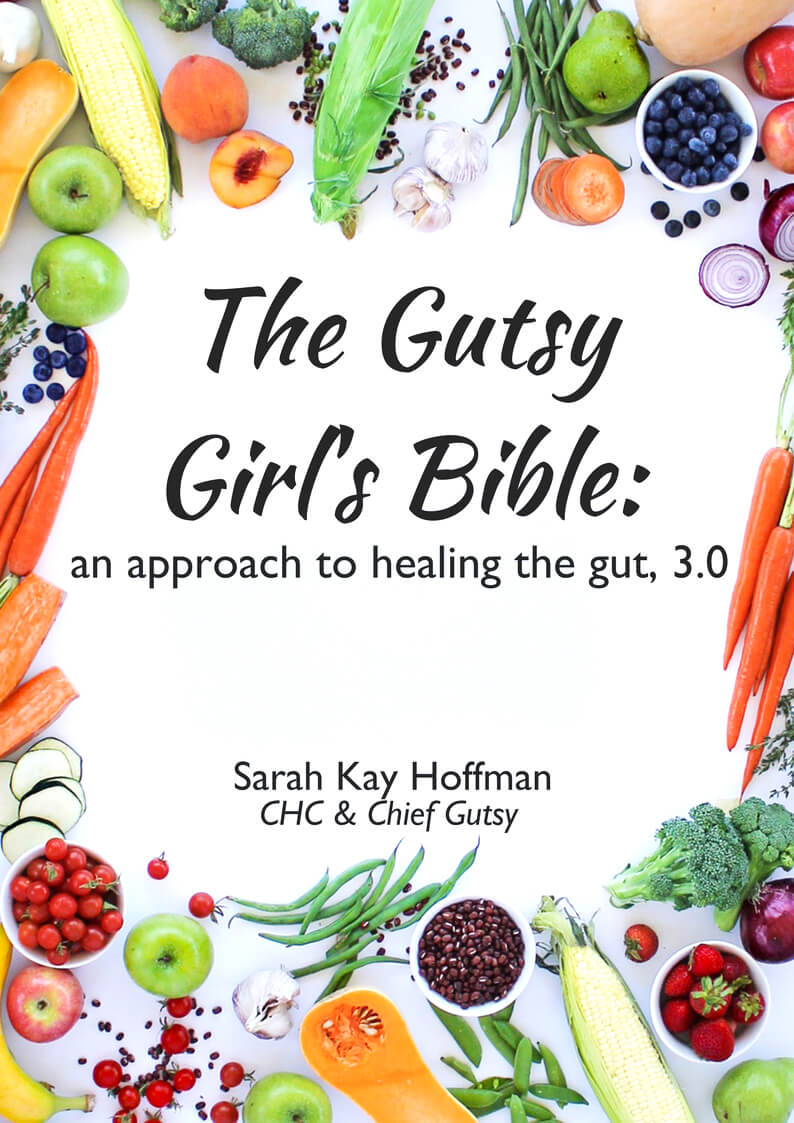 The Gutsy Girl's Bible 3.0 FAQ
Click HERE to save this post for later.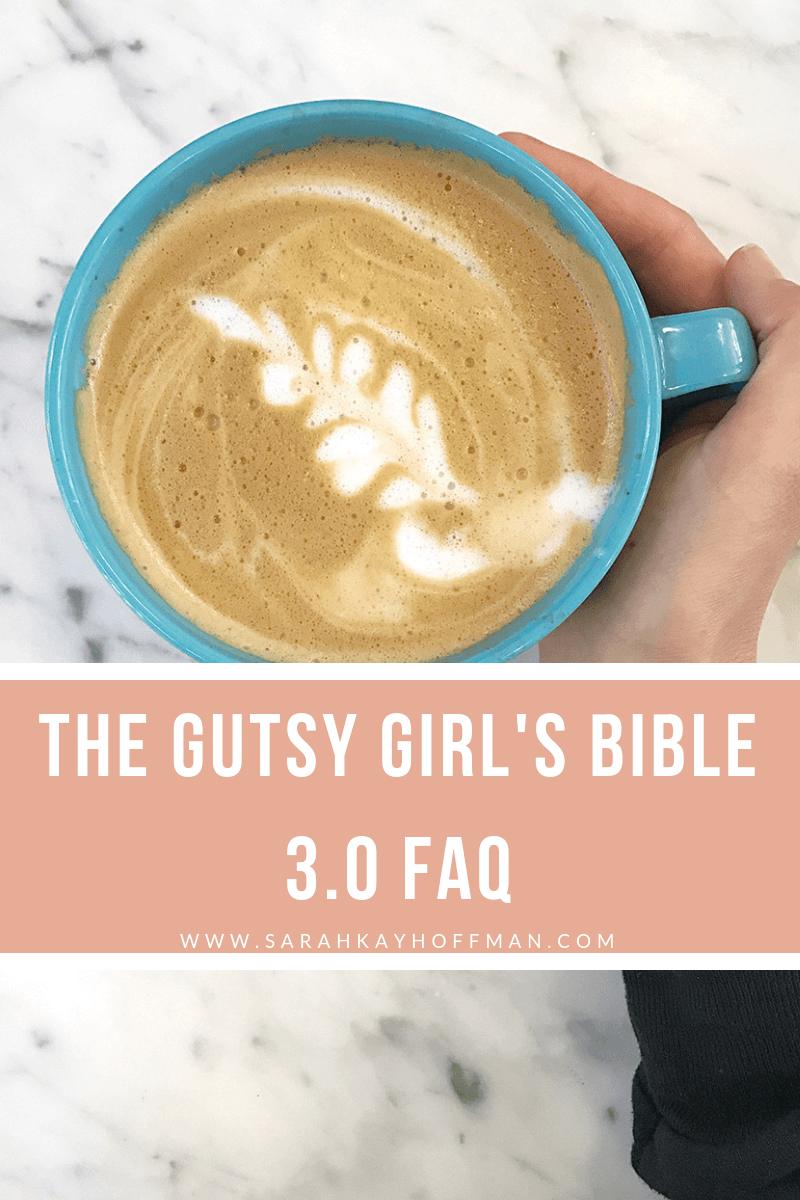 Can I purchase a hard copy of the book?
Unfortunately, no. At this time, the book is only available as an e-book. I would love to publish a physical book someday, though. BUT….I do have a hard-copy book now on the market. It's called The Leaky Gut Meal Plan and you can purchase it HERE. The Gutsy Girl's Bible makes the perfect pairing!
I ordered my e-book, but I haven't received it yet. How can I get it?
First, you should have received an email with your purchase. Check that email. There should be a link in there to automatically download the e-book. If that still doesn't work, please just CONTACT ME and I'll send it directly to you.
Is your e-book available in XYZ language?
No, unfortunately at this time, the book is only available in English.
Help! I received the message that I had reached my download limit. I didn't save it to my desktop yet. Is there any way I can still access it?
Make sure to download and save it right away. There is a download limit. If by chance you do hit the limit and forge to download, see above link to contact me and I'll send it directly to you.
What page is the Google doc where you put all your product recommendations?
It can be found on page 8. Click the link and bookmark it for all future references because the Google doc is super comprehensive including products I recommend for food, supplements, skin and body, kitchen items, and miscellaneous (with direct links for all).
How do I access all the free e-books you said come with the book?
This e-book comes with the following e-books for free: The A Loving Spoon Nut Butter Original Recipes, AIP Bread, Summer Eats, Treats, and Desserts, and The Travel and Convenience Snack Guide (see page 10 for how to download them free).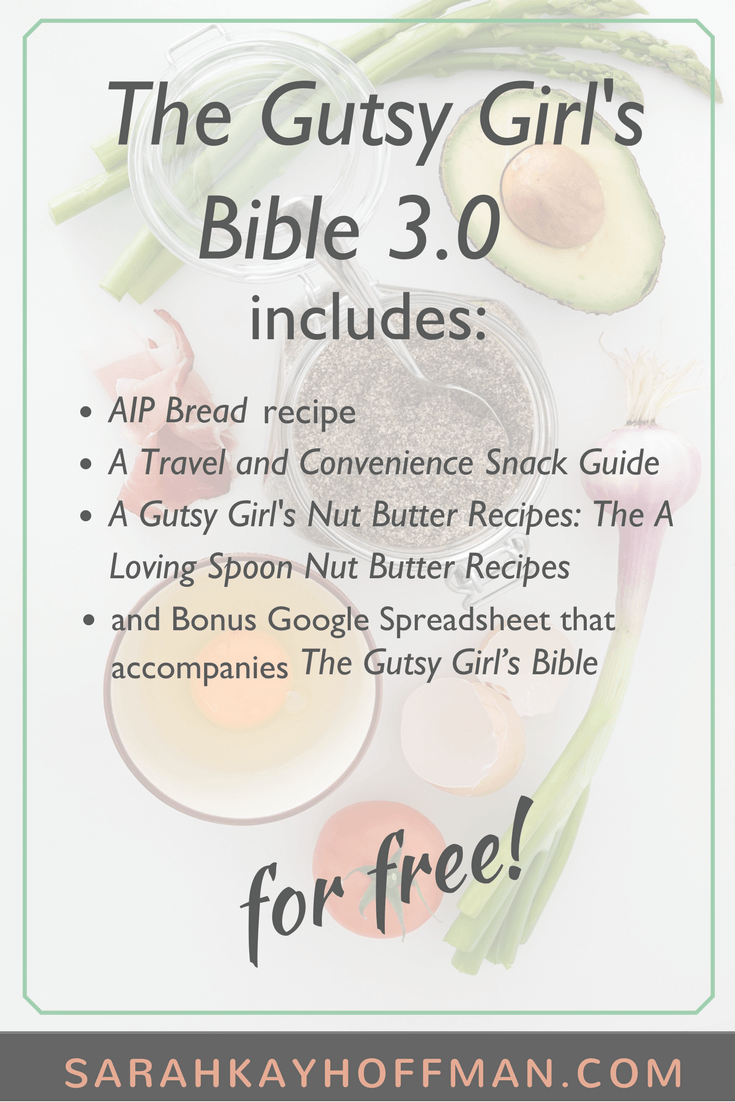 Why did you only charge $13.99?
…..and also I know some people think, "Why did you charge so much?" I settled on $13.99 because that's exactly what I charged for the 2.0 version. This way, it was no more than that and yet the 3.0 version would provide so much more. I had to charge $13.99 because this is my business. It was not free to produce and I spent hundreds of hours on it. But I did not charge anymore than that because I wanted it to be accessible to all. $13.99 is, literally, 2.25 high-quality lattes at your favorite coffee shop.
Will your e-book help if I have SIBO?
Yes, of course it will, but the entire 286 pages are not only dedicated to those with SIBO. The bulk SIBO section runs from page 236-268.
Can you share the Table of Contents so I have an even better idea of what's in the e-book?
Sure! Here you go….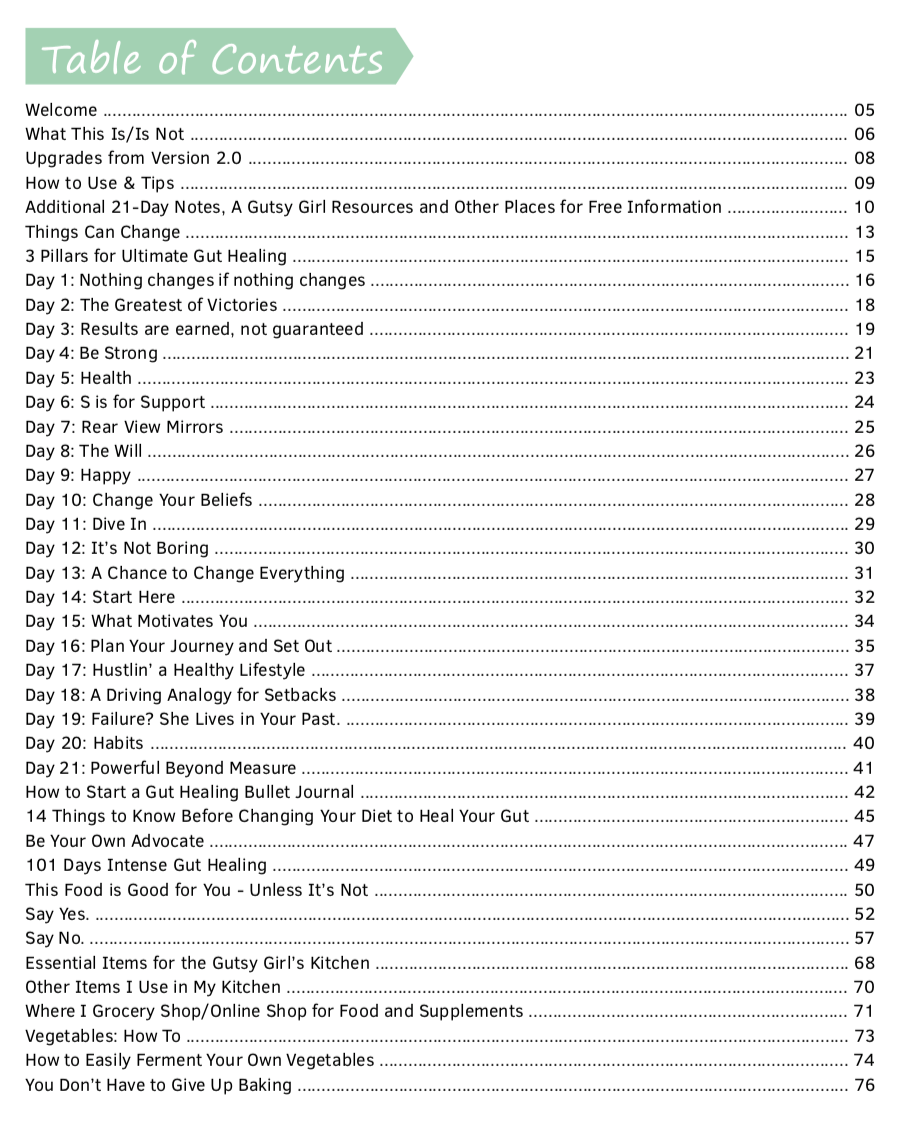 Did any brands pay to be in your book? If so, who?
No. I produced and paid for 100% of the content. No one paid for any spot or any part in it. This is how I am able to keep things 100% authentic.
Will this e-book tell me exactly what to eat each day?
No. This is not a food timing and/or a daily caloric intake plan (I do not lay out for you when to eat, how many times per day to eat and how many calories to eat. All of these things are very individualistic and depend on various factors). I don't believe that books which sell you on a 21-day meal plan to beat IBS/SIBO/Colitis/etc. are you doing you any favors because everyone is so uniquely different. That said, I do have massive food lists contained in the book.
If I wanted to create my own e-book, where do I start?
I get asked this question a lot. The very first place to start is to just write. It takes a really long time to research, write, and compile all your thoughts in one spot, cohesively. I did this via a Google Word doc. In all my free time (now you can see why it took forever to release – because "free time" is an oxymoron) I'd pop into that Google Word doc and just write and write and write…..
Will you ever come out with another e-book, even if it's not another version of The Gutsy Girl's Bible?
Yes, of course. I really want to finish my short e-book for the Instant Pot Bone Broth. I'm likely to just give Y'all that one for free, though. The next paid e-book? I don't know. Maybe you do? What would you love to have an e-book on as it relates to gut health and gut healing? Feel free to CONTACT ME to voice your awesome opinion.
Everything in your e-book made sense to me, but I'm wondering if you can help me drill down for my own, unique issues?
I used to offer 1-on-1 health coaching. It ended as of April, 2019 so I could focus on research and producing for the masses.
And that about wraps it up.
Don't have your copy yet? You can grab it HERE.
Have more questions? Comment below and I'll add them here!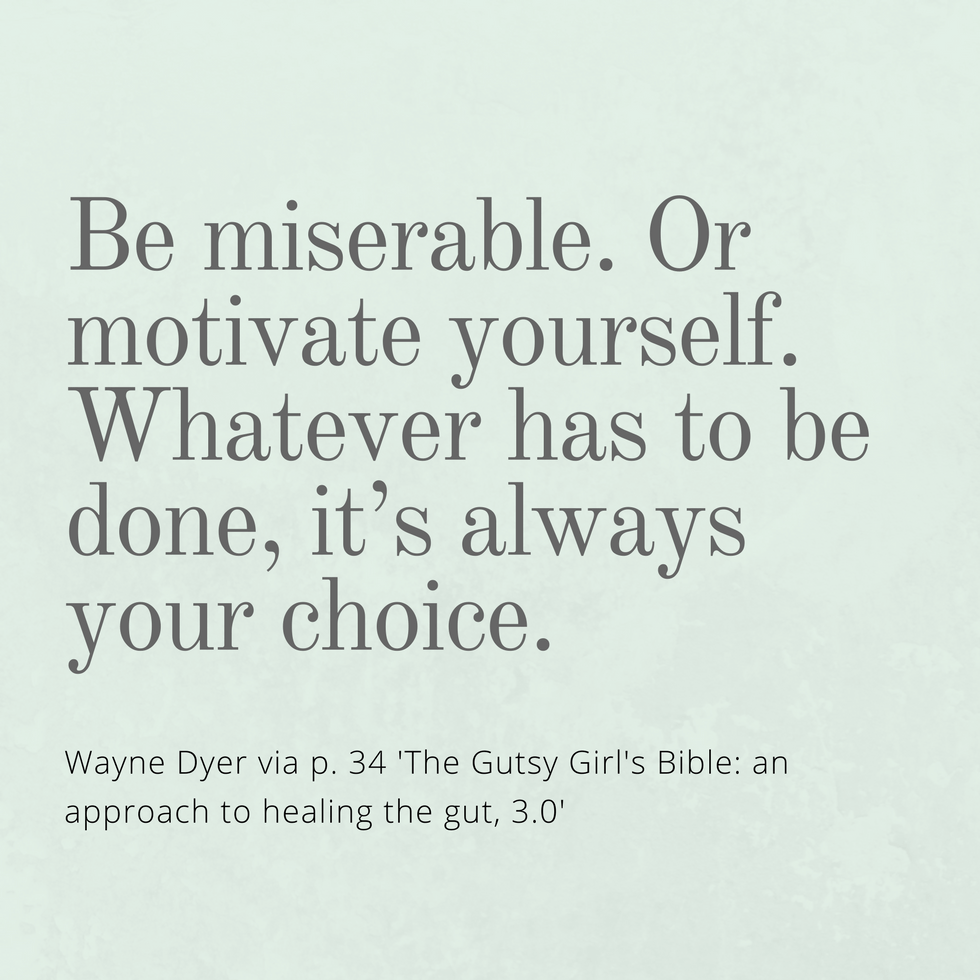 Still not sure? That's okay. Click HERE to grab a 21-page FREE preview of the e-book.
Xox,
SKH
You will heal. I will help.