This year I'm still holding the badge of honor as a preschool mom; yesterday was Samarah and Isaiah's first day of preschool.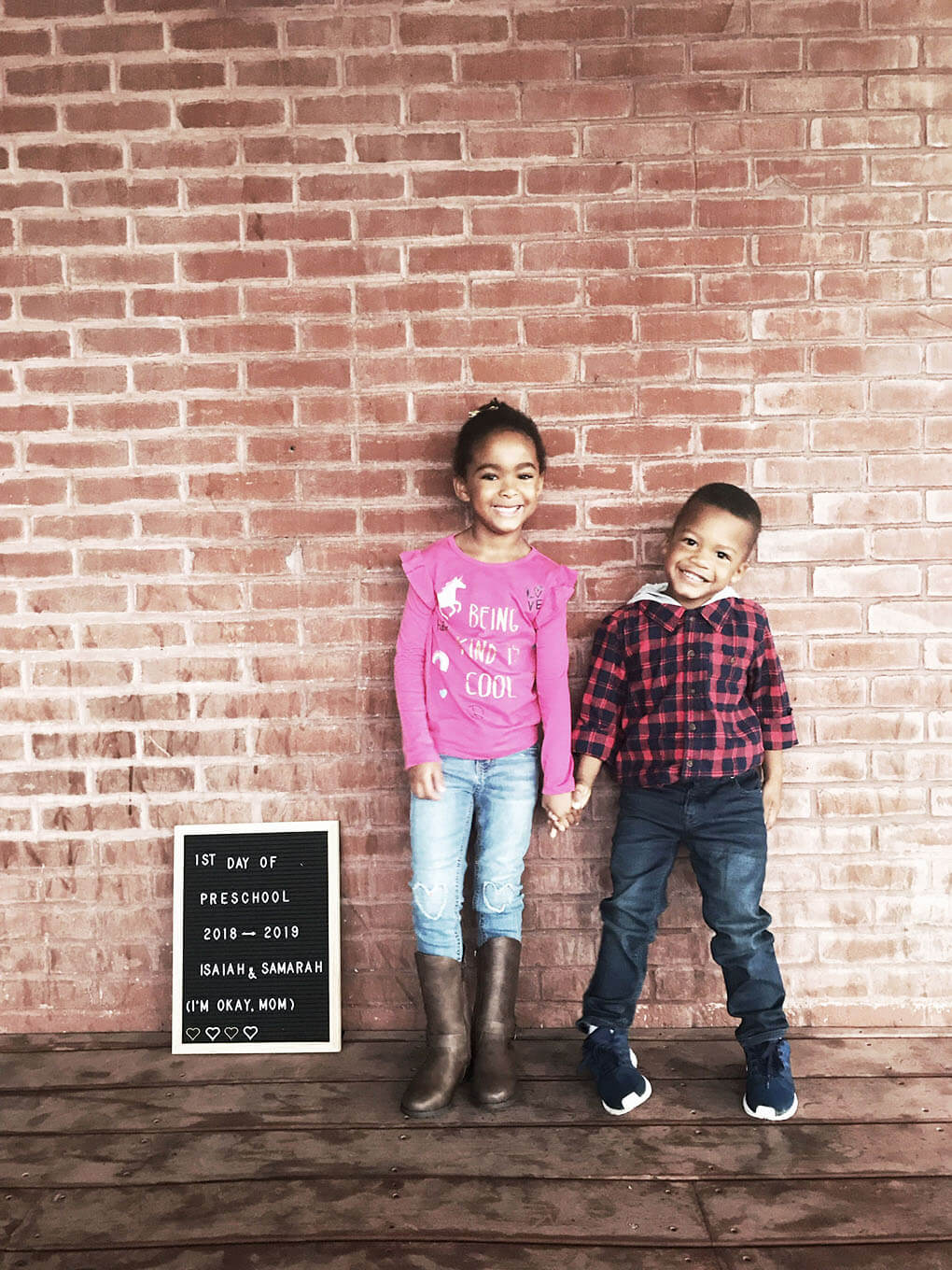 Samarah turns five next week, but even if she would have turned five just before the school year began, we would have chosen to hold her back another year because of how pre-maturely born she was. Also, because my heart is not ready to see her off to Kindergarten quite yet.
I have been a preschool mom already for quite some time.
This is Samarah's third full year of preschool.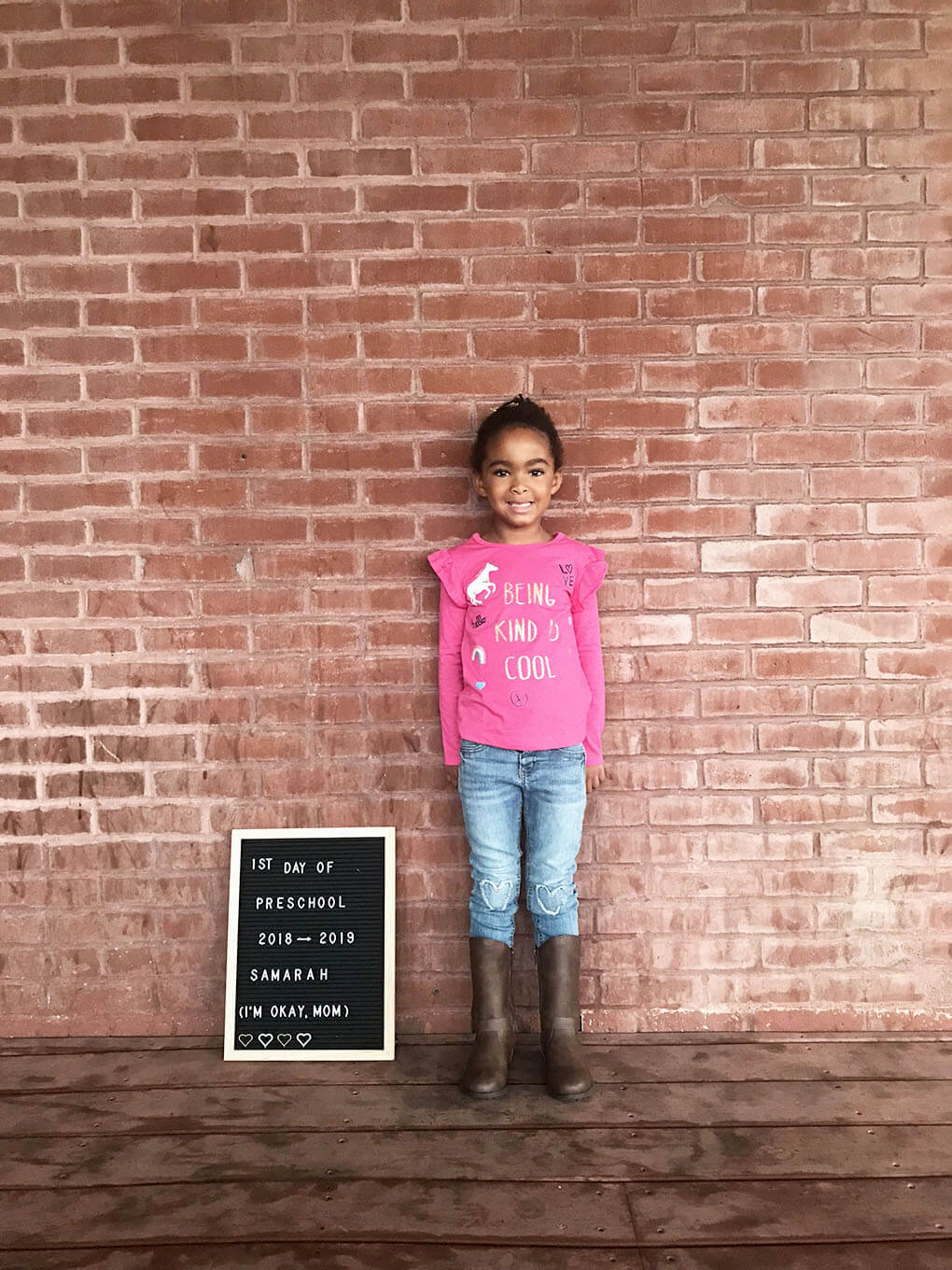 It is Isaiah's first year of preschool, and he will go three years, too.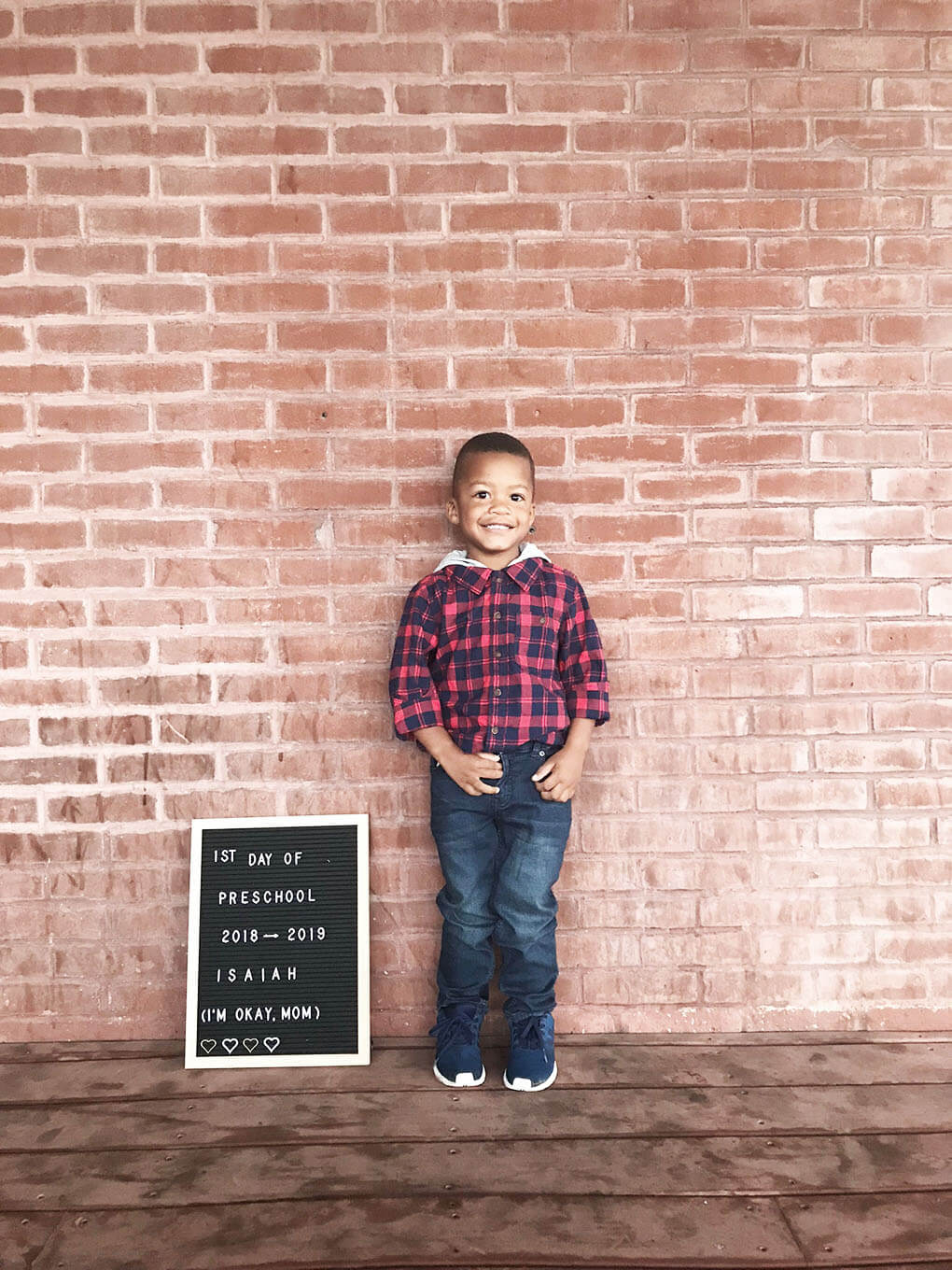 Next year, Amiya will start preschool and she, too, will go a full three years.
All of this, of course, means that I'll have several years under my belt as a preschool mom by the time Amiya heads to Kindergarten.
Preschool Mom
As we headed out the door yesterday to go take their first day of school pictures, I felt beyond frazzled. These pictures always make it look so easy, like I have everything together. I don't. Not even a little bit.
Sunday night was filled with Amiya hiccups. Bath and hair nights always do her in, but she was uncontrollable and inconsolable for a good 30 minutes.
I woke up the next morning (yesterday) at 4 am because I wanted a few hours of total silence with just work and my coffee.
All three littles slept until almost 7 am when I realized that we needed to hurry. Enter the next phase of feeling frazzled. You know, rush to get them dressed, rush to do Samarah's hair, rush to put jeans on Isaiah and then different jeans that actually fit, rush to tell Samarah she can have a protein shake with her daddy quickly, rush to finish packing their backpacks, rush to get the diaper bag ready for daycare, rush to pack this cute letter board sign I had put together the night before (click HERE to save the idea for your own children next year), rush to get in the car, rush, rush, rush….(and by the way, even after all of that, still forgot to pack Isaiah his special milk and grab him a banana – I'm killing it as a mom by the minute, Y'all).
I dropped Amiya off at daycare, and then took Samarah and Isaiah to do their first day of preschool pictures.
They both ran up the stairs to the spot we would take the pictures at, willingly, without hassle or fuss – just pure excitement and joy.
And literally, the second I started snapping those pictures, all was calm and right in the world because I stopped to reflect that right here and right now….this would be the only day of Samarah and Isaiah's life that they would take a picture exactly like this in this exact spot with these exact words written on my black wish board felt letter board and then head off to the same exact classroom.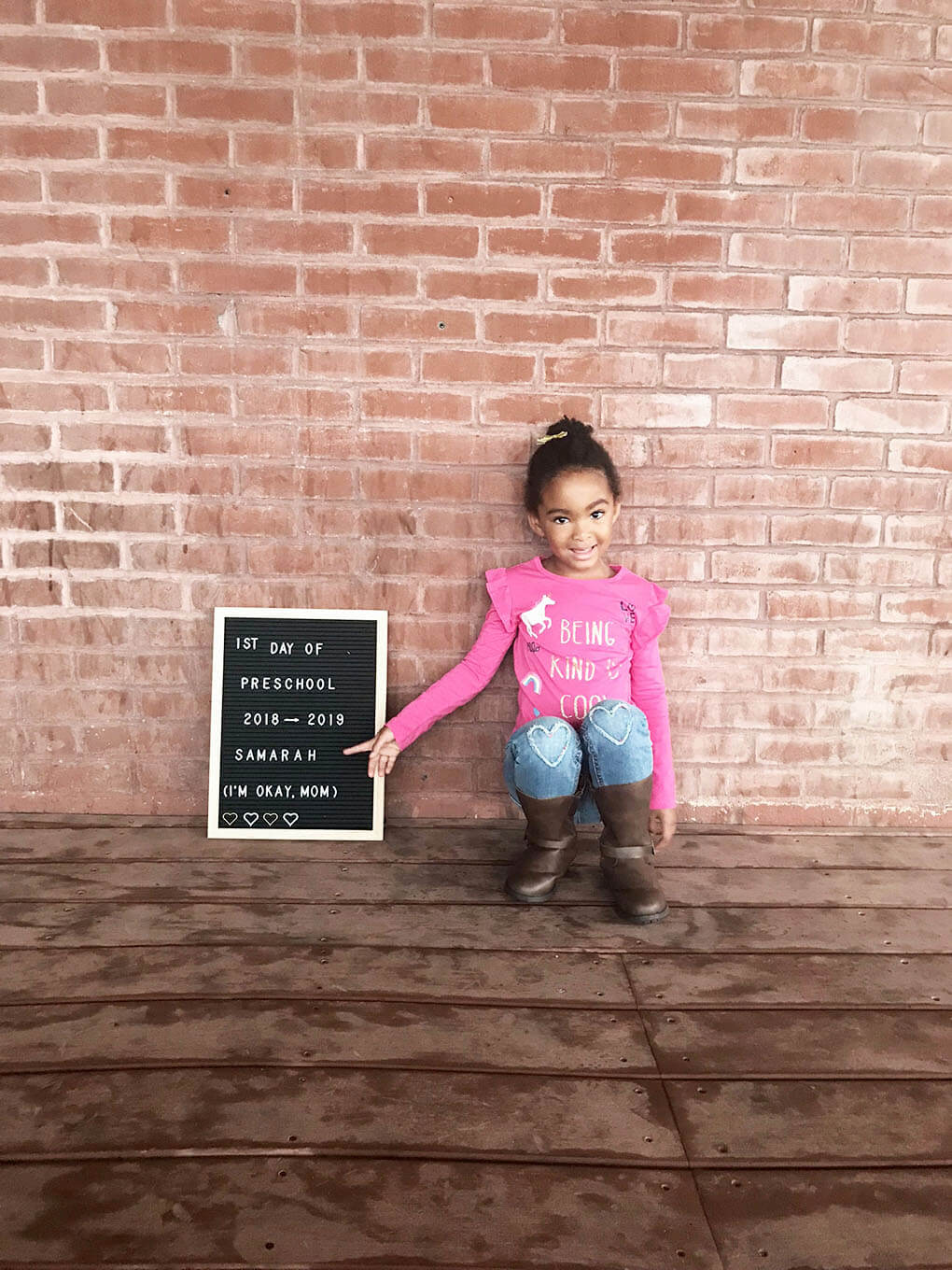 There will never be another year when Samarah and Isaiah get to take that first day of school picture and then hold hands into class together. Amiya and Isaiah will, but Samarah and Isaiah will not.
So I took my time watching them smile for the camera, act goofy, give each other kisses, laugh, and soak up their own little moments.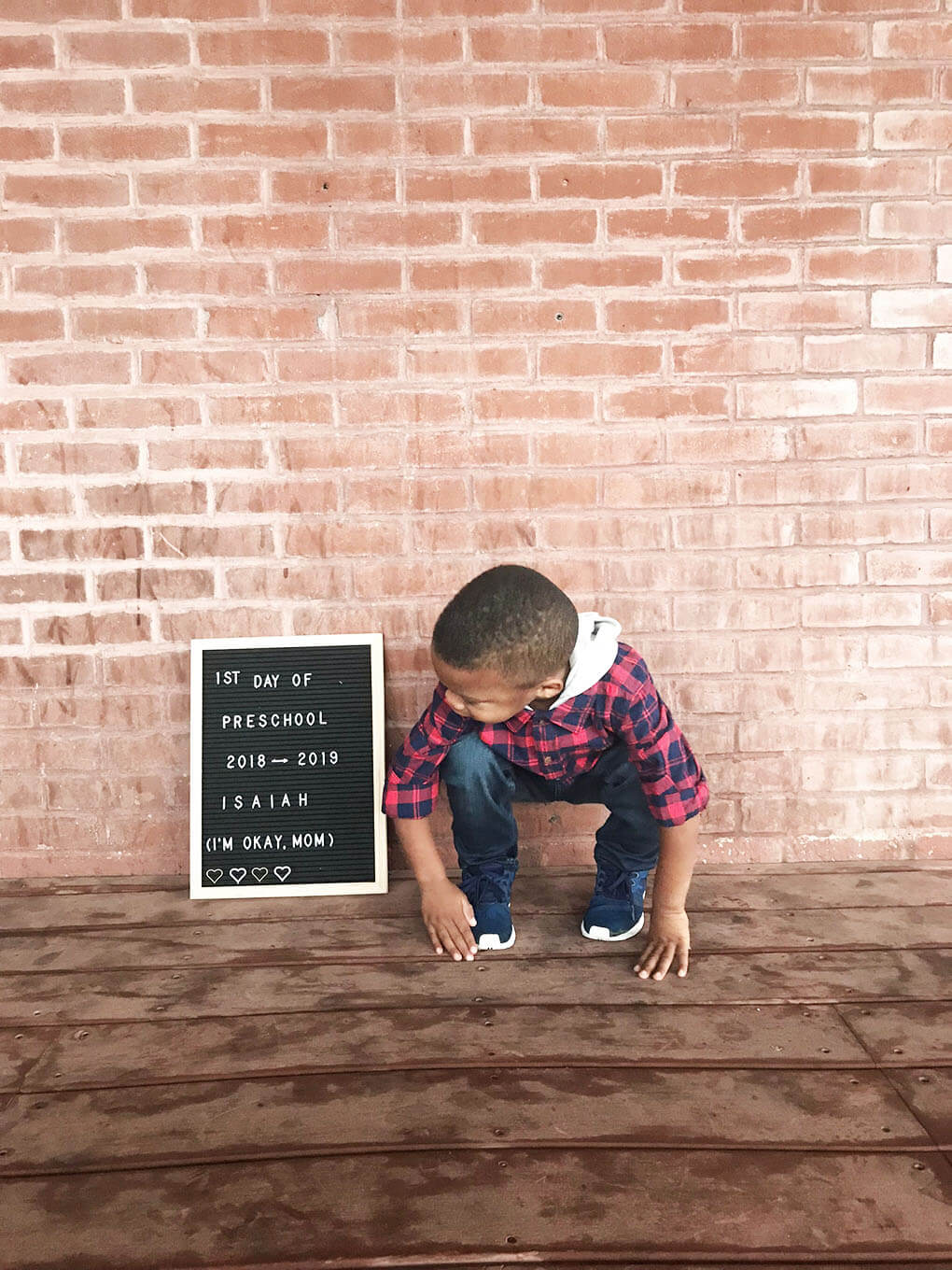 It was priceless.
People frequently ask Ryan and I, "How old are they anyways?" We respond, "2, 3, and 4" (at least for another few days until Samarah turns 5). Most respond with the likes of, "I'm sorry," or "You guys are brave," or "Just wait; it gets easier."
And I'm the absolute worst when it comes to agreeing and nodding my head and silently praying that those responses are right and correct. The absolutely worst…..because listen, it ain't easy – I don't care what your definition of easy or hard is – for me, 2, 3, and 4 are so not easy.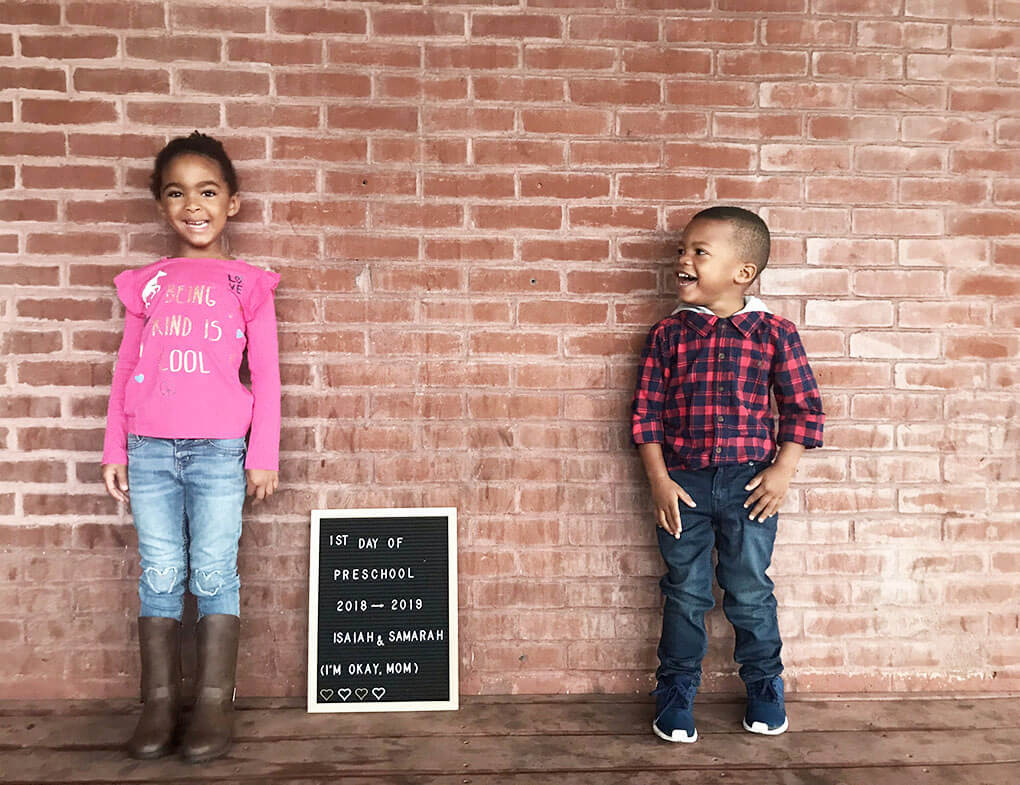 But yesterday? Yesterday I was so excited right along with Samarah and Isaiah to be a preschool mom. My heart sank at the thought that next year at this time I will have a little in Kindergarten.
There will never be a multitude of years like this left when they take all kinds of adorable pictures and can't wait to jump in the car so mommy and daddy can drive them.
So for yesterday, today, and this entire 2018-2019 school year, (I mean, except for when the screaming decibels top Sunday night and when Samarah chooses to get up from her bed at least 11 times before staying there for the night) I'm totally just going to rock this whole preschool mom thing.
It's kind of cool. And man they are precious little humans.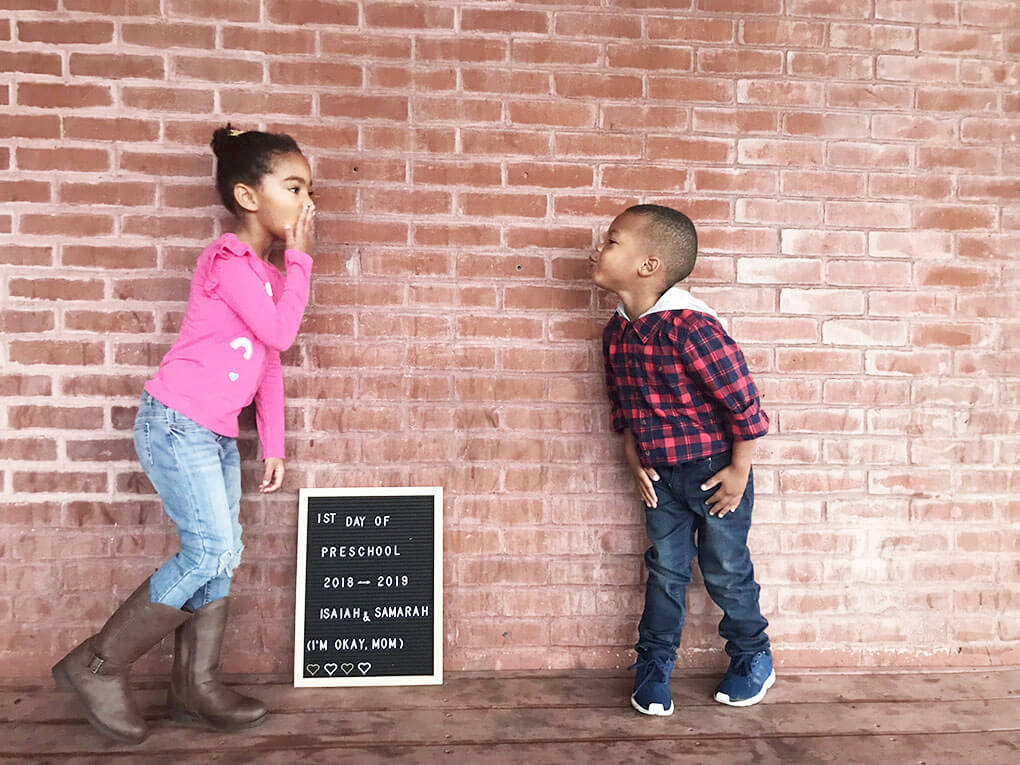 Xox,
SKH
You will heal. I will help.