This week for National Infertility Awareness Week, the campaign is seeking people to flip the script. So today I am doing just that, flipping the script on infertility.
They have defined flipping the script on infertility as such:
#FlipTheScript—RESOLVE wants to change the conversation around infertility so the public, media, insurers, healthcare professionals and lawmakers understand:

The scope of the problem and who is struggling to build a family. (hint: it's not just older women who waited too long to start a family)
There are many barriers for millions of people who struggle to build a family. These barriers include: lack of insurance coverage, out-of-pocket costs, faith and religion, sexual orientation, and state and federal laws.
The impact of infertility is far reaching—it impacts family, friends, co-workers, and employers.
I wasn't really interested in any of that. Maybe I should be since I can relate to some of those bullet points, but my heart and soul simply can't connect to any of it. Not even a little bit.
It all stemmed after I posted this little boomerang + caption on Instagram two weeks ago:
"From the outside looking in, you can never understand it. From the inside looking out, you can never explain it."

I found this quote from "Infertility Awareness," and while that also has touched our lives, I would never correlate the quote to the "tragedy"'of infertility but rather the miracle of motherhood via adoption. I thought of a million things when I ran across that quote but none had to do with infertility. It's amazing how much things can change in less than 5 years when you just don't lose hope and faith.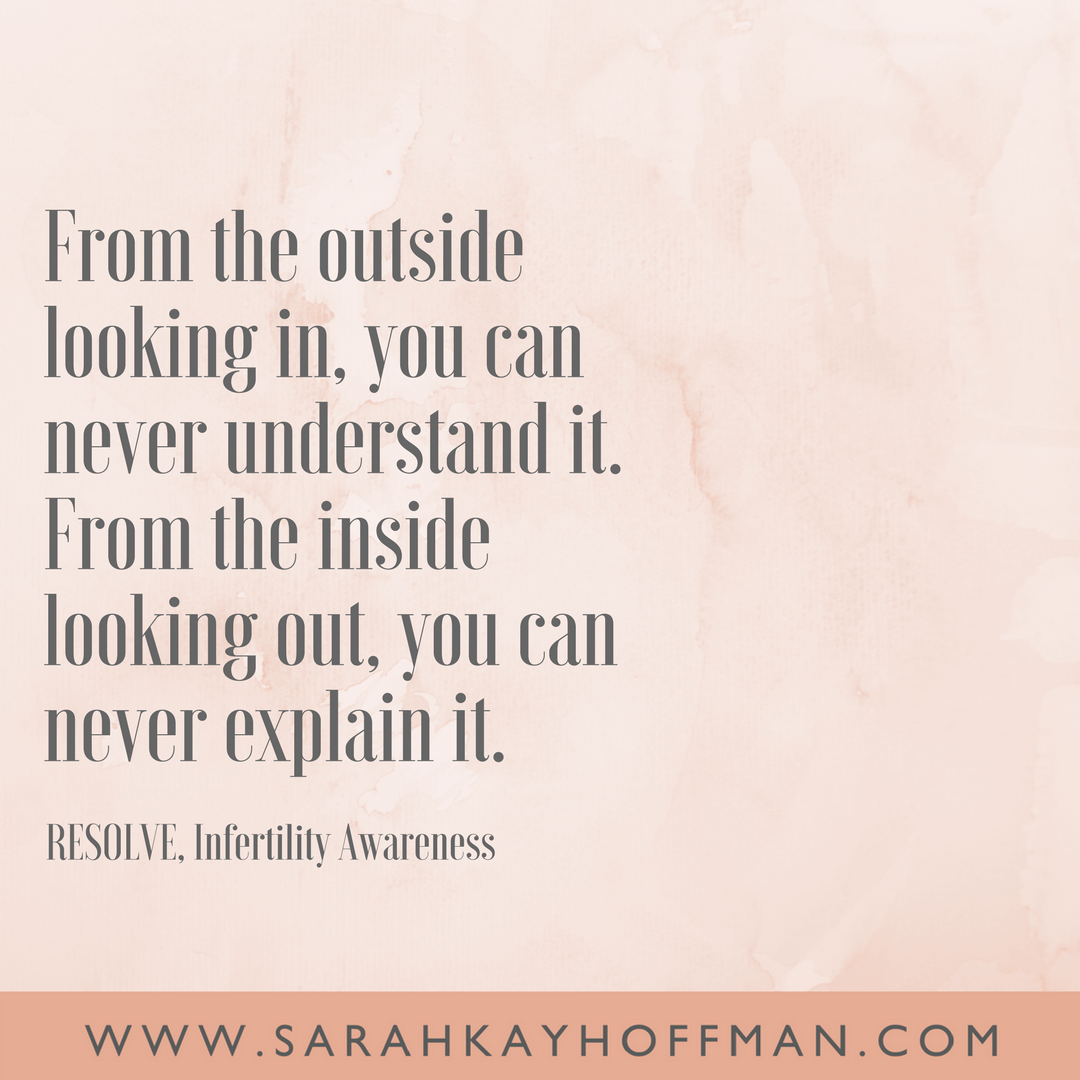 And then yesterday during a Run Studio run, Veezy stated,
Happiness isn't a feeling. Happiness is a choice.
Plop the tragedy of infertility in there now.
The tragedy of infertility isn't a feeling. The tragedy of infertility is a choice.
Flipping the Script on Infertility
Click HERE to save this post for later.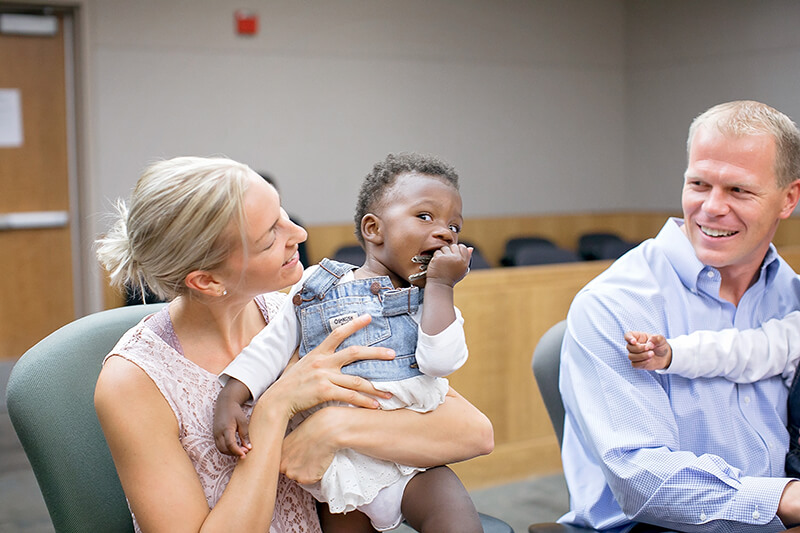 I know the feelings all too well. (Trust me, just writing these next few paragraphs leaves a pit in my stomach and tear-filled eyes.)
You know, those feelings when you are desperate to see two pink lines, but month-after-month only one line appears.
I know the feelings of waiting and praying, crying and feeling angry.
I also know the feelings of physical infertility pain – the physical pain of going through a cycle of IVF and having it come crashing down in the ER with multiple cysts rupturing, filling the lungs with blood.
And I know the raw feelings that come with emotional pain when every single bone in your body tells you (and I even documented it that day via THIS video), "Sorry. IVF failed. There will be no baby."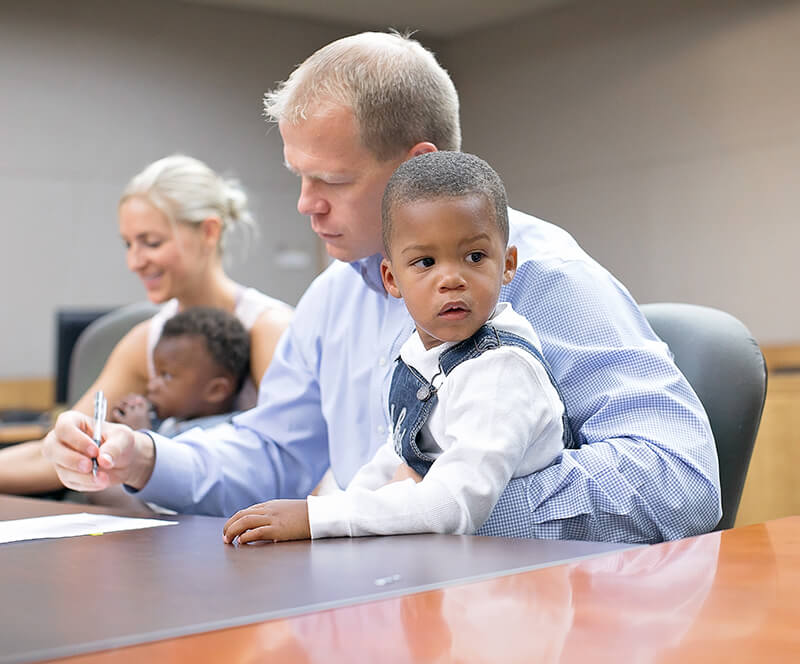 I have many stories from those few years when infertility was what I thought I was destined to be defined by.
Looking back, it is all so clear.
We are not supposed to be defined by infertility.
Instead, we should define how infertility can, will, and does lead us to a place that was bigger and better than our wildest dreams were made of.
Ryan and I could have kept fighting my body. We could have endured more rounds of IVF, and I feel grateful that we had that choice (I realize not everyone does).
But something in me – every last cell in my body – said, "This is not the way for you." To know me is to know that when I want something enough, I stop at nothing to get it. I am a Type A, over-achieving, at-all-costs female; for better or worse.
And yet I was a quitter when it came to pushing my body through another IVF cycle.
I quit wishing and wanting immediately after my body began physically and emotionally healing (because let me tell you – the combination was brutal).
Flippin' it to Adoption
Listen, here is the part in the blog post that can get hard for people to read and agree with me on. But you must know that I also know those feelings of your infertility advice is not needed.
RESOLVE is talking about the solution to the problem in a way that sort of creates more problems.
How can we get pregnant and have our own child if I'm "too old" to conceive? How can I birth my own baby if I can't afford it or my sexual orientation is not right?
You might literally stay stuck on those questions and trying to find solutions forever, but your reality might be that a baby – your baby – is waiting for you (or maybe not yet born) already. Conceiving on your own naturally, via IVF or any other method that gives a matched DNA just might not be the way.
Do you want to know a super real, raw, and totally awesome truth that I love saying and remembering to thank God for as often as I can?
I would have paid a million dollars to become pregnant with a child via IVF. I also would have paid a million dollars to go through every single last drop of physical and emotional pain that failed IVF cycle produced because it was the exact amount of time we needed in order to have things match up to get our baby Samarah which then lead to Isaiah, and finally to Amiya.
And guess what the most amazing and beautiful part of that is? There are thousands of little Samarah, Isaiah and Amiya's out there in the world waiting for you.
Yes, YOU can flip the script on infertility and build a family in the ways you have always dreamed about.
Babies can come to us in so many different ways. Naturally? Great. IVF? Fantastic? Adoption? Yes….still yours and still beautiful.
Don't ever let your current circumstances make you feel like a victim because the longer you do and the longer it's a "tragedy," the longer it's going to be until you have everything you've ever wanted right there with you.
Like this.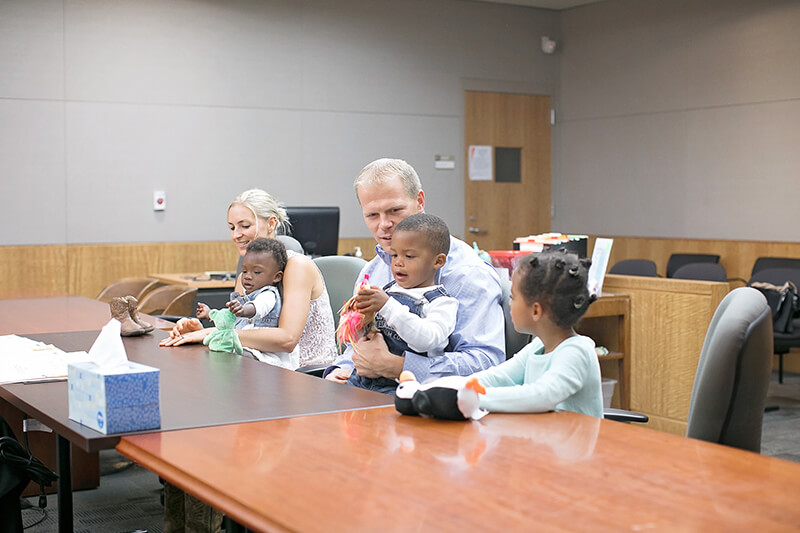 Like them.
Everything is beautiful in its time. Ecclesiastes 3:11
p.s. All of this is why you should never hire me to speak on adoption 🙂
Xox,
SKH
You will heal. I will help.