I'm ready to share my Studio Run App review.
Awhile back on Facebook an ad for Studio Run popped up (go figure – Facebook knows everything about us 🙂 ). I asked if anyone had tried it. It's new, so no one had, but people commented that if I tried it to let them know what I thought. I did the free trial immediately, and 7 days later purchased it.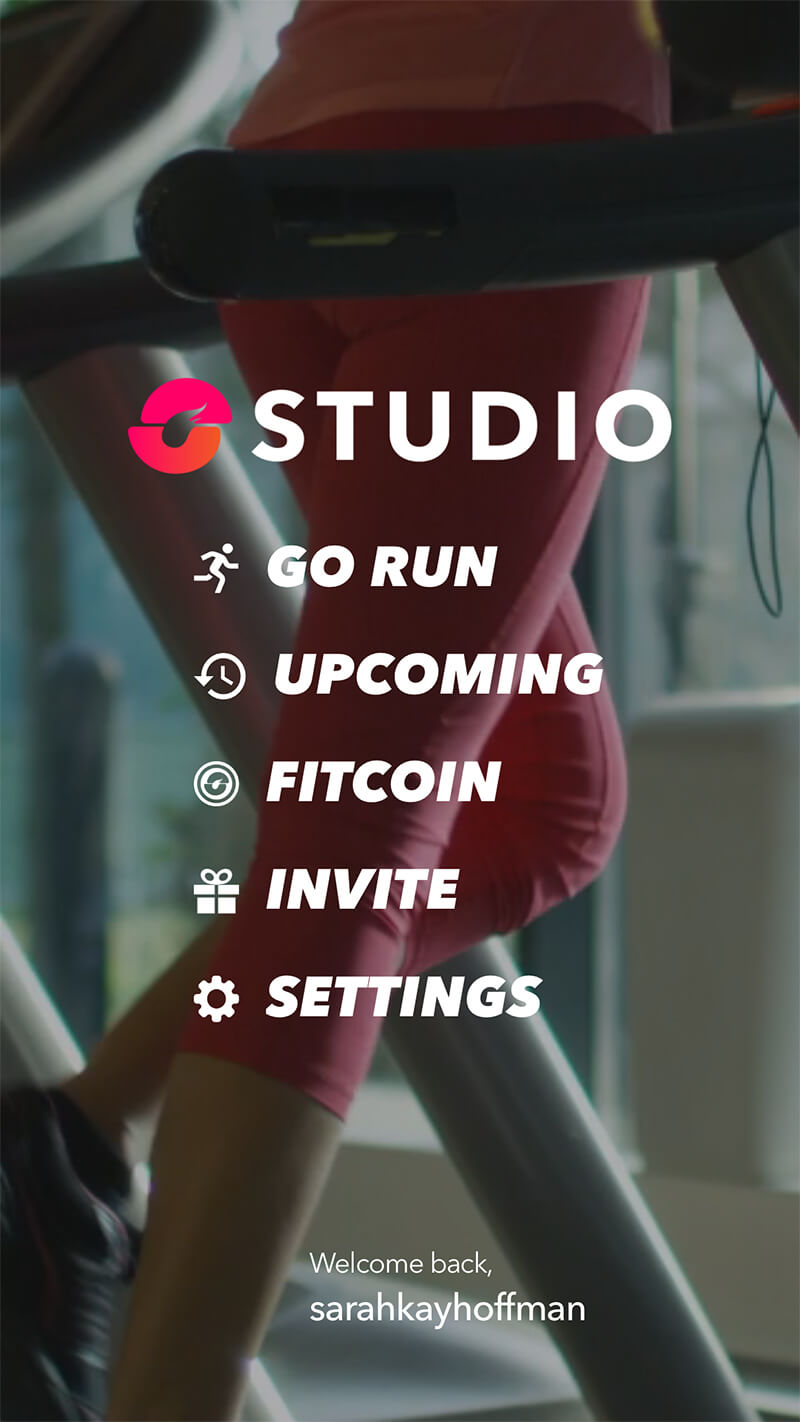 Studio Run App Review
Click HERE to save this post for later.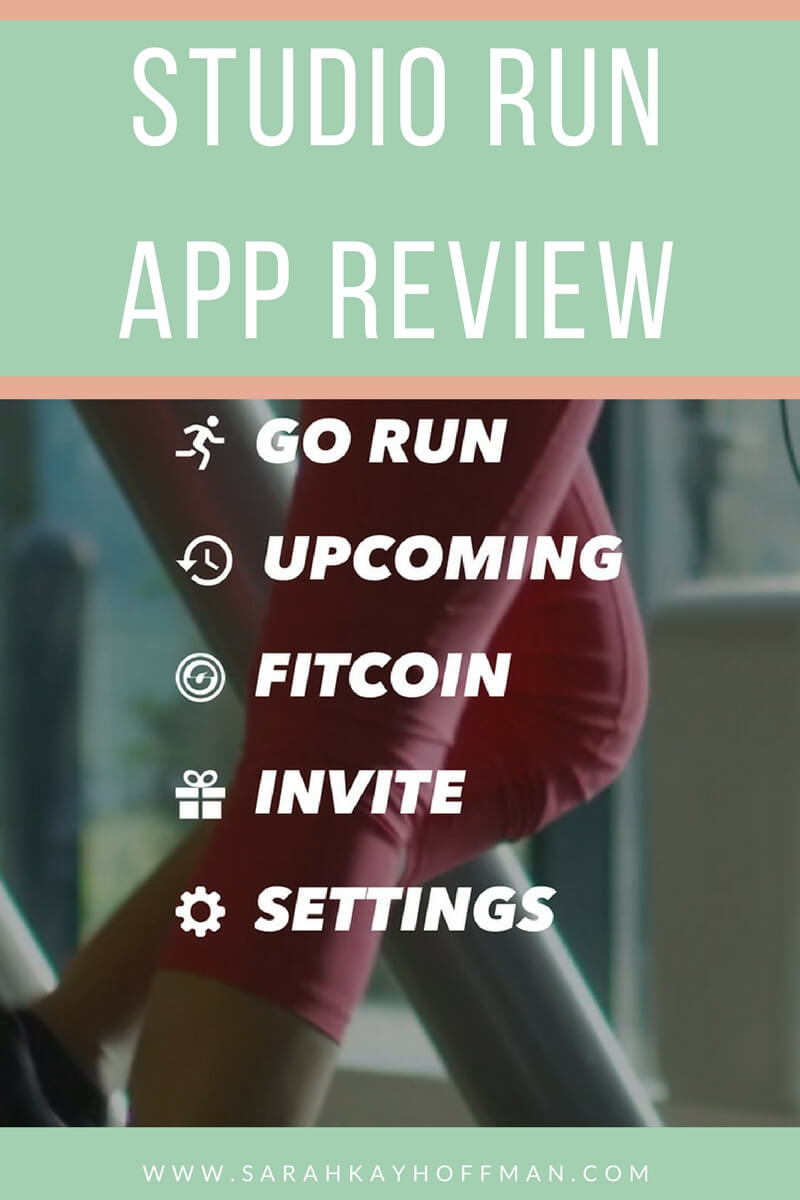 Simply stated, in case you don't care to read the full details, I love the app, and I've been using it at least 2-3 times per week. But in case you do want all the details, here they are:
What is Studio Run App?
It's an app that allows you to take running classes from the comfort of your own home, on your own treadmill.
How do you use it?
When you open the app, you start by choosing, "Go Run." Then, you are able to drill down by the type of workout you want to do for the day:
Difficulty (beginner, intermediate, advanced)
Length (20, 30, or 45-minutes)
Workout Type (endurance, intervals, hills, sprints, walks)
Music Genre (top 40, hip hop, rock, Edm, artist theme, holiday, 2000s, 1990s, 1980s, 1970s)
Instructor (currently there are 13 to choose from)
I typically only choose the difficulty and length each day and based on the results, make a decision at that point.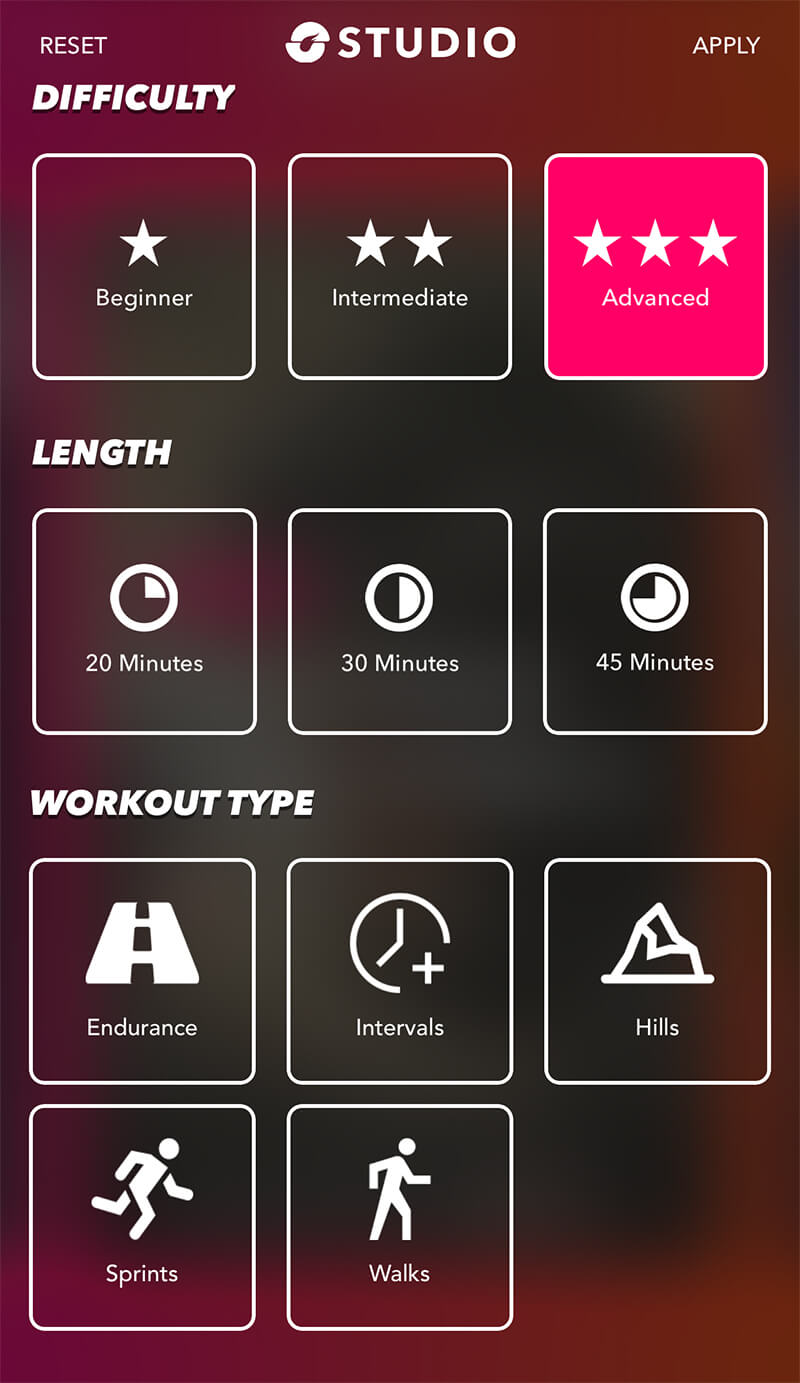 What is a class like?
It depends which workout and instructor you choose, but immediately upon choosing the workout, their voice + music will come on. Simultaneously a countdown timer begins for whatever length you chose. And then they guide you through the entire workout, telling you when to increase/decrease speed, increase/decrease incline, and foreshadow for what's coming up next.
Music
Many times I'll choose a workout based on the type of music I'm interested in listening to that day. I've listened to all the genres so far, and yesterday I saw a country one for the first time.
Instructors
If you scroll to the bottom of the Studio Run App homepage, you'll see a list of trainers. Once you've taken enough classes and tried a variety of instructors, you'll get a sense for whose style you like best. I've never taken a bad class yet, but I love Veezy. Not only are the workouts awesome, but he has all sorts of motivational thoughts throughout the workout.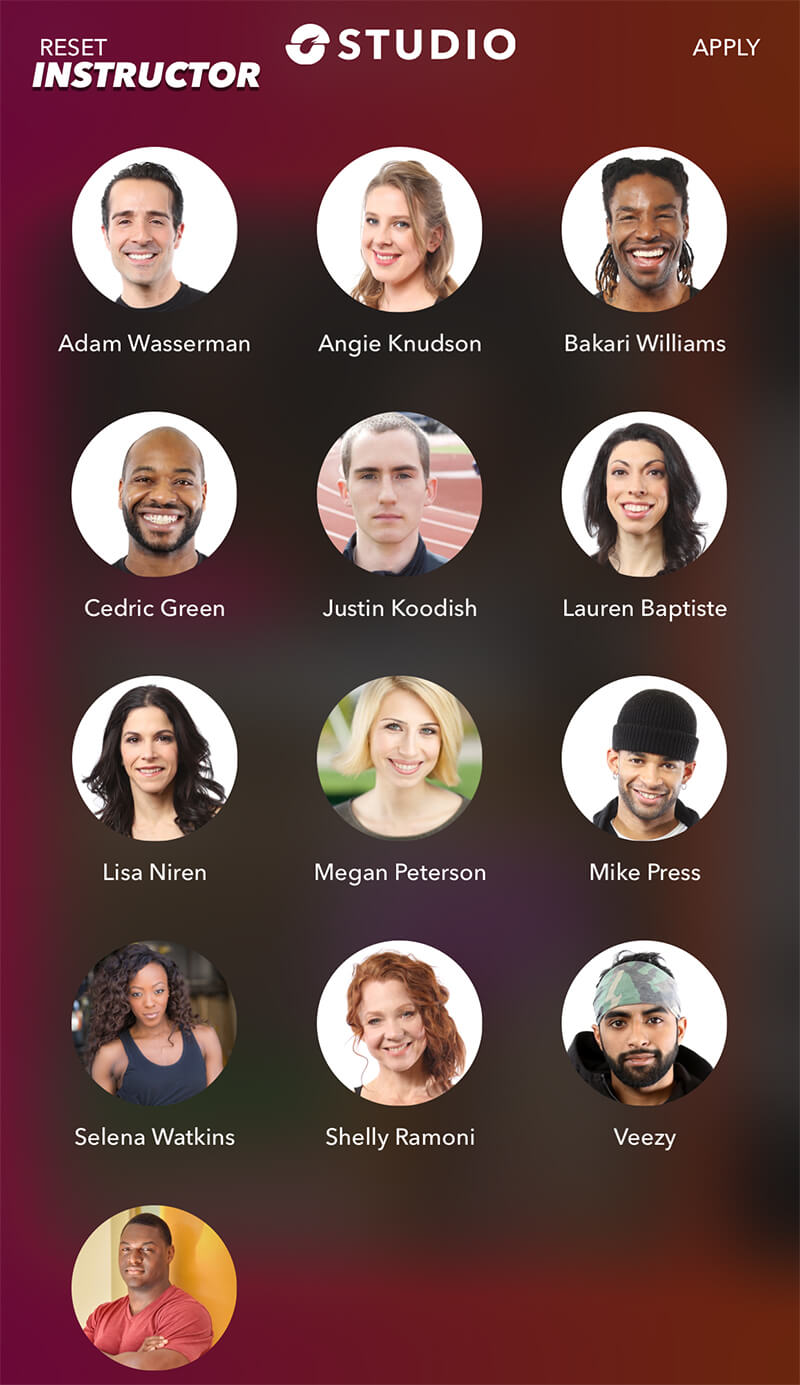 Fitcoin + Leaderboard
Fitcoin is their virtual currency. You earn it after every single class based upon how long you've run for and how far you've run. Your Fitcoin allows you to rank up and show your status off on the leaderboard. Every user starts out as a ???? Basic Bear. I only need 1537 more Fitcoin until I become a Carefree Chick. Ha. Love it.
How much does it cost?
FREE trial for the first 7 days. Seriously, just try it if you're on the fence and then decide. After that it's $14.99 if you pay by the month (which is what I do currently) or you can pay up front (about $100) and it ends up being $8.33 per month.
Is it easy/hard enough?
Easy? Yes. There is an option to walk. If you've never run before, just start there. Y'all know my running history by now, yes? If I need to remind you….I ran about a 13-14-minute mile in high school. I was NOT a runner. I never thought I'd be running like I can today. In 2008-ish, I just started. Run, walk, run, walk.
Hard? Yes. One of the first workouts I did was with Adam Wasserman. We trained for 6-minute miles, and I thought I might die.
FAQ
After I used the app awhile, I connected with Lisa (another instructor), to ask a series of questions for this post. Here were the questions and answers.
When can we expect an iPad version of the app?
As soon as we can make that available, we will – so the answer is at some point, hopefully soon. The issue is that iPad does not have health kit (the apple program) and health kit is required for tracking within Studio!
What is the "upcoming" feature?
Upcoming is upcoming classes. That may change to schedule moving forward but just a list of what classes are upcoming and at what times. Usually it is for a week out, but as our process becomes more streamlined anticipate being able to see more than 1 week out on the schedule.
SKH note: on the main screen is where you see this "Upcoming" option.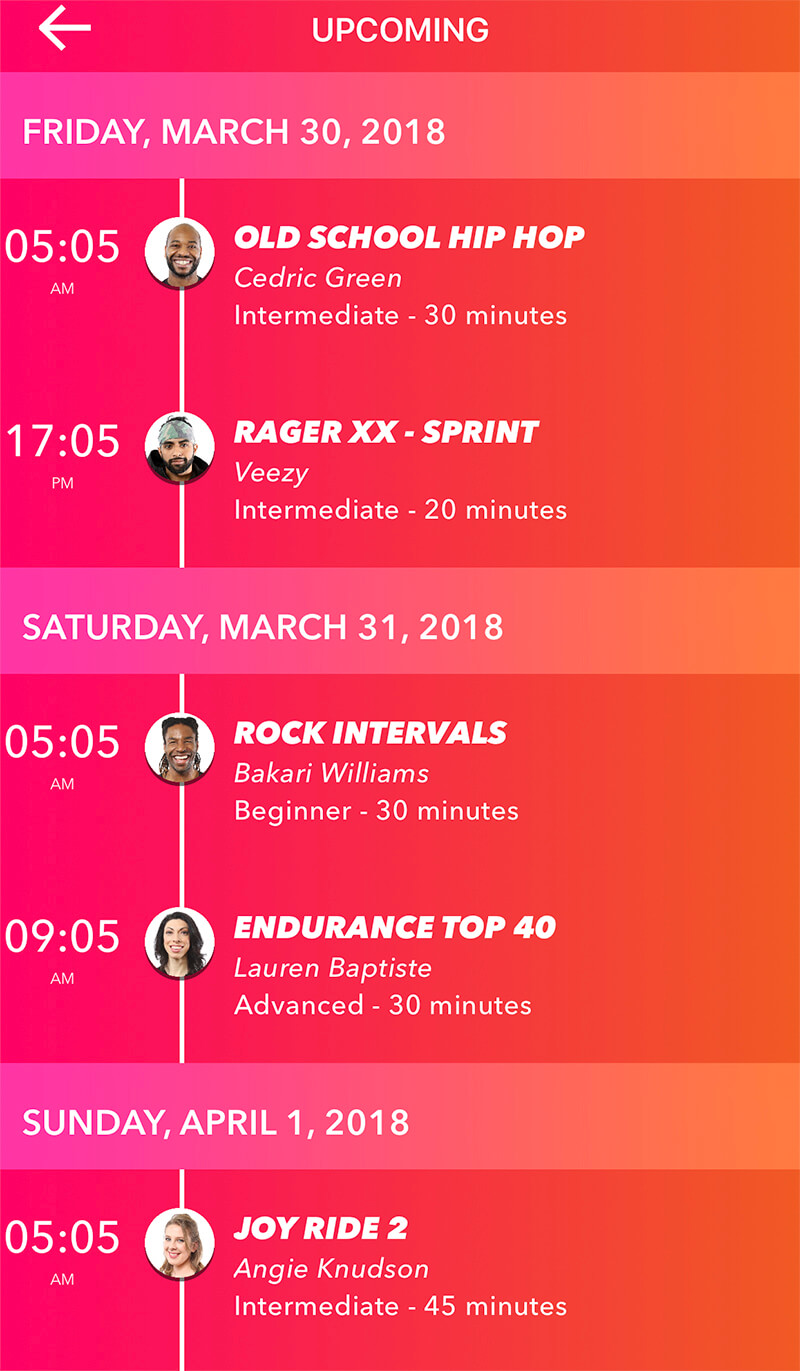 How come you can't hit "pause" on a workout?
If you could hit pause, then the leaderboard would stop and essentially you could do better – right? Rest, recover, and keep going. From the standpoint of our real-time and asynchronous leaderboard it only makes sense to have it not pause. However, we just released a feature that if you receive a call mid-workout we understand as busy professionals, parents etc. you may have to pause or stop a workout. Although we would love you to have uninterrupted time for fitness, we understand and now if you receive a call and MUST take it your workout can pause. That being said, you can imagine this might be a Segway to a future pause button. STAY TUNED! …
Anything new and exciting coming up next?
LOTS of exciting new features, workouts and classes coming up – you have to stay tuned to find out. This is only the beginning. Providing you the best content, instructors, constantly varied workouts and functional training movements is of the utmost importance. For us, the name of the game is accessibility so imagine the possibilities with us being even more readily available to you in many ways. For now, keep earning that FITCOIN – you are going to want to have a LOT of it!
Final Thoughts on the Studio Run App Review
So the final question is, "Would you recommend this app?" The answer is a very clear "Yes." Moving back to Minnesota this winter meant that I had to get creative with workouts. I don't want to go to the gym every single day because…..time (this is why I can't wait to have my home gym back again), but there is no way I'm about to head outside for a run when it's freezing cold.
If you have a treadmill at home and it's been collecting dust, this is the perfect way to dust it off and get moving! The workouts go by so fast, and they are effective. In fact, I even do these workouts at the gym on the treadmill and I'll continue doing them through summer because I love that I don't have to think about a workout – what to do, what speed, incline, etc. I make approximately 8 million decisions a day, and I'm grateful that someone else makes this one for me.
Even if you only used it one time per week each month and paid month-to-month ($14.99), that's a little less than $4.00 per class, which is so worth it!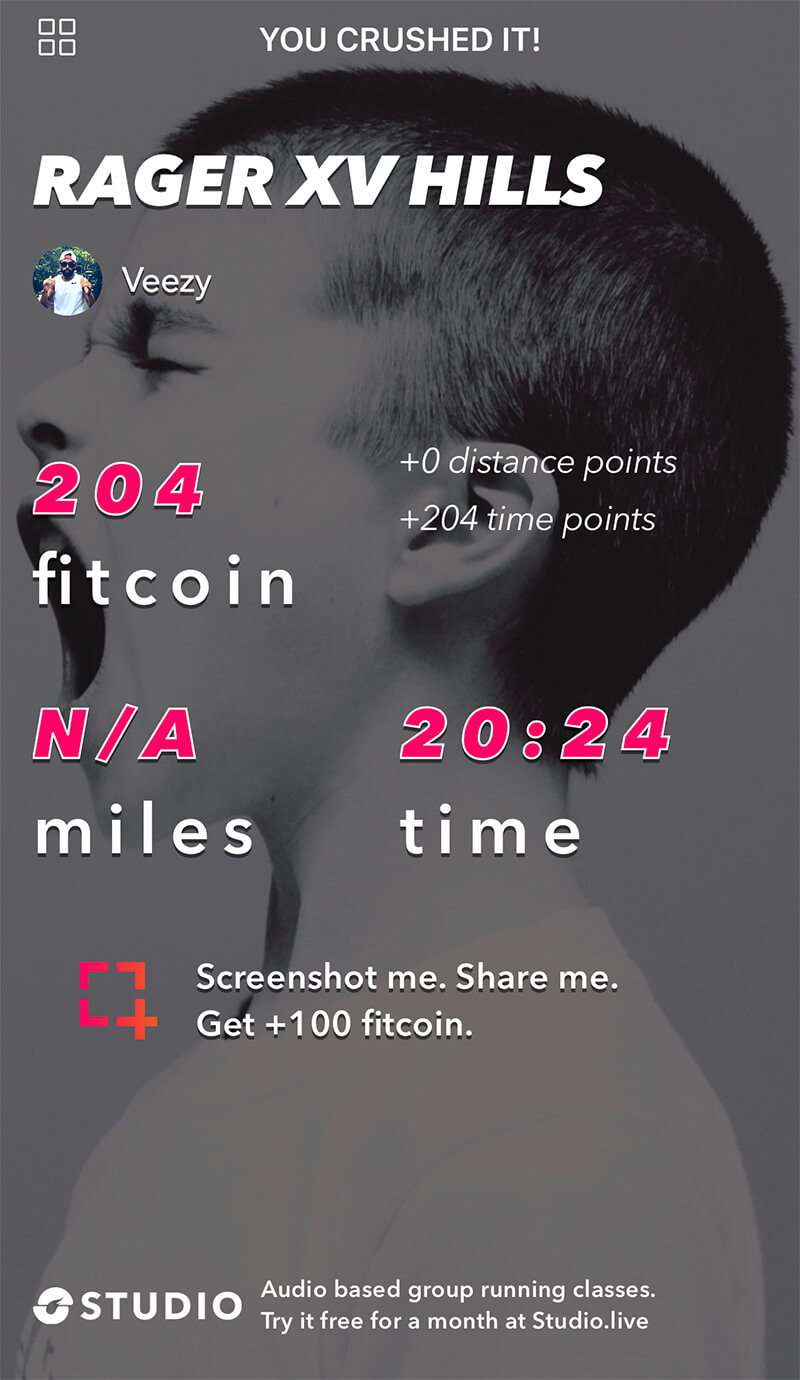 Click HERE to learn more. Alternatively, if you want me to shoot you an email and/or text with a direct link to it, simply email me HERE your email address or number and I'll send immediately.
Xox,
SKH
You will heal. I will help.