I have a little kitchen nook that's my favorite spot in our whole house.
It happens to be the spot where I spend a large chunk of time, too, at the kitchen sink because there is no dishwasher in our rental house.
I ran across a cute little post from Miss Mustard Seed called gaining space & resourcefulness in mid-January. This was right around the time we were moving into the rental, and there was just something about the way she draped a string of artwork hanging under cubbies that I found charming (Image credit: Miss Mustard Seed).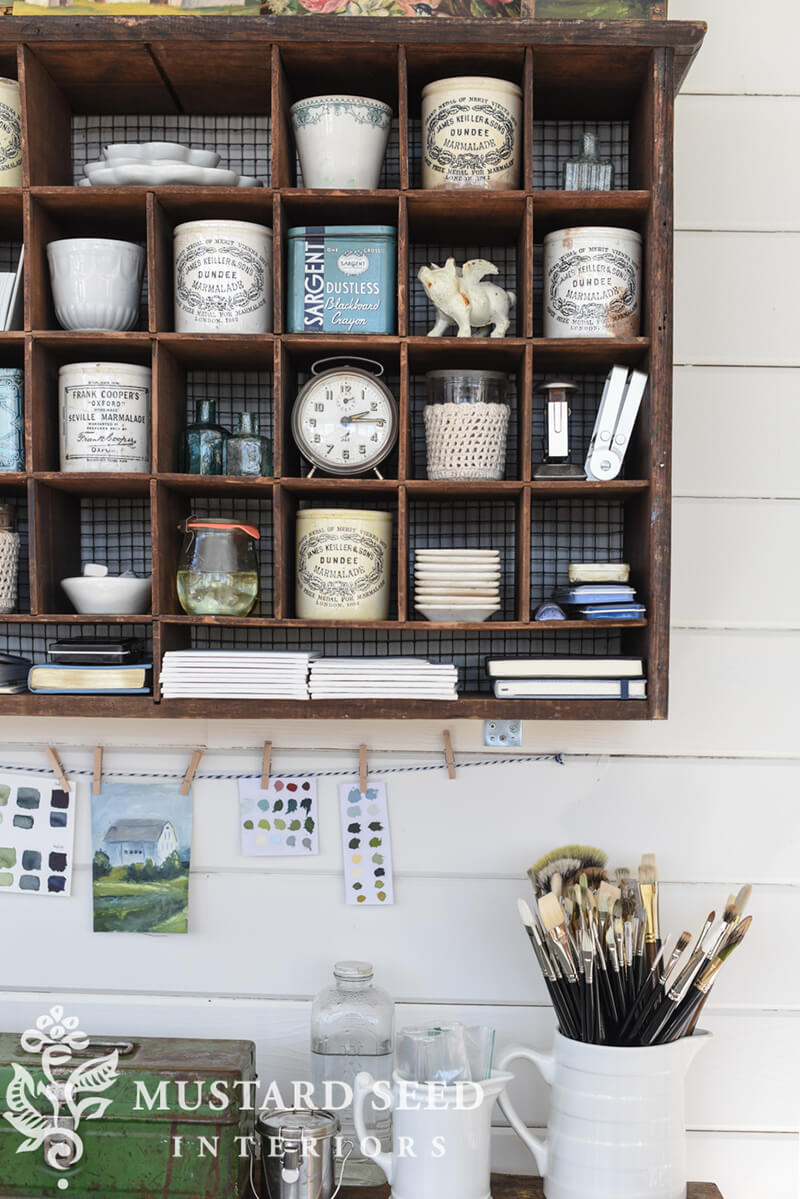 I looked at my kitchen nook and thought how similar the shape (of the area directly above the faucet) resembled her cubbies.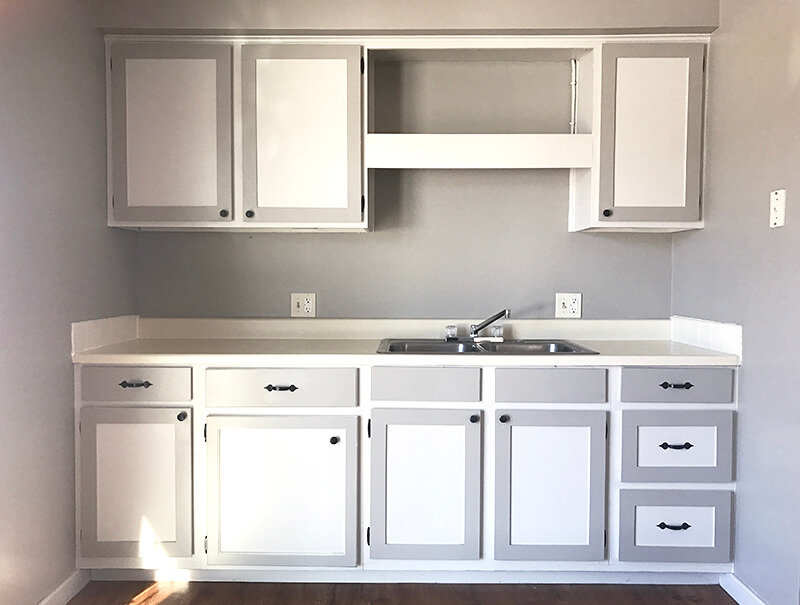 I hit "save" on the blog post, and kept coming back to it.
Kitchen Nook
Click HERE to save this post for later.
I wanted to attach a string like she did, but wasn't sure what I'd hang on my string that would look cute and make sense.
One day when my mom was over, I showed her the blog post, and she said, "You could hang Samarah's school artwork there."
Perfect. It was the best idea because a 4-year-olds artwork is enough to steal my heart during the dreaded dishwashing time.
I also had to fill the space right above it. I didn't want cubbies like she had because it was already blocked off in one large box, but I wanted something that felt simple, farm-ish, and true to our family home style.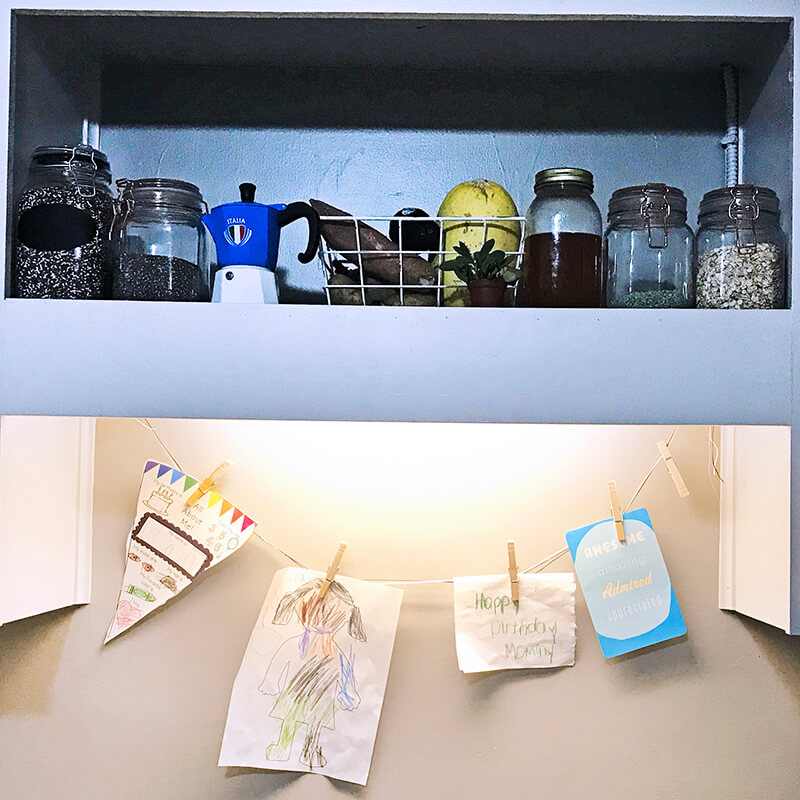 So I did what came most naturally – jars filled with food. Functional and practical just like the DIY Mason Jar Table Centerpieces (that we still have on our table).
I had gotten those jars a long time ago in the dollar section at Target. I filled them with:
multi-colored quinoa
chia seeds
Jade Pearl rice (Lotus Foods, by far the best out there)
oats
I also set out the little espresso pot Ceci got for us, and a huge jar of local honey – Hannah's Honey (if you're in the area, buy your honey from her). I grabbed one of my wire baskets and filled it with other food items we eat on a weekly basis. Things like sweet potatoes, baby red potatoes, avocado, and squashes (pictured here is spaghetti squash, but I always typically have a kabocha in there as well). Sitting right in front of it all is a little, baby succulent because I find them adorable and the perfect match for my other favorite plant, the orchid.
And last, but not least, one of the best parts of my kitchen nook is the lamp. The shade broke on it, so I don't currently have one, but this was a lamp (I actually have two) that came straight from my Grandma Josephine (where Samarah gets her middle name). Every single time I look at the lamp, I think of her.
That, my friends, is our kitchen nook, my favorite space in the whole house.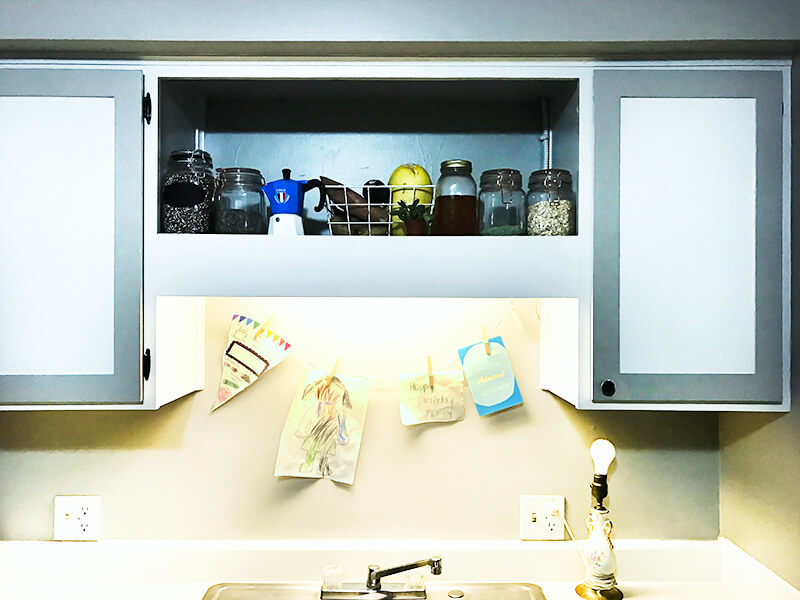 When we move, I will not miss the fact that I don't have room to do the things I want in the kitchen, but I will absolutely miss this nook.
What my kitchen nook has taught me about change is that, when given time and a vision beyond cosmetic appearances, something endearing is possible to emerge.
p.s. I'm no decorator – that would be my mother – she's amazing at it. But I do like to make spaces unique and custom to Ryan, the kids and I and our (oftentimes "different") style. Do you like when I share posts like this about how I decorate? If so, in the coming year I can share much more because I'm going to be doing it 24/7.
Xox,
SKH
If you don't have time to read these posts daily, but don't want to miss them, be sure to follow via Bloglovin' and/or join my personal e-newsletter HERE. I am doing my best to send a once per week email recap of prior week's posts.
These posts will all live under "Wellness+Lifestyle" and also tagged with "101 Days of Blogging." The 101-day series runs from Monday, January 8, 2018, through Wednesday, April 18, 2018.
If there is a topic surrounding change that you would love for me to include in this series, please just CONTACT ME.
Previous 101-Day Change Series Posts
You will heal. I will help.