So live. Live! Fight like hell. And when you get too tired to fight, then lay down and rest and let somebody else fight for you. – Stuart Scott
Since I began this 101-day series and the Sunday reflection posts, I have received three separate messages about three different pieces as they relate to the words I write on this road I'm traveling.
Sharing My Journey, the one about moving from California back to the small town where we grew up.
Still Hope, the one about autoimmune disease and other health conditions.
And today, I'm sharing a message a reader sent this week on the journey walking with a sick parent/close loved one.
(I'm still waiting for the infertility/adoption one, which I kind of do have to share with you soon.)
Simple Saturday
Yesterday was a crazy-busy and totally lovely day (minus bedtime when Samarah was on the bedtime struggle bus).
After a big breakfast, we headed out for the day, stopping first at our storage unit. Ryan and I grabbed all the things for my new office studio space that would fit in the Pilot, and he dropped Samarah, Isaiah, and I off at the apartment. I began unpacking the boxes and putting everything away while Samarah and Isaiah ate three bags of snacks.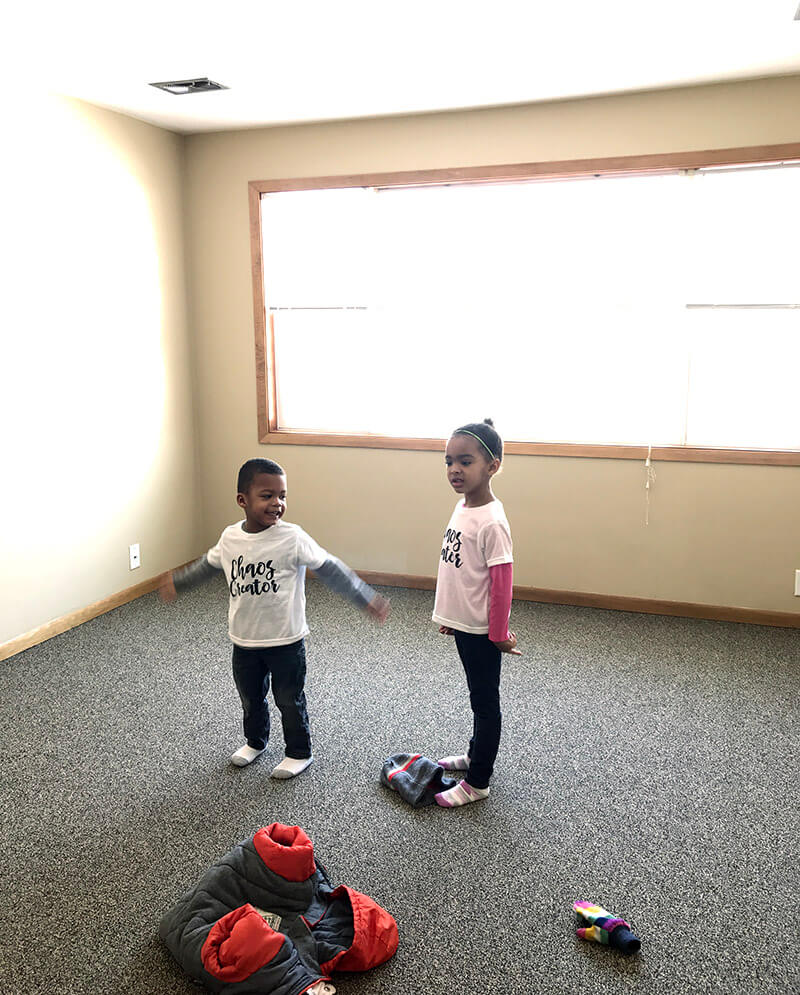 My brother and his friend (who's family to us) met Ryan at our storage unit to grab the bigger things I needed – my farm table, other table, and the heavier boxes. They brought it back, hauled it all in, and right about 11 am when we were going to head out, my mom and dad stopped by.
It might sound unimportant and weird to you that I even find this charming, but the fact that my mom and dad could quick stop by to see my new place was one of the best parts of the whole day. And I'm not kidding even slightly. Dad walked all the way up 7 stairs and stood to check it out, which was awesome! He mentioned, "You don't have a chair?" Ahhhhh……so I was reminded that in order for my dad to come over and hang out with me, I'll need to get a cozy chair or two or a loveseat of sorts. Nothing fancy, but I must make that happen.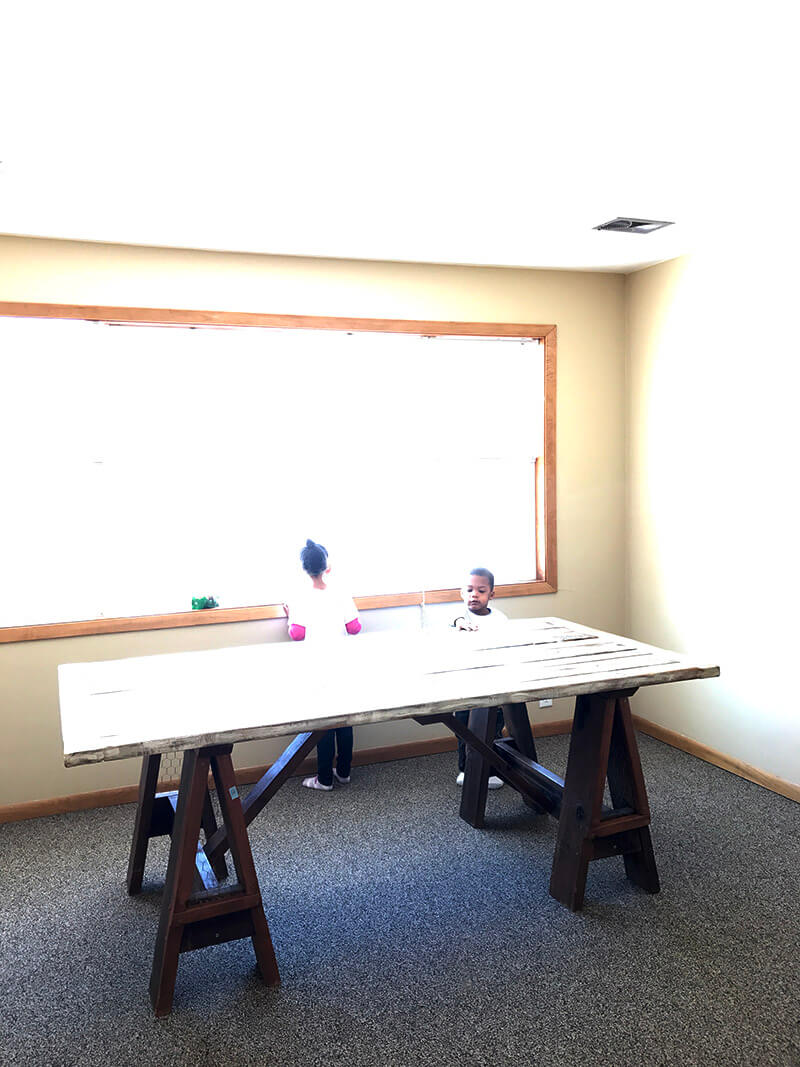 We didn't stay long because we had to meet someone in town about Ryan's new truck. That lasted awhile, and then I took the kids home so he could finish. I changed their diapers, did lunch with them, and put them down for naps.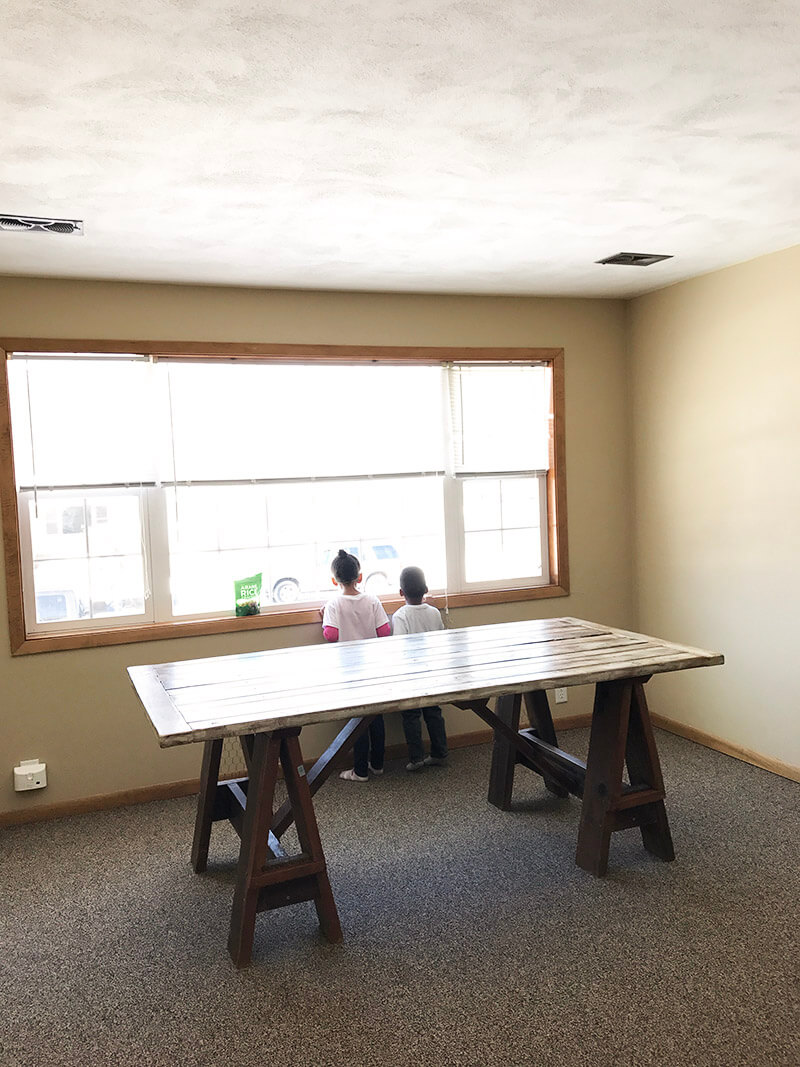 Ryan got home, and I left to get my hair done. Listen, I went 11 years with getting my hair done on average two times per year. Yes, ladies, you read that right – two times per year (that included color, cutting, trimming, the whole shebang). I go to the same place I have since I was in high school, and I never wanted to find anyone new in California because I love "my girl" here that much. (For those of you in the homeskillet, it's Cassie at Cassie's Classic Cuts.) Now that we are back, I'm going at least every 2-3 months (and now that I know they also do pedicures, massage, and more……done, done, and done). So I sat in that chair for a good 2+ hours, chatting my face off with Cass and getting the locks colored.
It was 4 pm by the time I was done, and my mom had asked if we wanted to go to their house for dinner – my "little" brother's birthday is next weekend, so we wanted to celebrate this weekend.
We stopped by Wal-Mart to grab a few necessities and headed out on gravel roads.
While driving out to my mom and dad's house, Ryan and I discussed his new truck. And then I started talking about trucks in general…..how I just loved them. And I remembered why – my dad. Eventually, I'll tell you more truck stories from when I was growing up, but not today. My truck stories leave my gas tank sort of empty because they have allllll the feels for me.
We pulled up to my parent's house. There sat my dad's two trucks, and when we walked into the house it was just my mom. She was browning meat (taco night for JJ's birthday), and a candle was going.
"Where's dad and JJ?" I asked.
"They took Java (JJ's Doberman) to get a bath in town," she replied.
Yes, dad out again, and I could not have felt happier.
We spent all night out at their house, just our family, mom, dad, JJ, and JJ's friend (who I'm telling the kids to refer to as "Uncle Matt").
There were tacos, taco salads, chips and salsa, birthday cake (chocolate with white, coconut frosting, and sprinkles – not gluten free – meh), and vanilla ice cream (I had about 5 bowls – just ask Uncle Matt :)).
And there was chaos because that's what my kids bring to the party.
But there were also all these moments when my heart fell to the bottom of the floor. Dad sat on his couch and watched the kids play in the living room all night. For 3+ hours he didn't even turn the TV or anything else on. He just sat there while they were crazy, little creatures.
I sat at the table (which is directly behind where he sits), and I could hear Samarah "playing doctor" with him. She grabbed her doctor kit (an old an lovely one my mom has) to "fix Grandpa Donny up." "It's okay. This won't hurt," she said. They put a puzzle together on the couch, and I could hear Samarah chatting him up (he doesn't say much back – I already told you, that's my dad).
We got the rockin' Elmo for Isaiah and Amiya and they were bopping their heads ferociously for what seemed like forever. We laughed so hard at Isaiah that we were almost crying.
Around 8:30 pm (when we knew the meltdowns would begin shortly) we left, and on the drive home, I felt grateful for the day, for simple things, and for my family.
Fight Like Hell
I knew this was the right reader message to share with you today for Sunday Reflections because of that simple Saturday day yesterday.
It came from someone who also walked the road with a sick parent.
Hey Sarah, I just wanted to let you know that I am thinking about and praying for you and your family as your dad continues his battle with cancer. Your dad sounds like a strong, wonderful man, and he is fighting this ugly disease with a lot of courage and dignity. You will never regret coming home and being there for him during this time and you will come out of this stronger than you were when it started. Thank you for continuing to blog about your journey as I'm sure it's a great outlet for you but also is very therapeutic for those of us who have experienced similar journeys. Lastly, I just wanted to share a quote with you that continues to motivate me and seems to align with what you are doing right now. Stuart Scott said it during his battle with cancer. "So live. Live! Fight like hell. And when you get too tired to fight, then lay down and rest and let somebody else fight for you." Take care of yourself and it's good to have you back in God's country!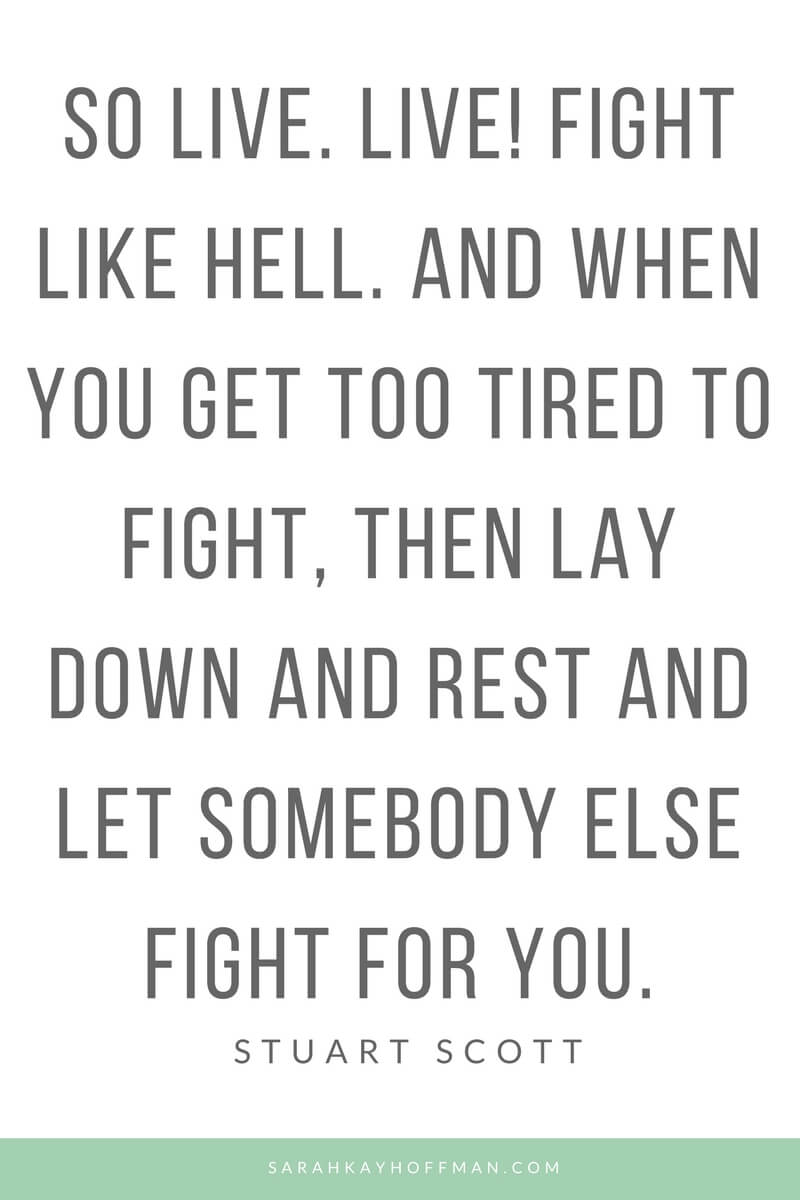 I have wanted so badly to streamline this blog. I have wanted to niche the h#$% out of it because I know that that's how I could see faster and bigger growth and ultimately more money. Some blogging experts would argue that you don't have to have a strict niche to see those benefits, but most argue you do. I tend to agree with the latter.
But here's the deal, I just can't do it.
I can't hyper-focus and niche down on one topic, 24/7, 365 days a year (by the way, if I did, where I know the niche and money would be for me is the gut stuff – take that for what it's worth to you and growing your own business).
And this is because there has never been a day or week when people have reached out to me on any one single topic, asking for thoughts, saying "thanks," and sharing their own journey. I relate to people deeply and sincerely with straight empathy on a few core journeys, not just the gut stuff.
I believe in the power of real connection with as many people as possible, and this has been my outlet to do it.
Because the roads are long and sometimes hard, it's nice to meet friends from all different walks of life – to share our stories, connect, and journey forward together.
Xox,
SKH
If you don't have time to read these posts daily, but don't want to miss them, be sure to follow via Bloglovin' and/or join my personal e-newsletter HERE. I am doing my best to send a once per week email recap of prior week's posts.
These posts will all live under "Wellness+Lifestyle" and also tagged with "101 Days of Blogging." The 101-day series runs from Monday, January 8, 2018, through Wednesday, April 18, 2018.
If there is a topic surrounding change that you would love for me to include in this series, please just CONTACT ME.
Previous 101-Day Change Series Posts
You will heal. I will help.