It's been several months of new spaces for us, and yesterday I entered yet another.
Back in January via my delish 3-Ingredient Chocolate Peanut Butter Shake recipe, I shared that I was looking for an office studio space. I mentioned,
So today, and last week, and every single day until I find it…..I am officially looking for office studio space – a working environment away from the home where I'm able to have a better balance of "work" time then "home" time because it's something I have not had for years.
Recently, I shared that I had found my space, but that I wasn't ready to share it quite yet.
I'm glad I chose to wait because the spot I had picked out ended up not completely working out. Not "completely" because it's not the spot I wanted, but I'm still working with the same owner, and that was also kind of important to me.
Anyways, my original spot was one large open room. It needed work and a lot of clutter removal. I was totally cool with it, though, because the space itself came with charm.
It didn't work out, and that's probably okay because the new office studio space I got is much bigger, perfectly clean and ready to move into (today!), and has everything I'll need for all pieces to my business (clients, photography, styling, other content creation, designing, copy, and then, of course, this blog + the very limited health coaching I still do, and Beautycounter).
New Spaces
Yesterday I got the keys to the new place. It's a 2 bedroom apartment, complete with a full kitchen and bathroom, and it even has a dishwasher, which I find to be hilarious because our rental house doesn't even have that.
I went yesterday just to stand in the apartment and soak up my vision for what I want to do with it, and how I want to fully utilize the full space (if I'm paying for it, might as well use all of it).
It's hard to imagine if you're not there, but these pictures give a rough idea of what the place looks empty.
Here is what I'm going to do with it:
The living room: Photography. I love shooting in natural light, and the large window will accommodate that perfectly. That said, because there is just one large window in the room, I can black it out if needed, once I get the appropriate tools to shoot in setups other than natural lighting. A simple table and my shooting gear will live here.

The kitchen: Recipe development, cooking, baking, clean up. I don't know how I ever thought I might be able to do without a kitchen at my fingertips. The ease of making something and walking 15 steps to shoot it will be priceless. Also, all that cupboard storage for the multiple food shipments I receive on a monthly basis. You can never have enough kitchen space.

Bedroom 1: Props storage. When looking for a place, this was one of the things I was most concerned about. In California, all my props lived in several bins on a huge rack we had in the garage. Over the years I've collected so many props, and I use them constantly. It was a pain in California, though, because I'd have to gather from outside, bring in to our house, and then return outside again at the end of the day (even if I had more to do the following day). Again, my props will live 15 steps away from where I'll shoot. My goal is to have all props organized for super easy pulling, depending on the shoot needs. Also, now I can buy more, and I have a vision for that, too 🙂

Bedroom 2: My office. Yes, my own room and own office. Do you remember seeing this farm table in the kid's playroom?

I might try to make this my office desk. I always knew that once we moved from California, I'd take it for myself, but I wasn't sure how. I'm hoping it works as my desk. My office will have all the things I need for day-to-day business like an office would have.
There is this little space in the kitchen for a small table. I'm going to get a table of sorts for this space. Why? Because it can be dual-acting: prepared food extras (for when I need to grab 'n go for styling) and also for when I want to invite someone over for coffee or lunch. Seriously. It's going to be quiet in there (which is what I've needed), but my plan is to make it cute, cozy, and invite-able.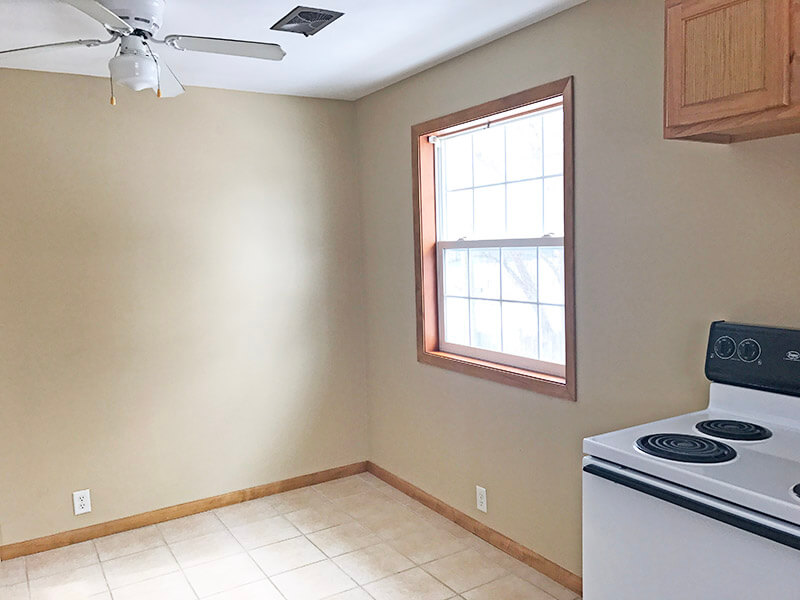 I am creative, but when new spaces feel cozy and charming, I'm inspired and the creativity runs wild.
Basic. Like any other 2 bedroom apartment in rural Minnesota.
But I finally have a space that's all mine to separate work and home (and produce, produce, produce!), and I could not be more excited about new spaces. Once it's all set up (at least structurally, I'm guessing it will constantly be a work in progress), I'll share what it looks like.
p.s. via a private Studio Spaces Pinterest board, I've been saving some ideas, but I'd love yours, too! Do you have your own office space? Where did you find the stuff for it? I'm craving a big, beautiful color wheel, for starters.
p.s.s. Speaking of new spaces, moving into our "new" house is getting closer and closer. I can't wait to share it with you! In the meantime, I keep adding new ideas to two Pinterest boards you might enjoy: Our New House (I started this one a long time ago, but the recent pins are most relevant) + Kid Rooms (Why do I have only one board for all 3 of our kids? Because I'm not doing any woo-woo "themed" rooms i.e. princesses. I want all their rooms to be a classic, classy, mostly neutral and clean look.)
Xox,
SKH
If you don't have time to read these posts daily, but don't want to miss them, be sure to follow via Bloglovin' and/or join my personal e-newsletter HERE. I am doing my best to send a once per week email recap of prior week's posts.
These posts will all live under "Wellness+Lifestyle" and also tagged with "101 Days of Blogging." The 101-day series runs from Monday, January 8, 2018, through Wednesday, April 18, 2018.
If there is a topic surrounding change that you would love for me to include in this series, please just CONTACT ME.
Previous 101-Day Change Series Posts
You will heal. I will help.