I sent a text to my brother yesterday about a totally unplanned night that happened back in September.
I never talked much about that trip home to Minnesota because I was afraid I might spill the beans that we were moving home for good. I decided to book my flight and spend a few days here so that when we returned sometime in the winter for good (remember, we weren't supposed to be back for good until February/March 2018), I would still have that fresh, fall air reminder in my mind.
All the things I wanted out of that trip (and more) happened….including this unplanned night.
Here was the text I sent to JJ yesterday,
I was thinking last night about the last night I saw dad "normal." That night in September when I was home. Put Maya to bed, and the 4 of us sat outside by the truck and talked until sundown.
He replied,
Was one of my favorite things. Crazy to think that was less than 6 months ago.
I wish I would have taken more pictures of that night. Here are two I have, completely unedited so that I always have them in one place to remember the night.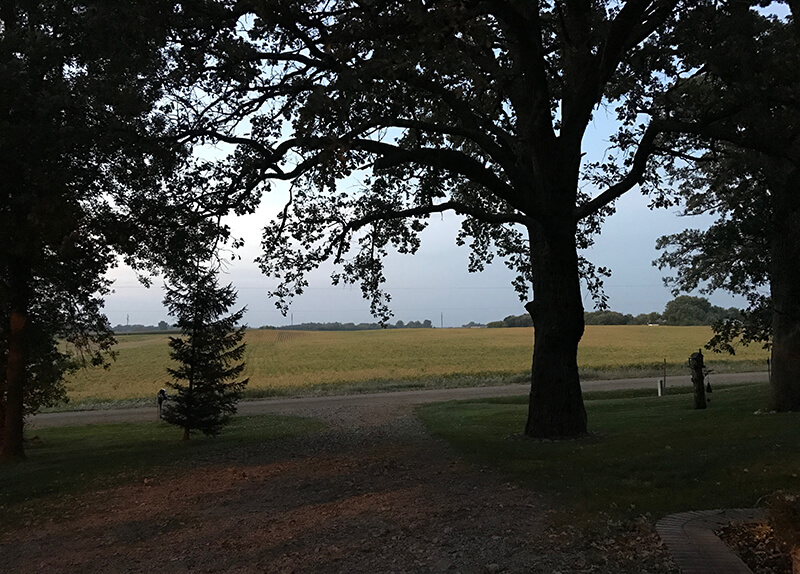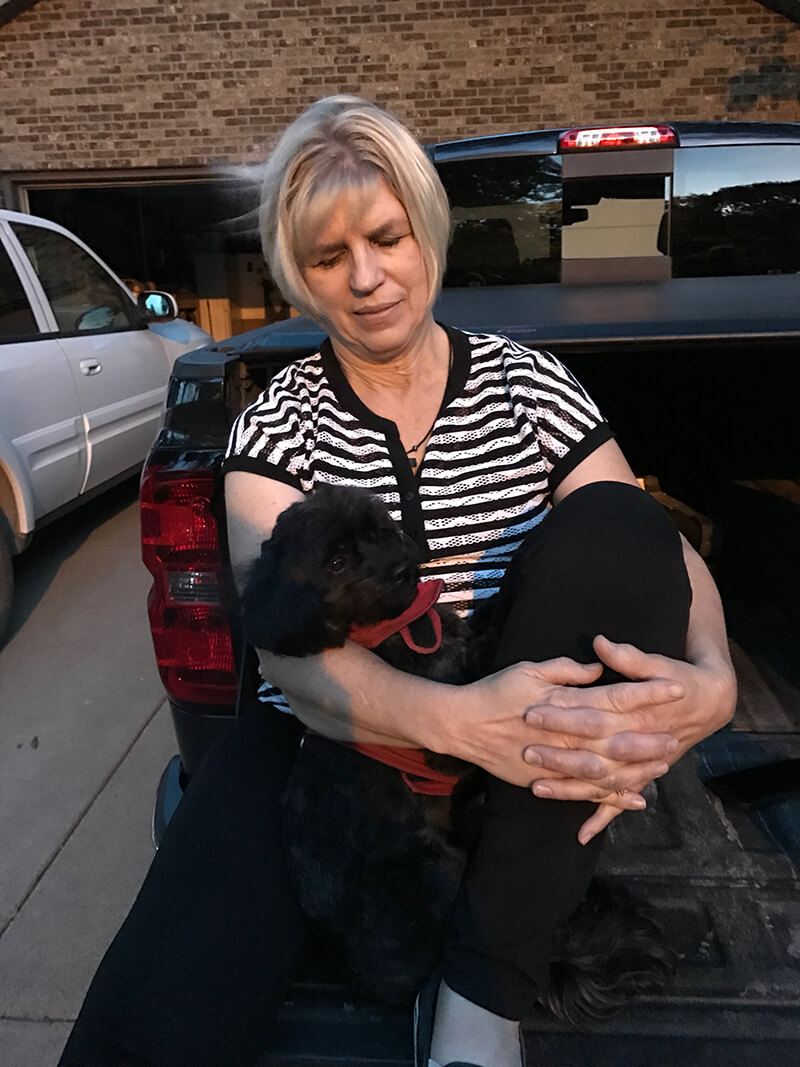 It was a near-perfect night outside with just a slight breeze. We all wore light clothes, and I probably had flip-flops on.
I don't even have a picture of my dad from that night, but he wore (as per the usual) his work pants, work boots, and an old, worn T-shirt.
We all had a drink. I only had one, JJ and mom probably a few, and I distinctly remember dad not having more than one or two (which was not like him at all). I never thought anything of it at the time.
We talked about all the things – nothing too important, just here and there family and life happenings.
It went until sundown, we all went inside, and soon after the day was over.
Unplanned
A week ago from Tuesday was dad's last chemo treatment.
The first couple days after were fine, but then illness and fatigue caught up with him.
It got bad yesterday, so last night, we took him in.
My mom had to be at church, so I happily offered to stay with him. (p.s. I timed my drive home from our local hospital. Exactly 3 minutes. It's true. And awesome.)
For about three hours, we sat in a small emergency room while they ran tests, took scans, and filled him with proper hydration, drop-by-drop.
One of the best things my dad always does when I come in the hospital rooms is introduce me – like he is so proud. It's always the same,
This is my daughter, Sarah. She will ask a lot more questions than I will.
And I always do ask a million questions because I want to know everything, and I want to make sure that when we are making decisions we are doing them with the most information possible. Also, because I'm nosey and many times I know things they have no clue about. ????
My dad is not a talker, if you know him, you know that. I let silence fill the room, and I became okay with it. That said, when he spoke, I listened. That's always the way my life has been with my dad – rarely a peep uttered, but when it's uttered, the world stops turning so I can listen.
Mom returned about 8:30 pm, just in time for him to be discharged. We are praying it was just the severe dehydration again. (A never ending battle.)
Shortly before she got there he said, "I really appreciate you sitting here with me all night. I know you've got s#$% to do."
No, Dad, no. There is nowhere in the world I could have been that was more important.
In less than 6 months we have watched massive change with my dad occur, but during the change, I am trying my best to hold tight to these unplanned days, nights, and moments.
p.s. People have asked if we will set up a Caring Bridge for my dad. The answer is, "No." And those who truly know my dad would completely understand why. The "why" is also the reason why I haven't shared the type of Cancer, stage, or any of the fine details. My dad is a very private and humble man. I don't blog his details, but instead the details of how I'm processing it because, again, this is my blog and not his. If you are local and know my dad, you can always feel free to privately reach out to us and/or stop by to say "hello" to him when he is well. He enjoys the words I pass along from people who send them to me. He loves when my niece (she's not really my niece, but I'll always refer to her + Emma as that) Sophie prays for him and goes all the way to the Bishop level to ensure someone hears her pleas. Prayers are appreciated, and so are your thoughts.
Xox,
SKH
If you don't have time to read these posts daily, but don't want to miss them, be sure to follow via Bloglovin' and/or join my personal e-newsletter HERE. I am doing my best to send a once per week email recap of prior week's posts.
These posts will all live under "Wellness+Lifestyle" and also tagged with "101 Days of Blogging." The 101-day series runs from Monday, January 8, 2018, through Wednesday, April 18, 2018.
If there is a topic surrounding change that you would love for me to include in this series, please just CONTACT ME.
Previous 101-Day Change Series Posts
You will heal. I will help.