I have a friend who now lives 2,000 miles from me (yes, she's in California). She is (and always has been) like a mother-figure to me, and yet she's really just a great friend (I've already told you I tend to have friends who are much older than me because that's just who I seem to jive with best). She is constantly texting me and checking in and I love that about her. On Tuesday, she sent this to me, and I thought about that idea of breakdown to breakthrough all week long as I went through the motions.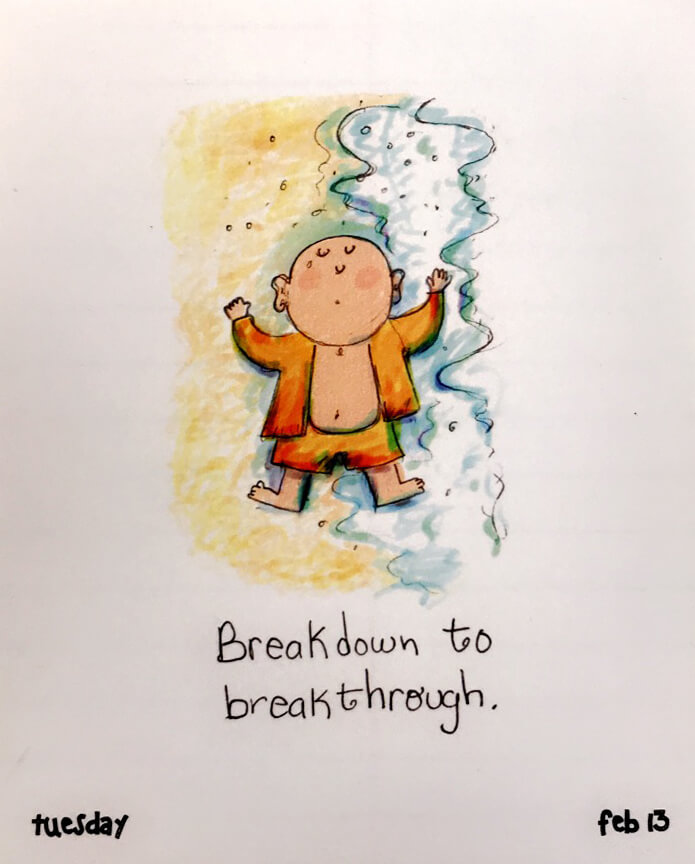 The change variable is that sometimes it's welcomed; other times it's not. The change non-variable is that if we don't learn how to deal with small changes, by the time we are in the major tornado life change, those compounded small changes are sure to drive us to the ground.
This past week felt like a (mostly) total s#$% show if you want to know the truth. You know those weeks? You think and plan for them to be A+, but that's not really how they play out. I'll de-brief you quickly for context:
First airport fiasco happens (which I told you about in Behavior Correction).
The re-scheduled flight was then supposed to leave around 7 am on Monday morning. We were all ready to go on the plane when the captain said, "Maintenance issues." It would just be a few minutes. That turned into 2 hours, with the culmination of all power going off and then exhaust filling the air, which meant we all had to evacuate the plane. When we got back to the airport, they said the flight had been canceled, and we would be taking a new aircraft. The new time we'd arrive meant that my once 4-hour cushioned layover would now make me miss the connecting flight.
That flight finally takes off, and I am confirmed on a later connecting flight. I made that connecting flight but then didn't arrive in Buffalo, NY (my final destination) until after 6 pm. Work day done, on-site meetings missed.
I wake up the next morning, on Tuesday, to an email from Travelocity that said they + United Airlines had canceled my departure flight back to Minneapolis on Wednesday. 4 am and I'm on the phone with them. Turns out because I missed my initial flight, United automatically canceled me for the return flight. Ummmm…..what?! So, I paid for my seat, they didn't contact me and then just canceled (+ gave the seat to someone else – thereby making double the money). I paid for Travelocity cancellation coverage, but somehow – nope – they would not help me. (Note to self: No more Travelocity or United.)
My only option? Pay for yet another one-way flight in order to get back home. I decided that with all the hassle, I might as well stay an extra day in New York since I had missed all of Monday.
An easy work trip that should have been Sunday night to Wednesday night, costing around $400 became a frustrating trip costing around $1,400.
Breakdown to Breakthrough
By the time I was in my car, driving home, I had so many thoughts. Those thoughts included everything from, "I'm way too hungry" (don't worry, stopped at Chipotle for the world's largest bowl – eyes bigger than belly-style) to "WTF am I even doing with my career" to "Wow! That was a huge learning experience."
As I grew closer to our house (we live about an hour from the airport), I found myself tying it all back to change.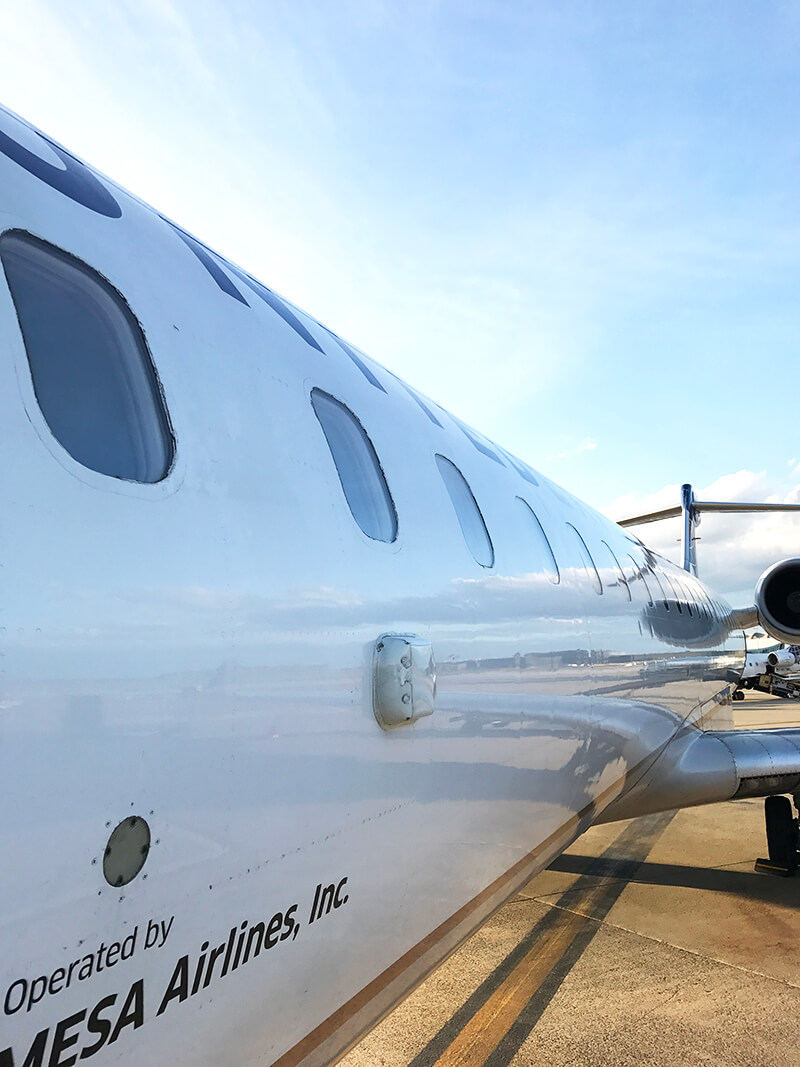 These past couple months have been filled with extreme highs and extreme lows so right now anything outside these massive changes that are also extremely high and extremely low (ahem – this past week) are quite honestly not easy for me to grasp and handle in the moment.
The breakdown to breakthrough this past week has me here on the other side (yay Friday!) saying, "Something has to give, and something has to change." Since December, I've been in major change mode, but floating around were all these other little changes I needed to make. The problem is that I didn't have time to devote to them because all my energies have been focused on these major changes and doing the very best I could at embracing change.
There are only so many straws that can be piled on a camel's back before it breaks.
Neglecting a thousand little straws, had me crazy out of my mind over situations this past week that, normally, would not break me like this.
And that's what I learned this past week about change. Rarely do we neglect massive change and nurturing what it means in our lives (because we can't – it's nearly impossible). But almost always we neglect the little changes.
Neglecting the little things always become the big things.
They have for me, and if you think about them in your own life, I'm guessing you'll see the breakdown to breakthrough patterns formed by them and because of them as well.
Here's the thing. All the little changes I've needed to make, I am still unsure about how to make. Today I don't have the answers. What I do have is the awfully horrible and yet lovely life experience from the past week to let me know that I need to seek the answers, and I need to seek them sooner rather than later.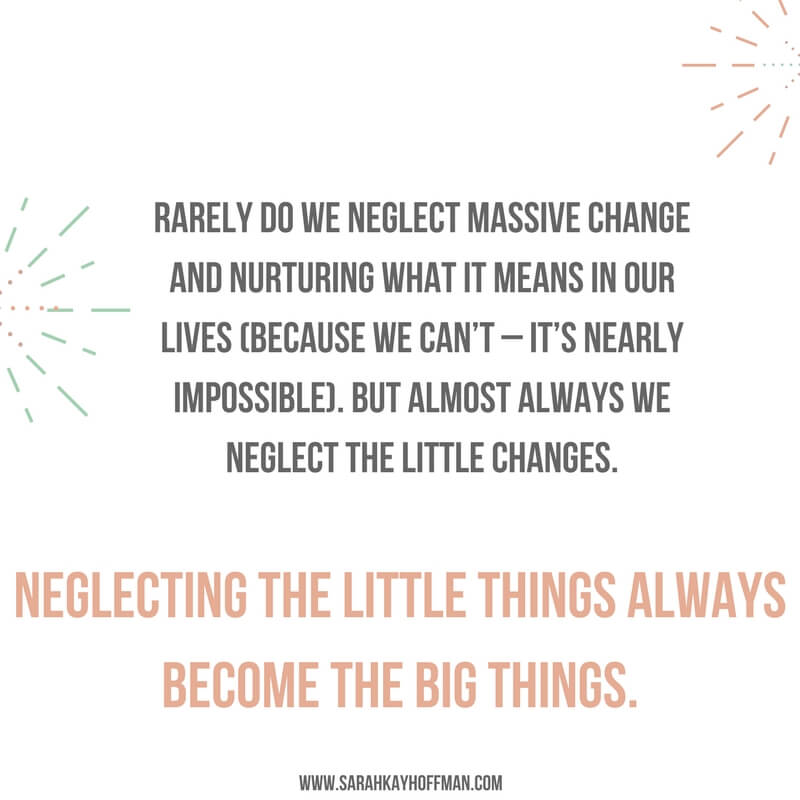 I'm not looking for another breakdown to breakthrough learning experience for this particular situation.
I'm looking to simply get it together, make decisions, and make changes.
p.s. Got home last night to straight awesome. I dropped my stuff off and ran up to see the kids sound asleep in their beds. Most precious faces ever. Then, I adored the white Orchid my in-laws sent for Valentine's Day. I walked into the kitchen to find a card and organic chocolate bar from Ryan. I took the card and chocolate bar downstairs to sit by Ryan while eating it and reading the card. It was really incredible how thoughtful, genuine, and loving Ryan is. The 30 minutes before I went to bed made up for everything the past week consisted of.
Xox,
SKH
If you don't have time to read these posts daily, but don't want to miss them, be sure to follow via Bloglovin' and/or join my personal e-newsletter HERE. I am doing my best to send a once per week email recap of prior week's posts.
These posts will all live under "Wellness+Lifestyle" and also tagged with "101 Days of Blogging." The 101-day series runs from Monday, January 8, 2018, through Wednesday, April 18, 2018.
If there is a topic surrounding change that you would love for me to include in this series, please just CONTACT ME.
Previous 101-Day Change Series Posts
You will heal. I will help.