For the Sunday Reflections today, I thought I'd share what I did when change was coming in my life.
On my birthday yesterday, a reader (also a friend, but one in which I rarely ever hear from via text), sent me this message,
Happy birthday, honey. Hope you've been having a wonderful day. You are such an amazing young woman and I admire you so much. Your postings on change have really resonated with me, to the core, as my life is going to change in 208 days (and counting). I'm trying to "pre" anticipate the changes that are coming my way. It's a bit scary. Anyways, I'll keep reading and being encouraged. Much love to you all.
Look at the whole message. Anything stand out to you?
Two words popped through for me, "pre anticipate."
When Change Was Coming
Click HERE to save this post for later.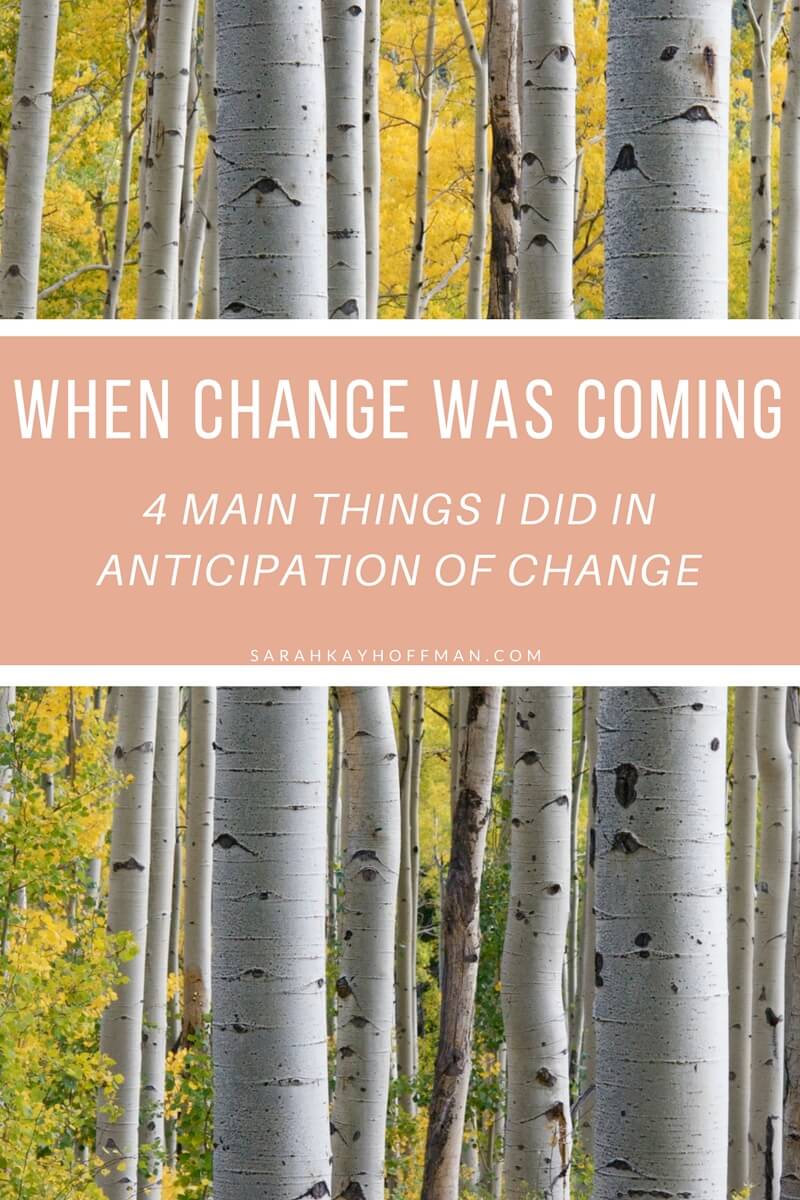 Like her, I too tried all the things to "pre" anticipate the changes that were coming our way. In hindsight, here is what I know:
Yes, you can absolutely plan and prepare for whatever change is coming (this only applies for changes with huge advance notice – she has 208 days – I also had ample time before the move), but
You cannot control the ultimate outcome, for better or worse
When change was coming in my life (last May), here are 4 main things I did in anticipation (Type A, friends, Type A):
Finished (updated), "The Time is Now" with my VA + began working on another (not finished).

Started an Evernote account (Is that weird? Maybe. But stick with me.). Then created a Notebook, "Minnesota Move" and shared it with Ryan (vs. having it as a Private notebook for myself). Within that notebook were the following notes:

SKH Notes + To Do
Address Change
Minnesota Groceries
Keep, Throw, Donate, Sell
Getting CA House Ready: To Do List
Be Inspired

Created another Notebook, "101 Days" (which is what this whole series became), and each day I was feeling something/anything as it related to change or the move, I'd write it down (and that's how I've gotten several of the focused topic ideas for the series)
Did everything in the now that I could, things I knew I'd no longer be able to do once we left California – mini trips (the summer one was probably my favorite), ate all the sushi bowls, stared often at Palm trees, went to the Farmers' Market weekly and appreciated it in a whole new light, etc.
And that was it. Those 4 main things were all I did, and quite honestly, they were all I needed.
I don't know the change in your life, but if you know a change is coming, I'd guess that you could apply many of the things I did to your own change. The idea is and was that when preparing for change, you mesh together forward-looking inspiration in anticipation of the change (to keep positive), while embracing whatever is available to you today – the here and now. Because newsflash: Tomorrow is not guaranteed.
When change was coming I was filled with all the emotions, all the time….excited, scared, happy, sad.
Regardless, it would happen whether I was ready or not. I planned and prepared, but in the end realized that even with perfect planning and preparing, I could not control the ultimate outcome, for better or worse.
And this is truly the beauty in change when you embrace it.
p.s. Woke up this morning to flights booked for #5. Did I ever tell you how amazing Ryan is?!
Xox,
SKH
If you don't have time to read these posts daily, but don't want to miss them, be sure to follow via Bloglovin' and/or join my personal e-newsletter HERE. I am doing my best to send a once per week email recap of prior week's posts.
These posts will all live under "Wellness+Lifestyle" and also tagged with "101 Days of Blogging." The 101-day series runs from Monday, January 8, 2018, through Wednesday, April 18, 2018.
If there is a topic surrounding change that you would love for me to include in this series, please just CONTACT ME.
Previous 101-Day Change Series Posts
You will heal. I will help.