Coming home wasn't a decision I ever thought I'd make. I don't mean home as in Minnesota, I mean home as in Waseca, Minnesota.
At the end of yesterday's post, I said I'd share this today, "When I left California and found myself breathing easier again after escaping millions upon millions of people, I began discovering something – one thing in particular – in a whole, new, beautiful light."
Coming Home
During the past 15 years, I've lived in: Minneapolis, Minnesota, Shakopee, Minnesota, Los Angeles, California, Walnut Creek, California, Pittsburg, California (don't ask), San Ramon, California, Mountain House, California, and Tracy, California.
That's it. Nothing small town about any of them, not even really Mountain House because it's basically connected to Tracy.
Everyone assumed, then, that Ryan and I would be moving to the Minneapolis suburbs when we came back. Because I knew the reason we were moving back, I knew we wouldn't live in the Minneapolis area (too far from Ryan's work). However, in the beginning, we wanted to live in a larger town.
We were set on Mankato, Minnesota, which has a population over 40,000. Not huge, but also not small. We looked online at several houses there. But then, depending on where we lived in Mankato, realized it might still be a small trek for Ryan commuting.
So then we decided it would be best if we lived in the town where he works, which is closer to 30,000. In the beginning, I was super hesitant towards that idea, but then, I found a couple houses online that I really liked and realized that by taking the back roads, could still be at my mom and dad's house within 15-20 minutes. Besides, it wasn't Waseca so it seemed like a great idea.
This past summer, Ryan came home to Minnesota. He went to see those house I really liked from online, but for one reason or another, they were coming up short with what he thought I'd truly love.
For a while, we stayed "stuck," not really sure what we would do. Return to the Mankato idea? Stay with a house we were less than excited about in Owatonna? Or maybe the answer was something else altogether.
Meanwhile, I began growing more tired of the constant chaos in California and tried escaping people daily.
And then in early July, an idea and discussions around a home (we had discussed previously) came up. My initial reaction, "Nope." Actually, both Ryan and I were adamant, "Nope. We cannot live in Waseca."
A couple weeks later my brother JJ came out to visit and hike Yosemite with us. We got home that night, and sitting in our driveway, I said to him, "Soooooo……here's the deal. If you were us and had the opportunity to buy xyz house, but it meant you'd have to live in Waseca forever, would you?" Without hesitation, he said, "No way."
I backed up, told him everything, and then he wasn't so set against it anymore. A couple weeks later when I called to tell him we were doing it, he was excited for us. His initial reaction was similar to almost everyone else's, including ours.
I began a pros and cons list for moving back to Waseca, Minnesota, and shockingly, the pros far outweighed the cons.
Butterflies in My Stomach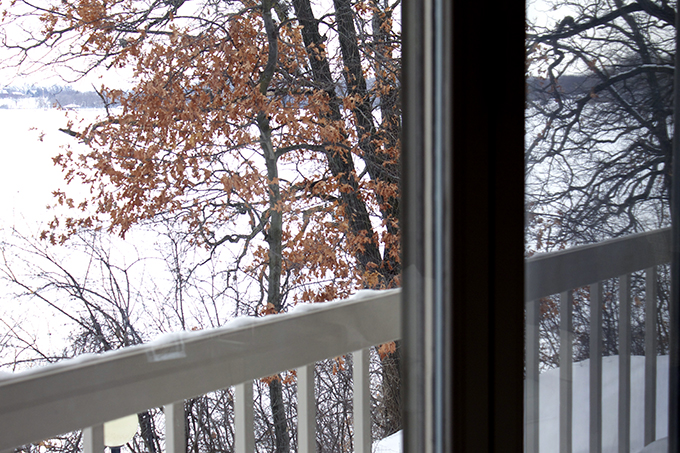 I sat with my pros and cons list until one day in early September when I stumbled upon a post I had written in March of 2014 called, Butterflies in My Stomach. In it, I stated,
Typically, we would cross over those towns and I would not think twice about them nor would I feel anything (except maybe disgust towards the cold, bitter, never-ending winter).

But that day? That day I had butterflies in my stomach. I was giddy. I wanted to move back stat.

There was a time when California, big California-lovin' dreams, and fast lanes were the places butterflies grew in my stomach. I loved those days, and I still sometimes feel those butterflies when I gaze at the Palm Trees, adore the mountains and let the sun warm me.

And so, that day, driving on the backroads in southern Minnesota with nothing but my heart, thoughts and the freezing cold on my mind, it struck me like never before that I could feel those very same butterflies in my stomach.

There is something so beautiful in peace and quiet. It's something I cannot explain to those who have never traveled these solitary roads and those who have made hustle 'n bustle a normal.

There is something about back home (good 'ole Minnesota), back roads and the "Friday night fish fry" at the local American Legion that has me craving a little less, a little more often.
In an instant, I felt those same butterflies again because I remembered that day, what I saw, and the feelings that came with it.
I returned to Waseca to visit in September and then again for Thanksgiving. Those two visits were critical because I felt peace and calm when I was here. I began noticing new things in an old place long before I wrote Making Sense of Change.
Like my breath. I was breathing easier here. And the familiar faces, old, brick buildings, wide open spaces, new shops in rustic places, cornfields, the lake, and a small, quaint downtown.
The way I came to appreciate and find beauty in this small town is not something I ever thought possible.
Growing up, this was the last place most of us would have found beautiful. And even today, many still don't. Being gone for over 11 years, though, totally changed the lens in which I view this town (and even this state).
I took the kids to dinner at my mom and dad's house last night. On the drive there, just before hitting their house, I drove slowly down their road. I told Samarah, "See that forest and all those trees?" That's Grandpa Donny's. You can walk in there and play forever. She responded, "I want to play with Grandpa Donny in there right now, Mama, can we?"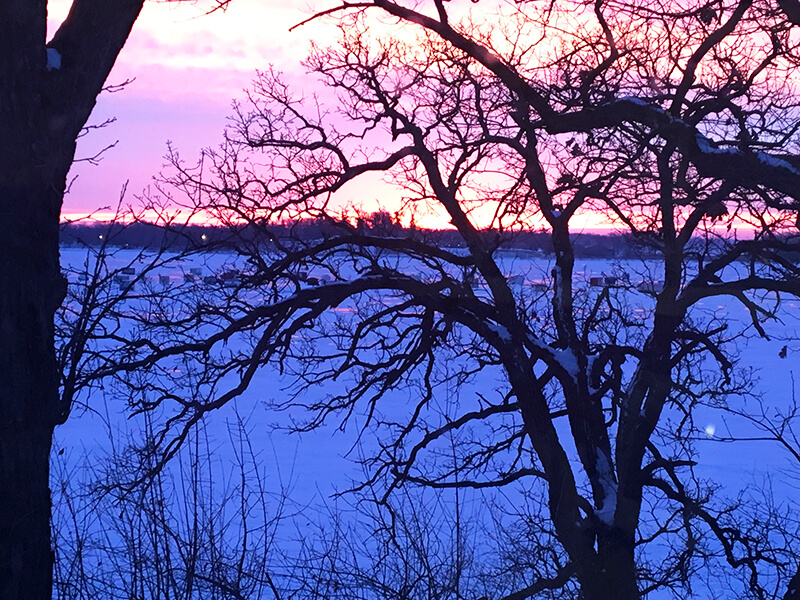 Literally, nothing but snow and trees and miles and miles of open space…..and the babies, and my mom and dad.
Coming home to Waseca was one of the very best decisions I made during my 34th year.
p.s. I found my office studio space, and I can't wait to share it with Y'all. I'd guess it will be done early March. The office studio space, like the house we are buying, all have significant meaning, and I think that's one of the coolest parts of coming home – I can build my life – our lives, packed full not only with rich history but also future dreams.
Xox,
SKH
If you don't have time to read these posts daily, but don't want to miss them, be sure to follow via Bloglovin' and/or join my personal e-newsletter HERE. I am doing my best to send a once per week email recap of prior week's posts.
These posts will all live under "Wellness+Lifestyle" and also tagged with "101 Days of Blogging." The 101-day series runs from Monday, January 8, 2018, through Wednesday, April 18, 2018.
If there is a topic surrounding change that you would love for me to include in this series, please just CONTACT ME.
Previous 101-Day Change Series Posts
You will heal. I will help.