Brace yourselves for what I am about to tell you. There is no dishwasher in the rental house we are living in. (My mom isn't sure I'm going to survive this next year.)
My Junior year of college I lived in a house with all guys. It was a fun year, but man that house was gross and never clean. We had no dishwasher, and I remember always doing everyone else's dishes – mostly mac 'n cheese crusted, ketchup-stained plates.
I didn't like it back then, and I'm not about to rave about doing it now.
If it was just Ryan and me, dishes would pile up quickly, but with three littles, one meal and the entire sink and its surroundings are flooded.
Everyone made comments before we moved in, "Well you know there is no dishwasher, right?" But waiting for the perfect rental house wasn't really an option because the way this all played out went like this:
We knew, late spring, that we would be moving back to Minnesota, but likely not until February or March of 2018 (maybe sometime in mid-January).
We took our time with almost everything except choosing a realtor to sell our house in California.
We made plans to move to a nearby town (first Mankato, Minnesota and then Owatonna, Minnesota).
After looking at houses in Owatonna, we just didn't find what we were looking for.
An opportunity for a forever home that had crossed our paths long before now, re-crossed the path. But, the thing was – the house is in Waseca.
After many discussions and thinking about it, both Ryan and I knew the forever home answer deep down.
We decided "Yes" on the forever home and on Waseca where we were both born and raised.
Very soon after I got the news about my dad, and after going home for Thanksgiving I told Ryan, "I don't care what it takes, I'm going at Christmas time."
Do the math. One month to find a place to rent while we are in transition waiting for our forever home.
With just one month and limited rental opportunities, being picky wasn't an option, and being picky about not having a dishwasher was definitely not an option.
There is No Dishwasher
So there's no dishwasher, and we're doing a lot of dishes, but you know what I absolutely love about the sink space? The space above it. This is it.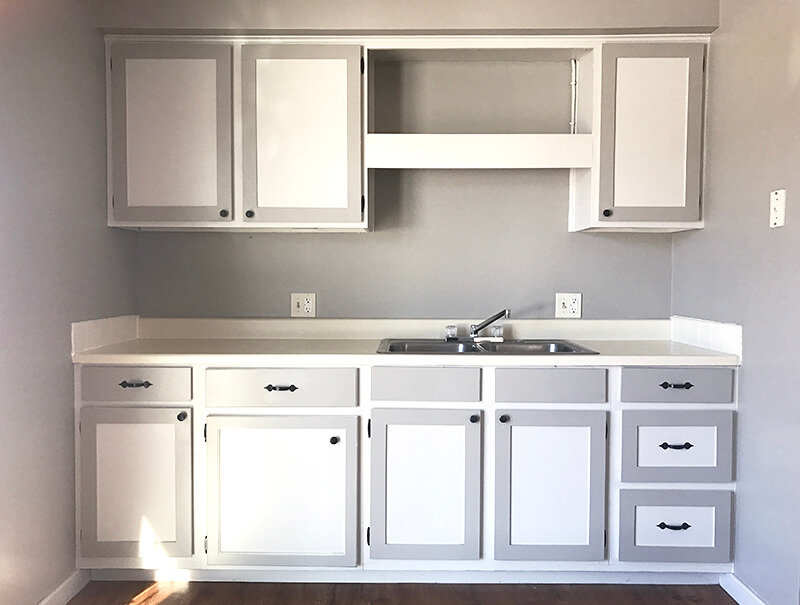 There is a little open-space nook that, when I saw it, immediately reminded me of the farmhouse we stayed at this past summer on our mini-vacation. The one that looked like this.
My open-space nook is much smaller, but I was excited all the same.
Right now, I find myself dwelling on a lot of things, but I also find myself turning most situations into something positive, exciting, and inspiring.
Like this…..where there is no dishwasher, but an overwhelming feeling of "happy" just because of a little farmhouse nook I get to stare at every single time I'm doing the dishes.
It's not my old kitchen in California, and it's certainly not my new kitchen in our forever home, but (truth be told) it's cozy like the traditional kitchen space I adore and having the opportunity to adore it will be short-lived.
Wonder what I placed in the space? I'll show you soon.
Xox,
SKH
If you don't have time to read these posts daily, but don't want to miss them, be sure to follow via Bloglovin' and/or join my personal e-newsletter HERE. I am doing my best to send a once per week email recap of prior week's posts.
These posts will all live under "Wellness+Lifestyle" and also tagged with "101 Days of Blogging." The 101-day series runs from Monday, January 8, 2018, through Wednesday, April 18, 2018.
If there is a topic surrounding change that you would love for me to include in this series, please just CONTACT ME.
Previous 101-Day Change Series Posts
You will heal. I will help.