Today good enough is enough. It's just enough.
I had a post planned for today. I promise I did, but when I sat down to complete it, I knew that my heart just wasn't there.
I get told a lot, after posts I publish, emails I write, and comments I make (IRL) to people, "Oh my gosh. You really are human."
I'm here to tell you that I am as human as they come.
Good Enough is Enough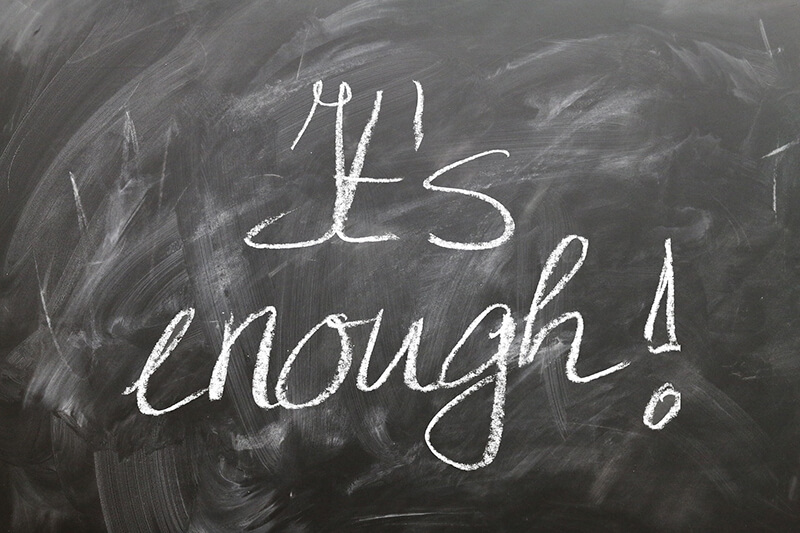 Yesterday felt awful, super awful. Being that I still don't have an office away from our house, I listened to screaming all day long. Sounds selfish for me to complain about my child screaming, but any other mother who works away from the house does not have to listen to it plus deal with everything that comes with a full-time job.
So I listened to it and felt awful for my new nanny (who, by the way, is a rock star), and in the thick of the chaos tried reminding myself that it was only temporary. And yet still, I felt like it was never going to end.
I feel like I've been in a season that is never-ending, and if you want the real and honest raw truth – I am so tired of everyone constantly saying to me, "Oh, but you're going to miss this stage so much."
When I started this series I stated, "I'm not promising that every single day is going to be a 300+-word blog post. In fact, some days (depending on the day and life), the post might only be a few words. I believe this is all a part of embracing change, though, and showing you through my own life that sometimes (eh – most of the time) good enough is enough."
Today is one of those days. It's one of those days where the Internet gurus will tell me my blog is meh because there is nothing "sticky" about this post, no one cares – it's a read and move on type of post.
And they are correct.
But this is a post for me, on my journey, during this change and season and mess-filled space I'm trying to navigate and untwist.
Yesterday felt ugly and unending, and today I just want to face a new day, with as much of a positive attitude as I can muster up.
Nothing more, nothing less. 100% human, 100% just like you, Mama.
And good enough is just going to have to be enough.
Xox,
SKH
If you don't have time to read these posts daily, but don't want to miss them, be sure to follow via Bloglovin' and/or join my personal e-newsletter HERE. I am doing my best to send a once per week email recap of prior week's posts.
These posts will all live under "Wellness+Lifestyle" and also tagged with "101 Days of Blogging." The 101-day series runs from Monday, January 8, 2018, through Wednesday, April 18, 2018.
If there is a topic surrounding change that you would love for me to include in this series, please just CONTACT ME.
Previous 101-Day Change Series Posts
You will heal. I will help.