There are so many boxes surrounding my life right now that sometimes I feel like I am suffocating. I had to tell myself last Thursday after the moving truck arrived, "One box at a time."
One Box at a Time
Note: If you hate to see messy images and a house filled with clutter, proceed with caution on these posts. There are no fancy, beautiful images. It's just not reality currently.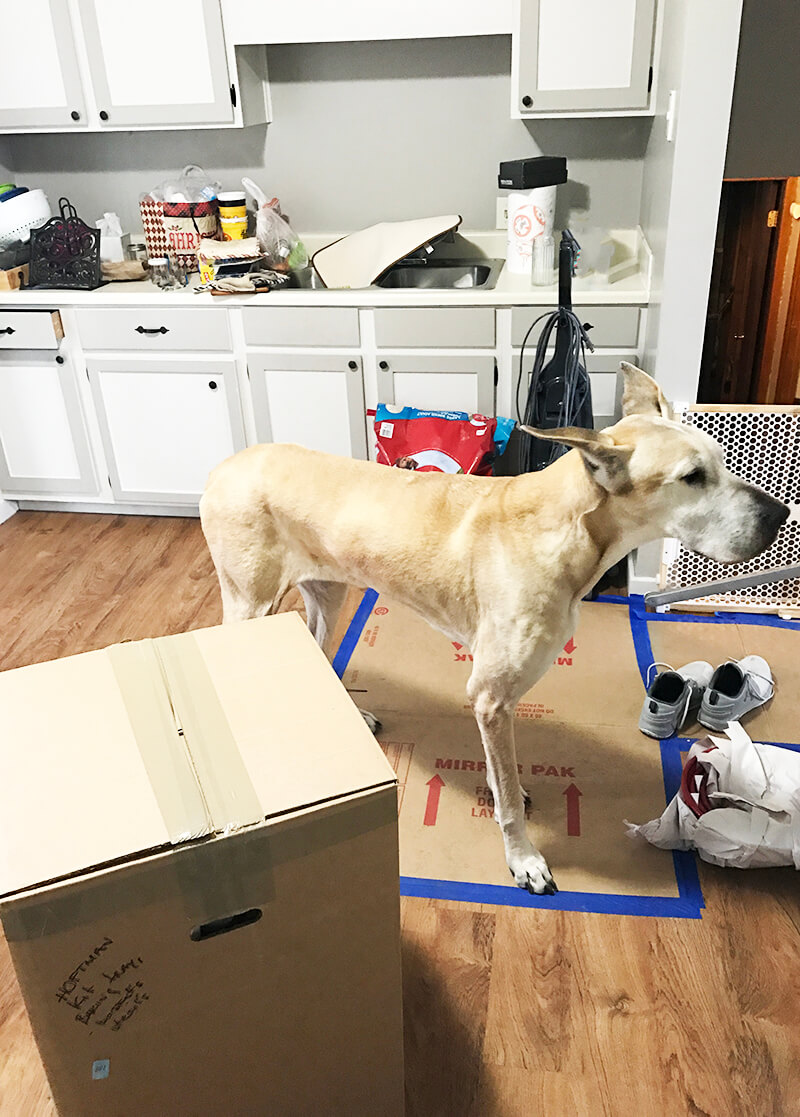 When I was packing the stuff in California, it felt freeing because, prior to placing things in boxes I made those three piles: donate, sell, and pack. The things that I no longer needed or wanted, I threw. And so, I thought, I have totally decluttered my life.
Until the boxes arrived.
I went without things for almost a month, and while I'm sure family wondered if I even owned another shirt other than this hooded, navy blue "namaste" one I got at Target, I didn't care. I had almost completely forgotten about all the things I packed away.
Unboxing
And then those boxes arrived, and something had to be done with all of them.
Ryan started in the bedrooms, and I started in the kitchen because obviously it's my favorite room in the kitchen and I have to know where everything is.
There was so much kitchen stuff that I could only bring a few boxes in from the garage at a time. As I started unboxing, the silence of the house killed me so I turned on music and began singing to feel less stress from all those boxes.
And then, it began to feel sort of like Christmas. You know, when you see a package, then open it, and unwrap the several layers of paper around "the thing" until at last, you see what "the thing" is.
Item after item, box after box, I began to feel excited again about having all of my kitchen items in this new place. Almost every single piece I unwrapped reminded me of something or someone.
All The Stuff
Those dish towels? Grandma Verna. This hutch (below)? Moving it into our home in Redbridge with the help of Jen and Will. Those two little dogs (a black and white one) that you can see on the left bottom shelf (they almost look like specks)? Grandma Josephine (I took them from her house after she passed away, and by the way, I forgot to pack them and they stayed like that the whole trip from California to Minnesota. Pretty cool.) That lefse circle? Ryan's grandmother. My coffee mugs? California (I decided to only keep out the coffee mugs that Ryan and I had been collecting in California, and re-boxed the rest to go back to storage). The endless glass jars? That foodie, healthy, holistic lifestyle I found in California. My Lodge pans? Lotus Foods, and other client projects.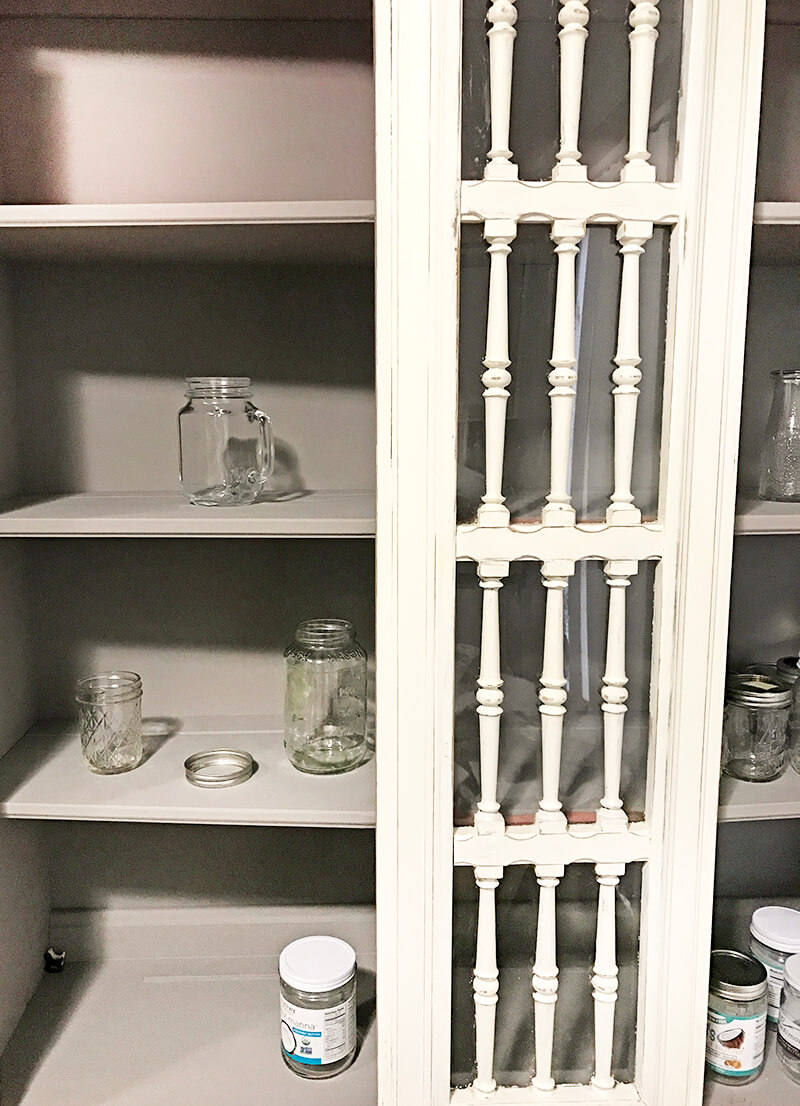 And on and on it went.
About 24 hours later, everything that I would keep in the kitchen, for now, was there (I will give you a little "tour" of it soon enough.). The rest went back into boxes, into the garage, to head to storage.
The kitchen is still home to a couple small boxes that need to be figured out and then taken out, but the kitchen is no longer a place filled with mad overwhelm. (The rest of the house? Um. Yeah, a whole other story. Send help.)
Just One
That day, I kept telling myself, "one box at a time," and right now, today, as I type this, and yesterday, and tomorrow, and for who knows how long I know I'm going to find myself saying a similar version of "one box at a time" – one day a time, one moment a time, one decision at a time, one, one, one…..
Because friends, that's how life works and how we deal with change….one box, and one step at a time.
p.s. Reagan is suuuuuppppeeer confused by life here. If you saw my Instagram Stories yesterday you will see her first taste of Minnesota winter. She was not a fan. She's not a fan of these close quarters, with boxes everywhere, and complete mayhem. She'd rather be out in the garage on her chair than inside, that's for sure, but then she gets too cold, so there's that. That Great Dane sure is sweet, though.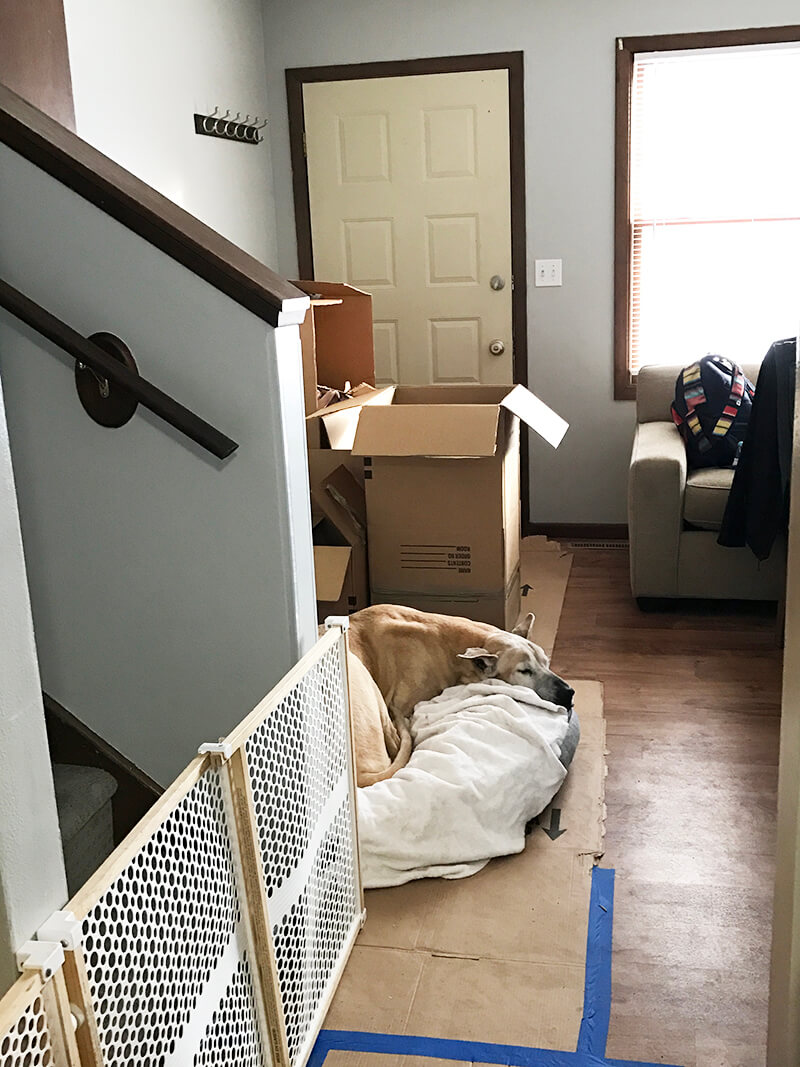 Xox,
SKH
You will heal. I will help.