Today is the month one anniversary since leaving California.
It feels like just yesterday that we moved, and it also feels like forever ago. I blame the slow and fast-moving time on chaos.
Last night we stayed, for the first night, in our rental house. The night was not easy because there are so many things about this house that the kids will need to get used to. I will share more about the house next week, but the biggest change with this house is that we are living in much tighter quarters than we've ever been used to, and for the babies, it's now the second house they have lived in within a short month.
But back to month one….
As we waved goodbye to my in-laws last night at their house before driving to the rental, I thought about month one a lot.
Month One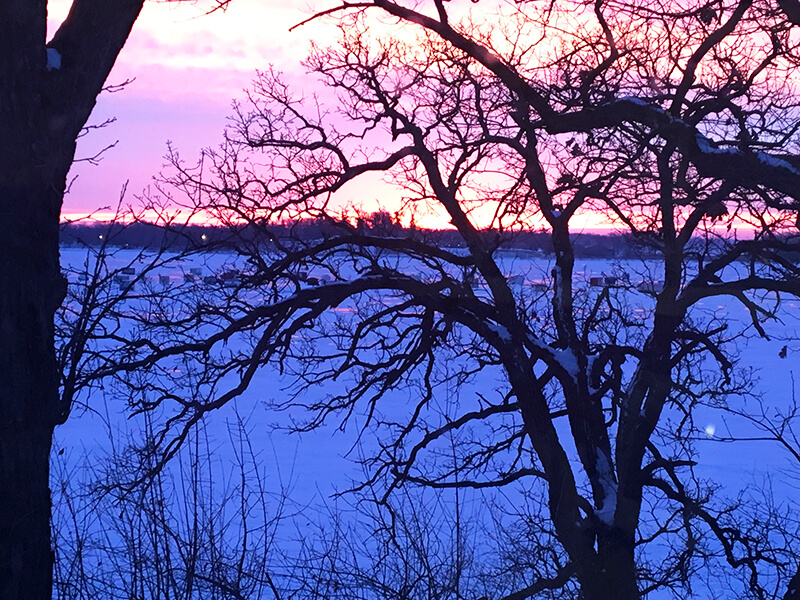 (p.s. For my friends in California – and warmer climates in general – reading this post, if you look at this picture closely, you will see little specks beyond the trees. Those are ice fishing houses, and yes, they stay on the lake like that all winter long. My brother is one of those crazy ice fishermen, and people just love it. I don't. I don't ever want to ice fish, but I do find it awesome.)
I thought about how grateful I feel that my in-laws took us in for the month and dealt with all the chaos, screaming, crying, laughing, playing, eating and one illness after the next. When I was growing up, we lived with my grandma for a short time period as well, while our house was being built, and now I know that that time period must not have been easy – for my mom and dad, brother and me, and (maybe most especially) Grandma.
I thought about how many things have changed in this town, and also how many have not.
I thought about all the time I've spent with family – immediate, but also my brother-in-law and his son, my aunts and uncles, cousins and their kids.
I thought about how lovely it was yesterday when my mom texted me, "I'm just going to stop in Owatonna quickly, and then I'll be over." Literally. Do you even know how long I've waited for that to be a daily reality?
And right along with it, I thought about the things I've been able to do and help with during month one to help my mom and dad with my dad…..driving to the VA, being at doctor's appointments (feverishly taking notes and listening), getting dad his chocolate shakes, telling dad to stop being stubborn (!), and just sitting there – with both of them – anytime I want or they want/need.
I thought about the cold – how I've actually kind of enjoyed it (hi – yes, still me writing here!), and about the snow – because it's so beautiful when the sun rises and sets over it and places a glare that no picture could accurately capture.
I thought about all the people that have reached out to Ryan and me – family, friends, acquaintances and even people we barely know just to offer a warm "welcome home," or "how can I help?" or even just a smile.
I even thought about those Minnesota Vikings, and how moving back right now has rocked, in that sense, too. SKOL!
I thought about how grateful I feel for the simplicity. Everything in this town is simple, and what I mean by that is that going anywhere or doing anything creates zero stress or hassle (except for ice and snow – because that is going to be stressful for me forever). I can get in my car and be anywhere, without exception, within 10 minutes max. And that's a total max – most things take 5 minutes or less.
Month One Gone
But I would be completely lying to you if I didn't also share with you something else I also thought about.
I thought about California.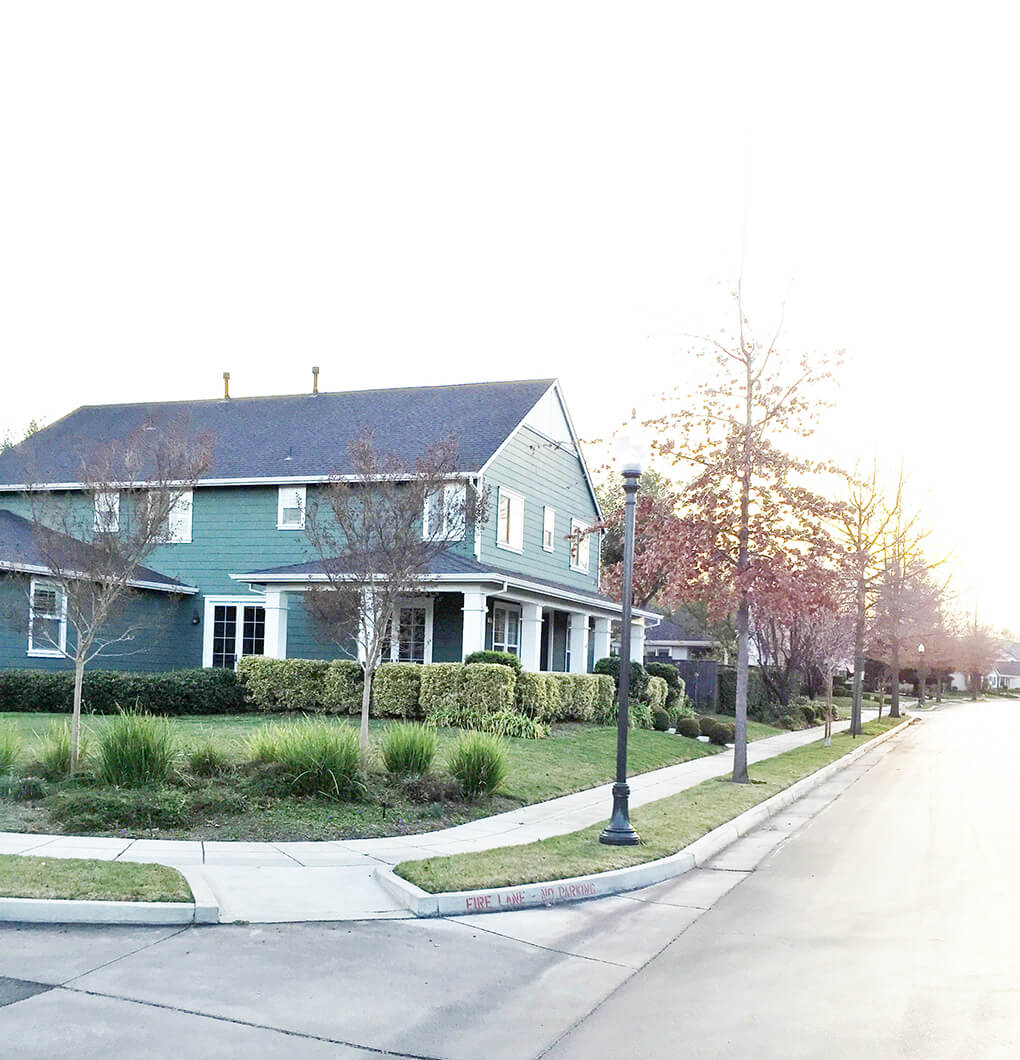 Month one means I have spent a whole month away from the place, the only place, I knew and loved for the last 11 years.
I realized that I have been talking so much about how my love for our "new" home in Minnesota that people must think I totally hated California, that I didn't find beauty there, and that I literally wished to be gone from the state long ago.
And that's just not the case at all.
Straight out of college I lived in Los Angeles for a few months. I had planned on living there a lot longer, but life happened, and it wasn't in the cards for me to live there long-term. So when people ask about my time in Los Angeles now, I refer to it as a "life vacation."
But that's not how I feel about Nor Cal at all, not even a little bit.
Nor Cal was home for me, and for us.
The concept of house and home is real, and I now also believe that the concept of how different homes can occupy different pieces of your heart is also real.
Tracy, California will never be the home that takes up the most space in my heart, but for several reasons, it will always occupy a large portion of my heart.
For myself, before I can keep moving forward with change and this forever place, I want to share all the things and reasons why that place in my heart will always exist for California.
I'm hoping to share the post on Monday.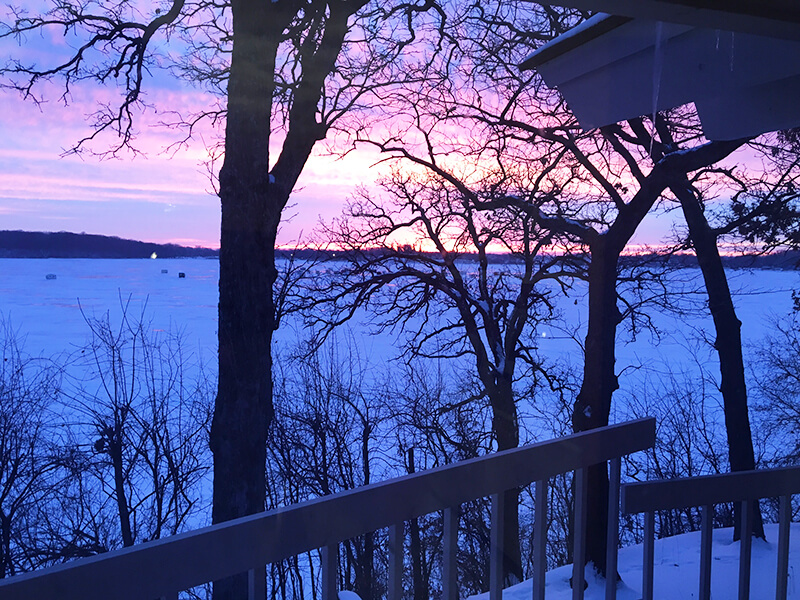 And for today?
Thank you, month one. You weren't normal or easy, and you sure as h@#$ were super messy, but we made it through to month two.
Xox,
SKH
If you don't have time to read these posts daily, but don't want to miss them, be sure to follow via Bloglovin' and/or join my personal e-newsletter HERE. I am doing my best to send a once per week email recap of prior week's posts.
These posts will all live under "Wellness+Lifestyle" and also tagged with "101 Days of Blogging." The 101-day series runs from Monday, January 8, 2018, through Wednesday, April 18, 2018.
If there is a topic surrounding change that you would love for me to include in this series, please just CONTACT ME.
Previous 101-Day Change Series Posts
You will heal. I will help.