On January 3, 2018, an executive client I was working with in the latter part of 2017 texted me, "Read your New Year's goals blog. Really love your approach to life. Hang in there – chaos is a temporary state."
I barely got any sleep last night, and at one point when I woke up, that thought danced in my mind, flirted with my thoughts….chaos is a temporary state.
Chaos for the Babies
All three kids are sick – again, and those are not words I've ever written since we got them. (This picture is a pretty accurate depiction of life currently – Maya a boogery mess with an oddly beautiful bead necklace randomly draped around her.)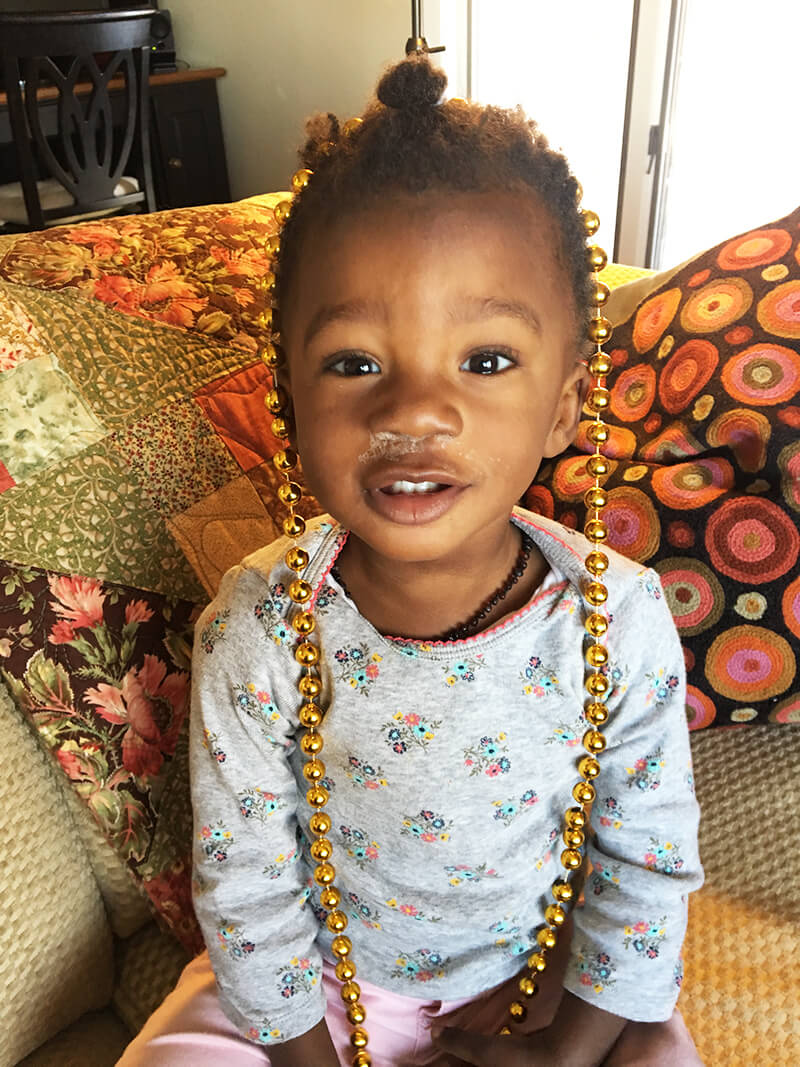 They were hardly ever sick in California, and when they were, it was short lived.
But since arriving back home to Minnesota, it's been non-stop. Every single day something new pops up. Samarah and Isaiah had the flu, and then Amiya got this nasty cold which she then passed to Samarah and Isaiah, but I can't really tell if it's the same virus because Samarah has a rash, too, and overall they are all just miserable. (And before someone even suggests, "Well did you get the flu shot?" I'll tell you. Yes, Samarah did – because she had to for school, and no, the other two did not. Of all 3, Samarah has probably been the sickest.)
I'm trying to not act like this is a total shocker, though. Everything is different for them, including the bugs and germs they are being exposed to, and the environment they are trying to adjust to and fit in with.
In the middle of the night, I wondered how much of their reoccurring illness is due to the stress of change on their little bodies. Part of the reason we get sick so much during the cold winter is due to the stress of the cold combined with the change in air – it's so dry. Both of these are brand new for all my babies who were born in Stockton and Oakland, California – until recently, they had never even experienced snow or true cold weather.
If I think my life feels flipped turned upside down, without-a-doubt, they could be experiencing the same and quite honestly maybe even more. I have forgotten about all the changes in their little lives, brushing it off as, "children adapt so well," and "children are resilient."
But are they?
In less than one month….
Samarah has a brand new school.
They lost their bed/cribs (the moving truck arrives today!)
They have been sleeping in different rooms, waking up at all hours of the night, probably wondering where they are (yes, still).
No longer have their familiar two nannies, and have a new nanny (who, by the way, we love, and I'll share more about her soon).
Have a completely different daily routine.
Stay inside almost 100% of the time vs. spending a ton of time outside, walking, and playing at the park.
See none of the children's familiar faces (Samarah's friends, and the babies playmates at the park).
Are likely wondering, "Where's Raggie?" (That's what they call her, and that's their dog, the Great Dane, Reagan – that they will finally see again tonight!)
Have been eating much differently than they were accustomed to. (Without all my toys and tools, I haven't been making the usuals.)
They see their daddy and then they don't (Ryan is back-and-forth between here and California weekly, and they adore him so when he's not here….)
Please don't misunderstand the Debbie-downer points I mentioned above.
I didn't say that anything was negative, bad, or harmful at all.
But for little bodies….1, 2, and 4, all of the above are enough to feel disruptive and stressful. Honestly? I'm almost 35, dealing with many of those same things they are, and I, too, am having a hard time (which is probably why I also got a brief bout of the flu when they did).
Chaos is a Temporary State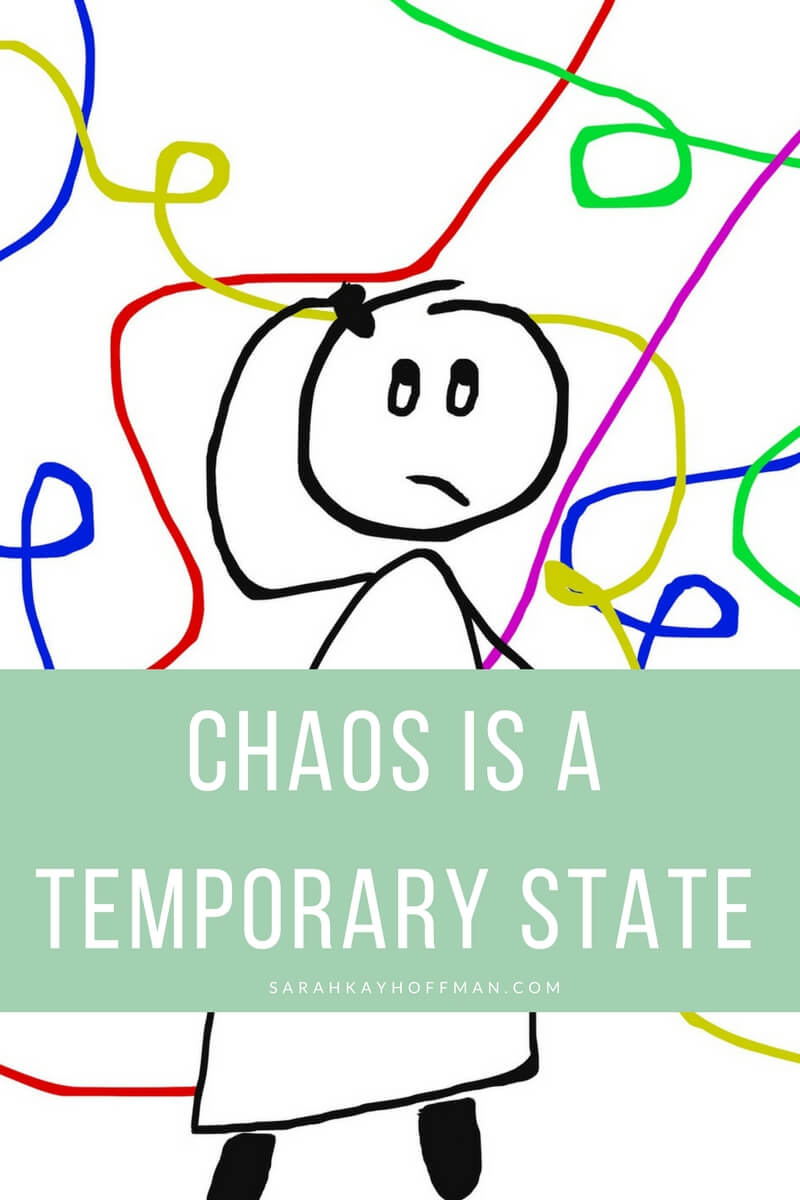 Today our stuff arrives on the moving truck, which means that tomorrow they will see another huge change.
For them, and for myself, I really need to start giving the grace and space for these changes. Just because one is capable of being resilient, doesn't mean the period of grace and space for growth and change isn't necessary.
It is necessary because as exciting as it (mostly) feels for me, it's downright chaos for them.
Every single day it's something new, and the structure and schedules have just not been properly set yet. Newsflash, children need structure and schedules – at least ours do.
Chaos is complete disorder and confusion.
I'd say that about sums up life currently. Maybe not complete disorder and confusion, but for the babies, I'm sure it feels like it. And in life, perception is always reality.
Their perception sees chaos because that's where we're at right now.
But like my client said, "Chaos is a temporary state."
I'm hanging onto those five words for all of us.
Xox,
SKH
If you don't have time to read these posts daily, but don't want to miss them, be sure to follow via Bloglovin' and/or join my personal e-newsletter HERE. I am doing my best to send a once per week email recap of prior week's posts.
These posts will all live under "Wellness+Lifestyle" and also tagged with "101 Days of Blogging." The 101-day series runs from Monday, January 8, 2018, through Wednesday, April 18, 2018.
If there is a topic surrounding change that you would love for me to include in this series, please just CONTACT ME.
Previous 101-Day Change Series Posts
You will heal. I will help.