Next year my children's holiday list is not likely to include babies, so I'll just soak up all that it is this last year. For this year, I have put together 29 Holiday Gift Ideas for Babies and Toddlers.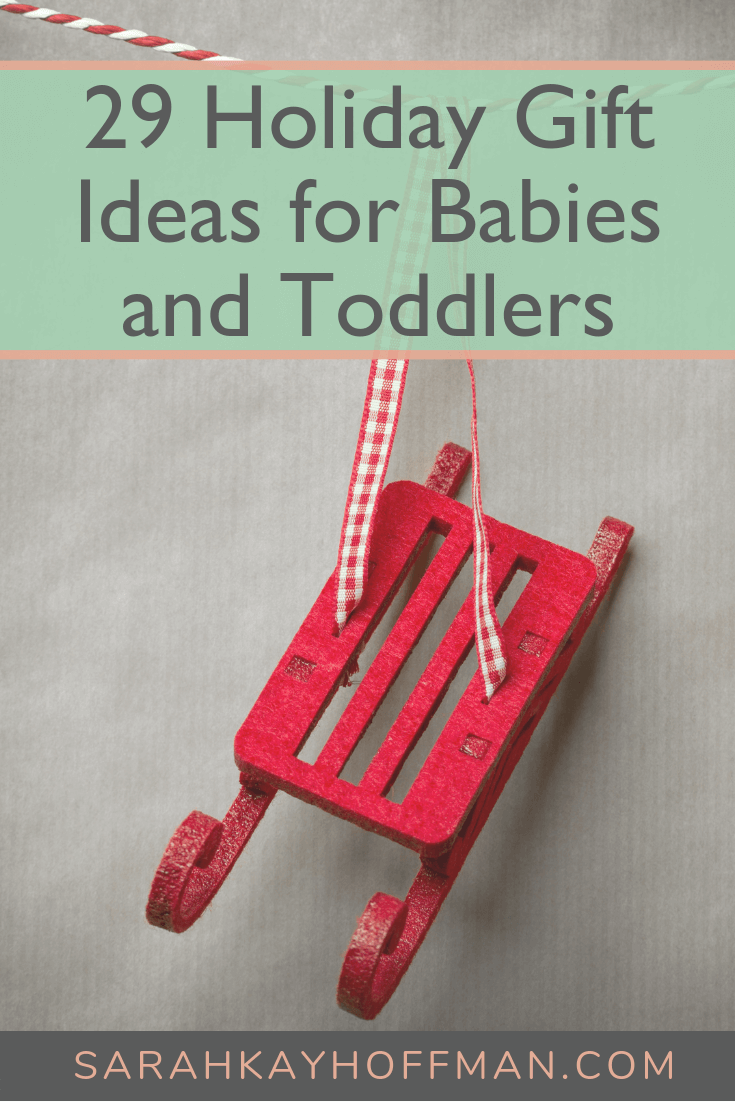 In case this is the first time you've visited my blog, we currently have a 1, 2, and 4-year-old so these are items appropriate for them.
By the way, these are in addition to the list I made last year – 57 Holiday Gift Ideas for Babies and Toddlers. And from that list, the numbers I'm still super hot on this year are (#1 – but we need to order this ASAP, since it didn't happen last year, #3 – for friends, #32, and #35 x 3 – we have one and it's gross now – all 3 kids love these).
I did not do a separate list for Adoption and Faith this year, but from that list #4, #11, #12, #14, #15, #21, #22, and #23.
And finally, you could grab any of these ideas if you are helping with the Foster Children Christmas project.
For today….29 Holiday Gift Ideas for Babies and Toddlers.
29 Holiday Gift Ideas for Babies and Toddlers
Click HERE to save this post for later.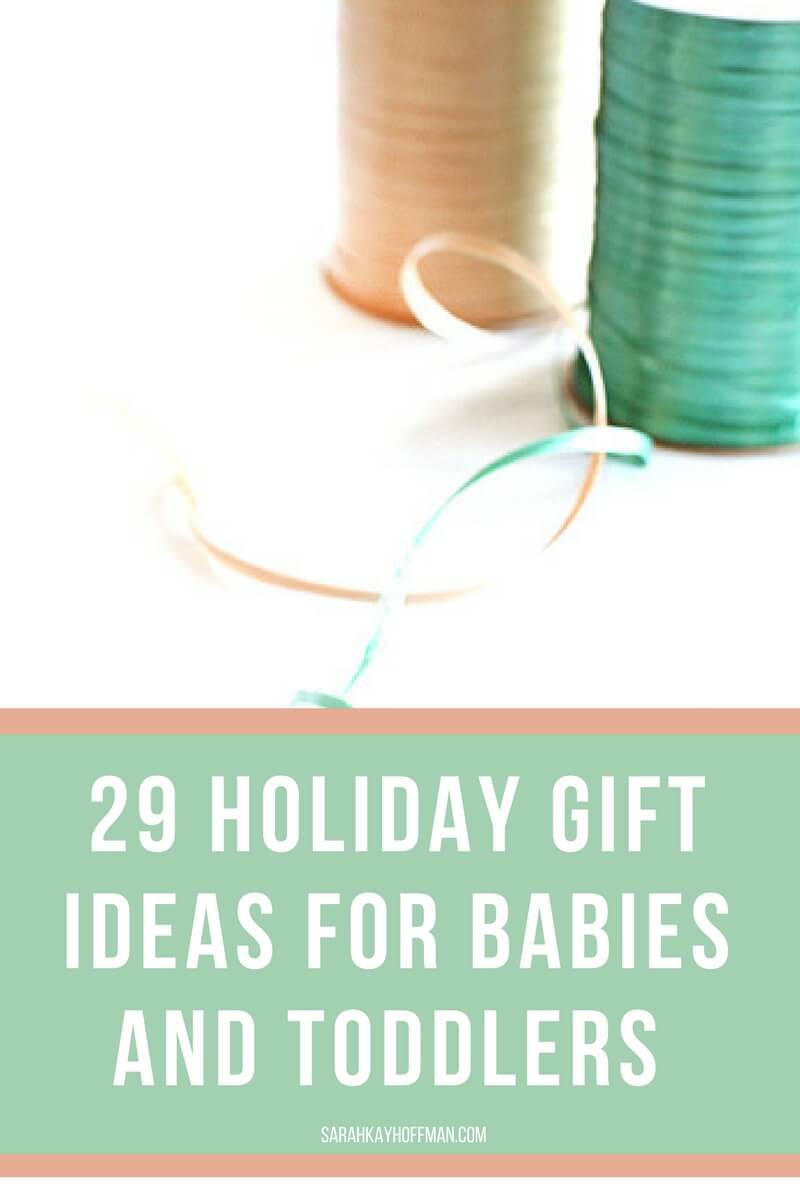 FREE idea! This one is 100% free, and I think everyone should do it for their children. Create an email address for them. On our 8th anniversary, I created an email address for Ryan. I told him I was doing it but said I wouldn't give him the password to read the emails until our 9th anniversary. So, last week when we celebrated 9 years, I gave him the password. We both read through the emails and loved looking back on this past year. I am setting up a separate email for each of my children this holiday season. Ryan and I will both write to them, and when they are older, maybe 18 and graduating from high school, we will share the password with them to read everything.

Kira Kids. Adorbs. Everything is made in the United States, and I swoon over all the things they have. We have the Taco Romper/PJ's for Amiya, and she's a trip in them!
Beautycounter. Anything and everything, and the holiday season is the best time to dip your toes into all the awesome that is Beautycounter if you haven't yet. If you're not sure what you/they might want, grab a gift card (email me sarah at sarahkayhoffman.com and I'll get one custom made for you). A few items on my Holiday hot list for the kids include….p.s. I have Beautycounter things on my health and wellness list coming this week, too, but I will say that if you are interested in the holiday sets, don't wait. They are selling out quickly!

Wooden Car Tracks. Isaiah (2 years) is into all the vehicle toys and making them go, go, go while making sounds. I love the Melissa & Doug Deluxe Wooden Railway Set.
Organic Manuka Honey Pops. Is it just mine, or do your kids love lollipops, too? You'll notice that I don't have a separate Stocking Stuffers list this year (like this one from last year), but these would be the perfect stocking stuffer for children (not babies). These lollipops are available in kid-friendly raspberry, orange, grape or a variety pack, and they contain +100% RDA Vitamin C for kids, without the use of any artificial colors or flavors.

Cardboard Furniture. I started reading about how popular this was, and I couldn't wrap my hands around it until I started researching more. Now that I understand, I'd love something for the kids. It's eco-friendly and cute. Besides, how often have you bought something in a large cardboard box for the kids, only to have them more interested in the cardboard box than the item inside that box? This could be a DIY holiday gift and/or one you purchase.
Handmade Dollhouse. I don't actually have a specific one in mind, but this idea is for the girls and inspired by this. While growing up, we had a tiny playhouse like this at my Grandma Verna's (nowhere near as fancy, but lovely nonetheless). That would be on our bucket list, but in the meantime, I'd love a larger handmade (inside the house) dollhouse.

Earth Mama Organics Mini Deodorant 4-Pack. No, your babies and toddlers should not use this, but I put this on the babies and toddlers list because when I refer to Earth Mama, it's almost always for the babies and toddlers. This time, though, it's for YOU…..but small enough to put inside their diaper bag. Earth Mama's mini deodorants are travel-savvy and squee-cute. Pop one in your purse, the diaper bag, your gym bag or stuff 'em in stockings with a falala – they are just that good.

Firetruck Pajamas. 4T for Isaiah.
Garbage, Fire, Dump Truck set. Can you tell what Isaiah is currently into?
Kid's Silk Pillowcase. Good Hair needs the best pillowcase possible. Samarah needs one immediately, and the other two will need them soon, too. (Side note: If any mamas out there have a recommendation on the best pillow/brand for this, let me know!)
Microfiber Hair Towel. Our beautiful girls also need special hair towels.
Tiny Crane Bath Toys. They have so many cute, fun, cozy, and safe bath toys.
Bugs in Jar. Samarah and Isaiah would love this. It's on the "Hot Toys List" this year.
Princess Tiana. It's Samarah's favorite Disney princess, and I want to celebrate her love for Tiana. I love the Toddler Doll (you can also find this same doll in all the other Disney princesses), and the Disney Princess and Me Dress.
Schylling Little Helper Broom Set. Why do kids love to clean so much? And will they still when they are teenagers?!
LeapFrog Scoop and Learn Ice Cream Cart. My kids are always "making ice cream cones" with whatever they can find, and I love this learning set around the activity.
Stacking Cups. A long time ago (still sometimes now) Isaiah's teacher had him stack cups as high as he could. He stayed focused on it for a long time, and I loved watching him go, build, go. I'd love these for Maya.
Baby Alive Sweet Tears Baby (the African American one + all others can be found here). Samarah has entered Motherhood, and she would absolutely love this. What little girl (or boy – Isaiah loves playing with them, too!) doesn't?!
Sensory Balls. Give us all the sensory toys.
Wooden Learning Toys. I love toys like these for the kids. I'd choose wood over plastic any day of the week.
Child's Own. Take your child's drawing of a person or thing, and watch it brought to life. This concept is super cool. I think my kids are still too young for it, but if yours are a little older, you must check it out.
Peppa Pig. I'm not sure how much longer Samarah will stay on the Peppa train (I might outlast her!), but now Isaiah and Amiya love it, so we'll be hanging out with Peppa and family for quite some time yet. I'd love Peppa's Bedtime book, the Castle Playset, school bus, George's New Dinosaur (book), and George's Train Ride Construction Set (Isaiah would love this). Is it apparent yet that we're Peppa Pig fans?!
Paw Patrol Racers. And Paw Patrol is their other current favorite.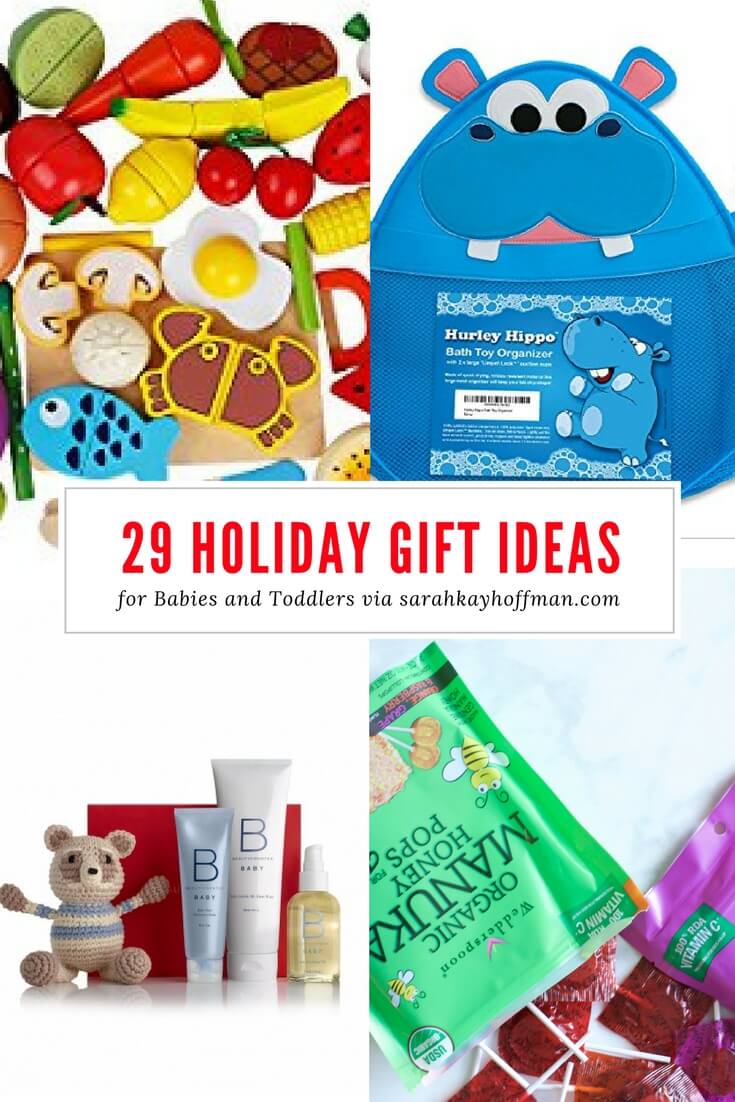 So there you have it…..my list of 29 Holiday Gift Ideas for Babies and Toddlers. What's on your list?
Disclosure: Several brands and companies have sponsored this post, and many of the other links are Amazon Affiliate links. All opinions stated here are 100% my own. I appreciate your support, as this compensation helps with expenses to keep this blog up and running, and for me to continue sharing all that I can with you. For my full disclaimer and disclosure click HERE. Thank you for your support!
Xox,
SKH
You will heal. I will help.