Anyone interested in joining me to help give a very merry Foster Children Christmas to several kids?
Today is only November 6th, and I am actually not a fan of discussing all the Christmas things before Thanksgiving (but a candle, I do need a Christmas candle!).
However, in this case (and in the case of gift giving in general – both of my holiday gift lists will be live this week!), we have to prep and plan to make sure there is ample time for shopping and collection.
Christmas is that time of year that, for many, can make or break. The reality for many foster children is that Christmas is a gentle reminder for all they don't have…..a mom, dad, brother, sister, family, or "things" (even basic pajamas).
While we're all over here planning gifts, events, baking with our children, singing songs, and finding joy in the holiday spirit, there are children just wishing for a life that includes any of that.
I began giving back to foster children with the Pajama Rama Jamas and then most recently with Halloween Baskets. All along, I am setting aside 10% of everything this blog makes to give back. Now that the holiday season has arrived, it's time for a very merry foster children Christmas.
Foster Children Christmas
Click HERE to save this post for later.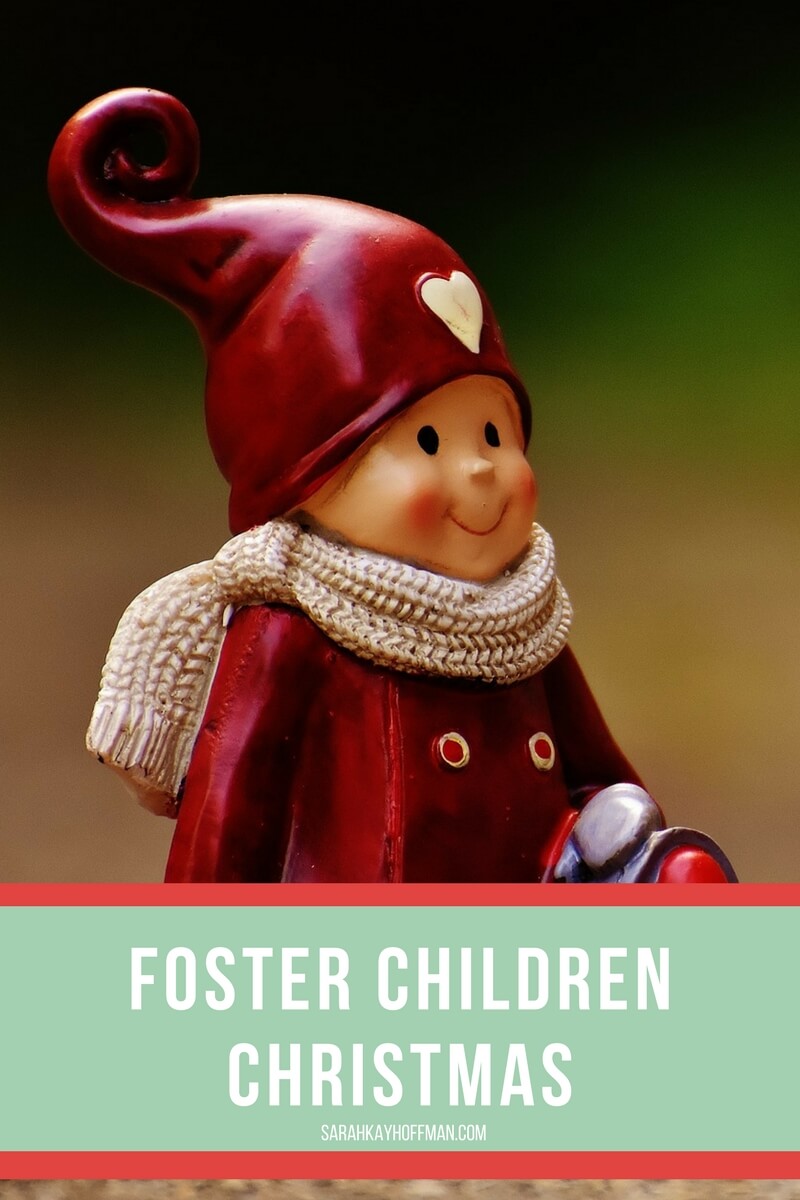 I reached out to the social worker who helps me coordinate all of this, and asked, "How can we help with a Foster Children Christmas?" She was extremely thorough and put together these lists for me.
Young Child
dolls

play kitchens
cooking toys
dress-up clothes
play tools
balls
games
stuffed animals
Tween & Teen
gift cards for:

movies
Starbucks

(kids love this but often don't have money to get it)

skate supplies
make-up lip gloss, nail polish, etc.
General
books

board Games
coats
scarves
gloves
hats
socks
I will also add that if you want to get gifts for babies, then go for products from infantcore. Clothes, bath items, toys, etc.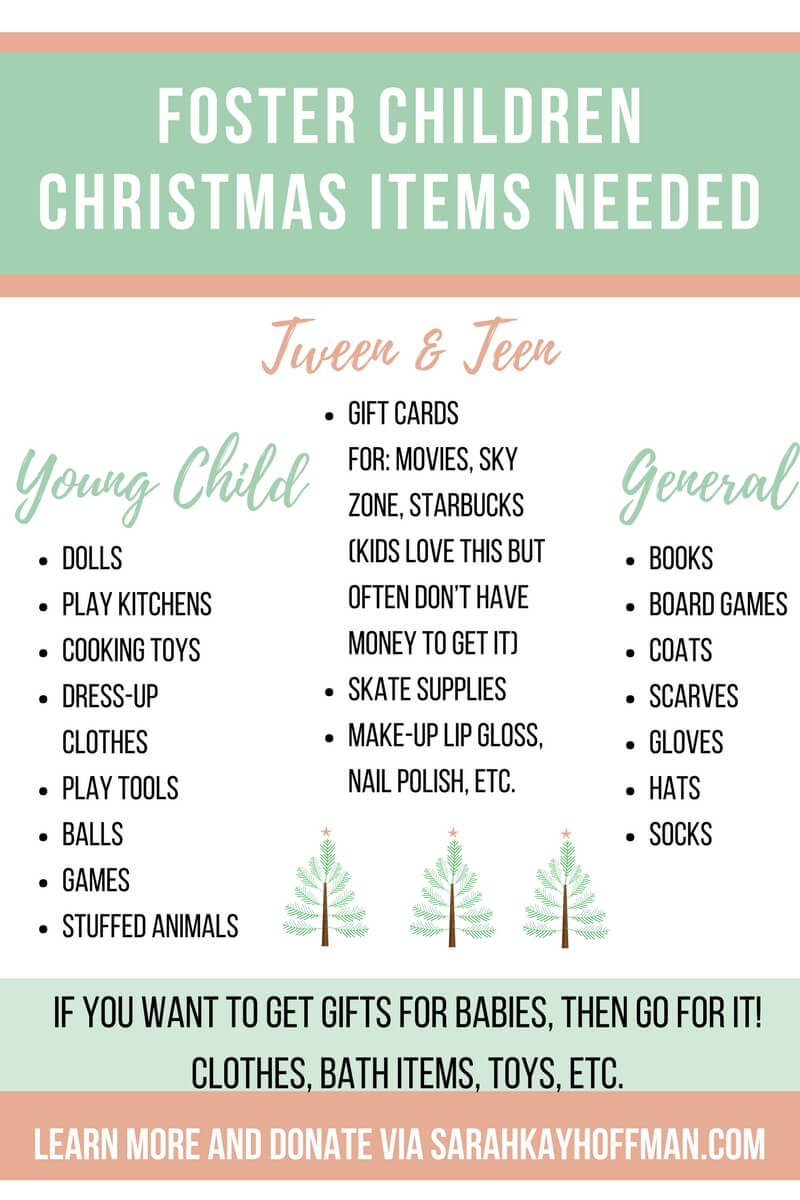 Other Information
Age: all
Gender: both
Deadline: Wednesday, December 13 so that I can get it to the social worker on Friday, December 15
If you are local, please private message me on social or reach out HERE and I'd be happy to arrange to get them from you.
If you are not local, please private message me on social or reach out HERE for shipping instructions.
If you are not local and don't want to ship anything, you can donate gift cards to Target, Carter's, or Walmart, or send money (by Wednesday, December 13, 2017). I will then do all the donation shopping for you.
Some people are more comfortable making anonymous donations. If this is you, the best way to do that would be to purchase a gift card online at Target or Carter's and have it emailed to me anonymously (sarah@sarahkayhoffman.com).
Anything else? Contact me HERE or email me at sarah@sarahkayhoffman.com
One final thing….and this is very important. If you are the creative, writing, and/or card/letter giving type, now would be the time to put those skills to use.
I had coffee with the social worker quite some time back and she told me a story about someone who had put together a package for a foster child. Included in that package was a simple note along the lines of, "I hope you know how special and loved you are." (There was obviously more to it than that, but that was the foundation of the message.)
The social worker told me they all cried, and they gave it to a child they knew was struggling, bouncing from home-to-home and needed it more than anything.
This is not a requirement, just a little extra something, should you feel compelled to do so.
Thank you for joining me in helping make this holiday season a little brighter for a child.
p.s. Can you help me share this post? Click HERE to share it on Facebook, HERE to share it on Twitter, and HERE to save to Pinterest.
Xox,
SKH