Here it goes….why are we blaming fitness for infertility?
I wasn't sure I wanted to have this conversation, but after reading yet another article on the topic this past weekend, I couldn't help myself, and since infertility is part of this blog, I felt like another viewpoint should be shared.
Last week I got my female monthly friend on cycle day 28. Yes, exactly on that day. It has been this way, now, for about 6-7 years. I never skip a beat. Every single month she arrives somewhere between day 27-31, and more often than not exactly on day 28.
Now that we got that out of the way, here it goes….
Why Are We Blaming Fitness for Infertility?
Click HERE to save this post for later.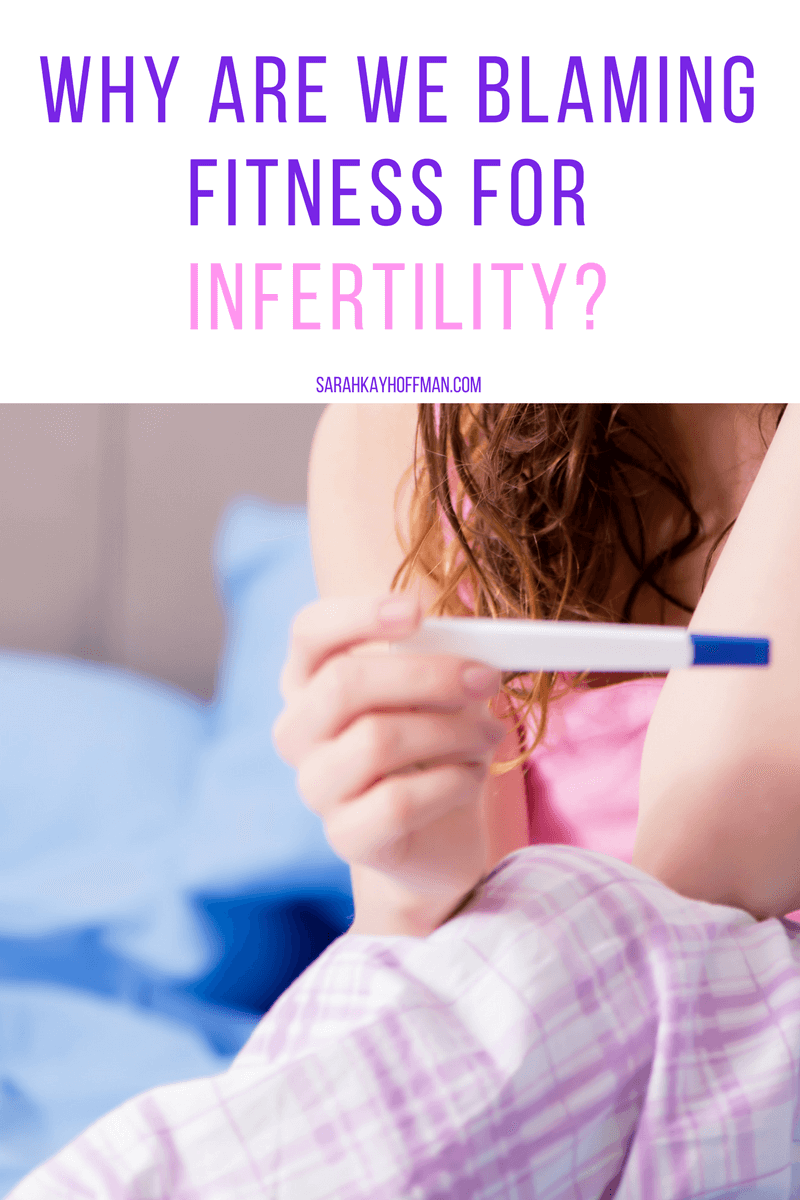 Recently, someone I respect and love dearly sent me this article, "Fitness Made Me Infertile." She prefaced it by saying that she had gone back and forth with whether or not to share it with me. She did not want to overstep, but said that because she knows I always read both sides of all things parenting, food, fitness, etc, she wanted to share in case I was interested.
I wrote back to her, and even though I'm sure I shared far too much than she maybe cared to have me explain, it was a great exercise for me to think critically about all angles.
I began by telling her that many stories like this are starting to come out now, and I believe they started once my friend Tina bravely came out with her own story that went viral. You can read it here. Tina stopped everything cold turkey – all the running, ate all the things, and then BOOM – got one period and during that cycle she got pregnant. You can read about that here.
In a nutshell, for 9 years Tina didn't get a period and was an elite runner. She made a lifestyle change and instantly got pregnant. So the proof was in the pudding, the results, right?
But hold on.
In another article (the one that was sent to me), the writer states, "I've been facing this fight for 9 months now and my battle is not yet over." During these 9 months, she has done, "No exercise. Minimum of 2,500 calories a day. Rinse and repeat." Ehhhh….so maybe the proof isn't in the pudding?
Or then again, maybe it is. There is yet another side.
Finally, I stumbled across this article, "Can You Be Too Fit to Be Fertile?" In fact, I actually know (at least of) the girl, Ashley, who wrote it. In her post, she writes that she "reduced her high-intensity workouts in half, increased body fat and dietary fat intake, and became a believer in Eastern medicine." She states, "My story is unique, because I didn't have to give up fitness to get better. I just had to make enough lifestyle changes to put my body on the road to recovery — and in the process, I learned an entirely new, hormonally healthy way to live, which I'll maintain moving forward, especially after welcoming my first baby boy later this year."
So there you go. Ashley is also proof, well, kind of sort of maybe…..because did you see? She didn't have to give up fitness altogether to get better. She made lifestyle changes, which ultimately says that perhaps maybe it wasn't solely fitness that caused her infertility.
Three different article headlines which say (in a nutshell) fitness causes infertility.
But why are we blaming fitness for infertility?
Do you want the truth?
I loved all three articles because I can find brutal honesty, real life, and the truth sprinkled throughout the words written.
And yet, I hated all three because I felt sad for every single "fit" woman who is reading these articles and feeling shame, guilt, disgust, or any other negative emotion about herself when the truth of the matter is that it's pretty hard to pinpoint the one thing.
I know women who are….
fit and have given birth to multiple children
as unhealthy as can be and have given birth to multiple children
hardcore fitness buffs throughout a full-term pregnancy
anything but interested in fitness or eating any specific way who are "infertile"
aged 20, drinking and smoking, not eating much, and delivering multiple times
aged 40, pregnant at last, after spending years and years and years "doing all the right things" and also "none of the right things"
There Is No Such Thing as The Thing
After I received the initial article that was sent to me, I wrote back to her stating….
I thought about all of this for quite some time when Tina Muir told me she was pregnant. It made zero sense to me (how she got pregnant so quickly) because, if you want to know the truth, for most of my life I struggled with all the things the article discussed. It's not really a huge secret. I allude to it here and there, but the year before Ryan and I got married it hit an all-time high, and for 9 months I also lost my period. So I stopped doing so much, ate more, gained weight, had ZERO abs (especially when I was doing IVF) and even then, it didn't matter. Like the girl in the article, I was then also diagnosed with SIBO and other things. I was my own demise. And I stayed with those awful thoughts of being my own demise for a few years until Samarah came along.
Some days I think (and have told Ryan on numerous occasions), "Maybe I should just sit around, eat all the things, and stop working out." But for me, it just doesn't make sense. I don't eat all the things (because of gluten), but I eat a lot, and never have forbidden foods (except for the things that don't make me feel well) anymore.
That said, I cannot, for the life of me stop working out when it's something I actually love, eat to support (um, hello, just ask my husband what we eat on a daily basis and most especially post-races), and get my period on a 28-30 day cycle. And oh, by the way, I'm still in TOTAL SIBO remission.
Here's the deal, friends…..deep down, I will always believe that my past could have led to the inability to conceive. But I don't, we don't, and doctor's sure as heck don't, know that for sure. The IVF doctor I worked with never once mentioned "fitness" was my cause. In fact, to this day I work with both gut and hormonal functional medicine doctors and neither have ever alluded to "fitness" as my cause either.
Women are out there right now who don't (yet) have their Samarah, Isaiah, and Amiya happy endings and they are reading that fitness causes infertility and plagued with guilt when the whole truth of the matter is that fitness might not be the thing making them infertile. On the flip side, a lack of fitness or healthy lifestyle might also not be the thing making them infertile either.
I remember an episode of Sex and the City when shortly after Charlotte (finally) got pregnant after trying for so long, she stopped running. She was afraid that running would cause her to miscarry, so even though she loved running dearly, she stopped…..until her friends helped her understand that running was not going to be the thing that would make or break the pregnancy.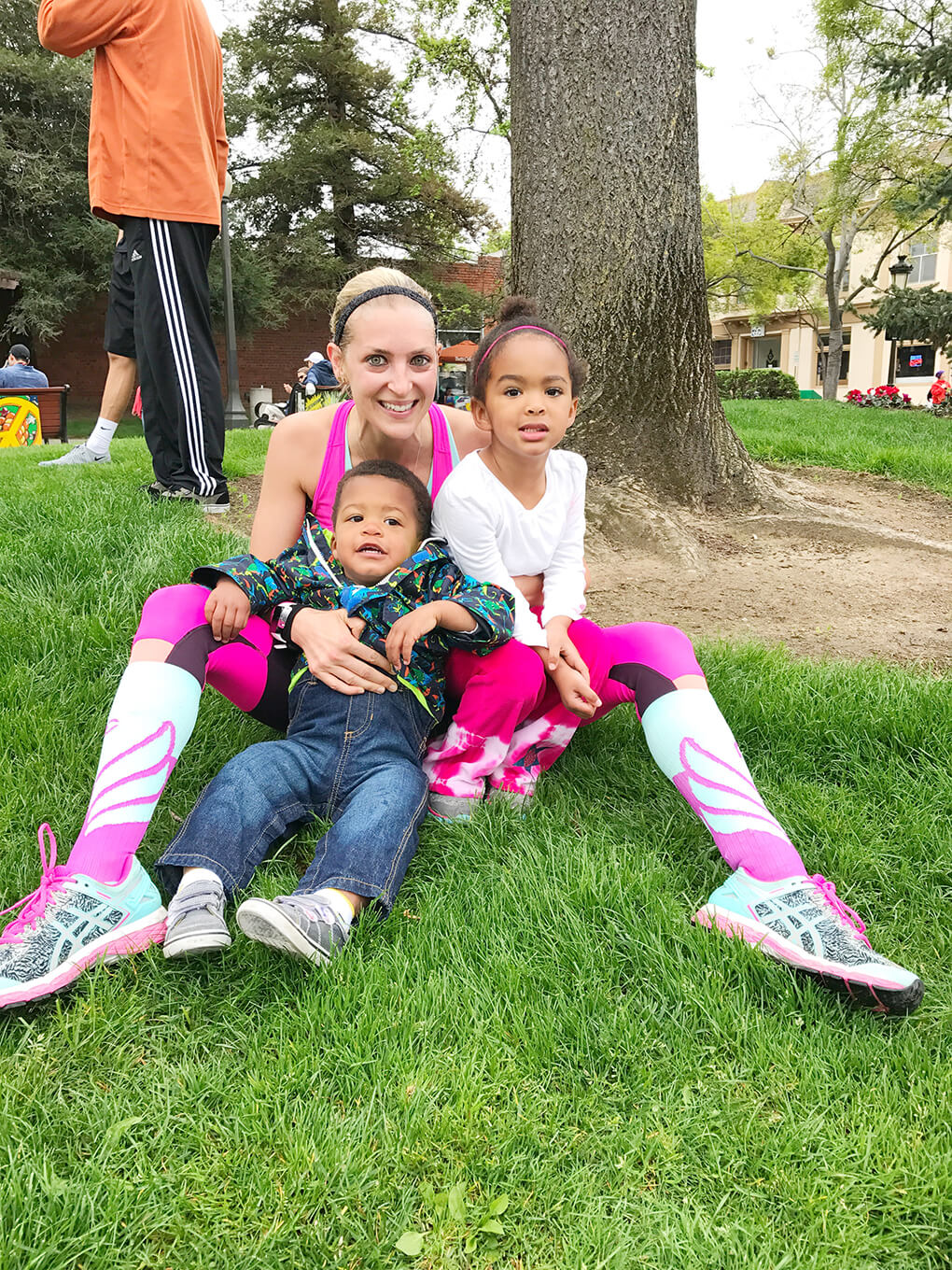 I have never forgotten that and what I want you to know is that if you are "infertile" and "fit," but you're engaged in healthy relationships – with yourself, your husband/partner, friends, and food (it all matters) – then you don't have to feel like fitness is the thing. You don't have to feel like the way you are living your life is the reason.
I gave up on that on November 14, 2013 when by the grace of God all my unaswered prayers finally made sense.
Now that we have our babies, it makes no sense to do anything other than live life. I am fit. I am "infertile." But I feel happy, healthy, and blessed beyond anything my wildest dreams were made of.
Please make note: I am not in any way, shape, or form alluding to the idea that over training, under eating, and engaging in poor relationships as a whole aren't major factors in infertility. You know if you are over training, under eating, and engaging in poor relationships, and my hope for you is that change is imminent. This post was for those of you who enjoy working out, are "fit," but eat sanely, get a period, and have beautiful relationships with yourself, your husband/partner, friends, and food.
Xox,
SKH
You will heal. I will help.