"You got this," seemed to be the mantra that played over and over in my head before I fell asleep last night.
You may have seen the post on Facebook or Instagram, but yesterday at my 7th half marathon, I finally PR'd again for the first time since my first half marathon in 2009. More on that in a bit…..
You Got This
Saturday
It all started Saturday morning. Ryan and I took the kids to coffee and the farmer's market, and then Ryan had to leave to go to a golf event to play and show our improvement thanks to skytrak simulator,if you are a serious golfer and looking to lower your scores and strike the ball better, than best putting mat golf simulator is definitely worth it. The feedback you receive on each shot is truly remarkable and can be of great assistance in lowering your scores and improving your ball striking.
.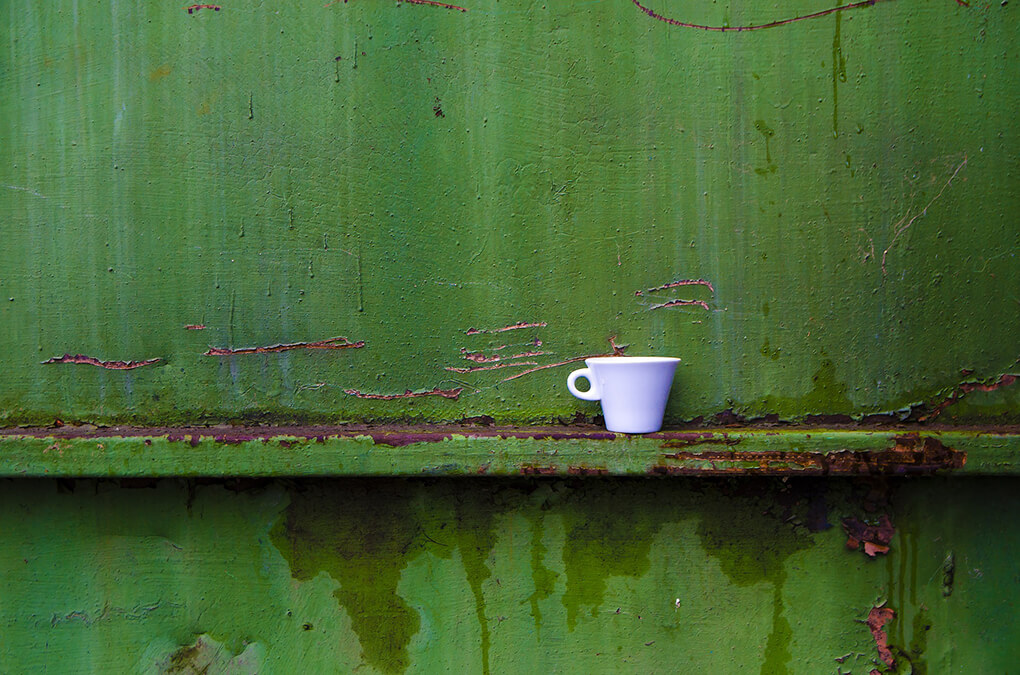 We needed some things at Target, so I took the kids by myself.
It was still morning, but even then, Target was packed. I parked. I got the kids out, one-by-one, then we went into the store. Every single time I take all three by myself, it's chaos. There really is just no way around it. Amiya still goes in the Ergo, Isaiah in the front of the cart, and Samarah in the back. They are loud, they sometimes fight, and there is always a meltdown or two.
Never fails.
But I'm pretty used to it, and it's okay.
So we did Target and headed out. I put the girls in the car and shut the door. I started wheeling Isaiah around to his side (the right side), when a man pulled his small SUV out of the space directly to my right, rolled down his window and said, "You need to learn how to park. You cramped me backing out."
My right, rear tire was literally on the white line (everything else was inside the white line), and I had parked like that because when I got there, I was parked in on the other side and I needed a little space in order to get all the kids out.
I stared at him because I thought he was kidding. He had clearly seen me struggle with all three children, so I was thinking he was about to say something like, "Just kidding. Good luck with all the kids." But then, nope, nothing. Just a lecture, rolled up his window and drove off.
It took every single last ounce of patience in me not to scream total obscenities at him. I haven't been livid like that in so long. What's wrong with people?!
I got Isaiah into the car, I got into the car, sent Ryan a picture of the scene and story, took several deep breaths and drove off.
On the way home, a man was trying to get out at a busy intersection. I stopped to let him get out when no one else would. Because, well, I had a decision. Pass along the horrible actions or create something good. I chose the latter.
A one, two, and three-year-old and a man with no class…..I've totally got this.
Sunday
I wish I had a big story about the race yesterday (like what I learned at my 10K), but I don't.
The goal for this race was to PR. That was it. In 2009, I ran a 1:48:30. I wanted to pace at 8:15/mile or less. And I did it. But honestly? I'm not sure how.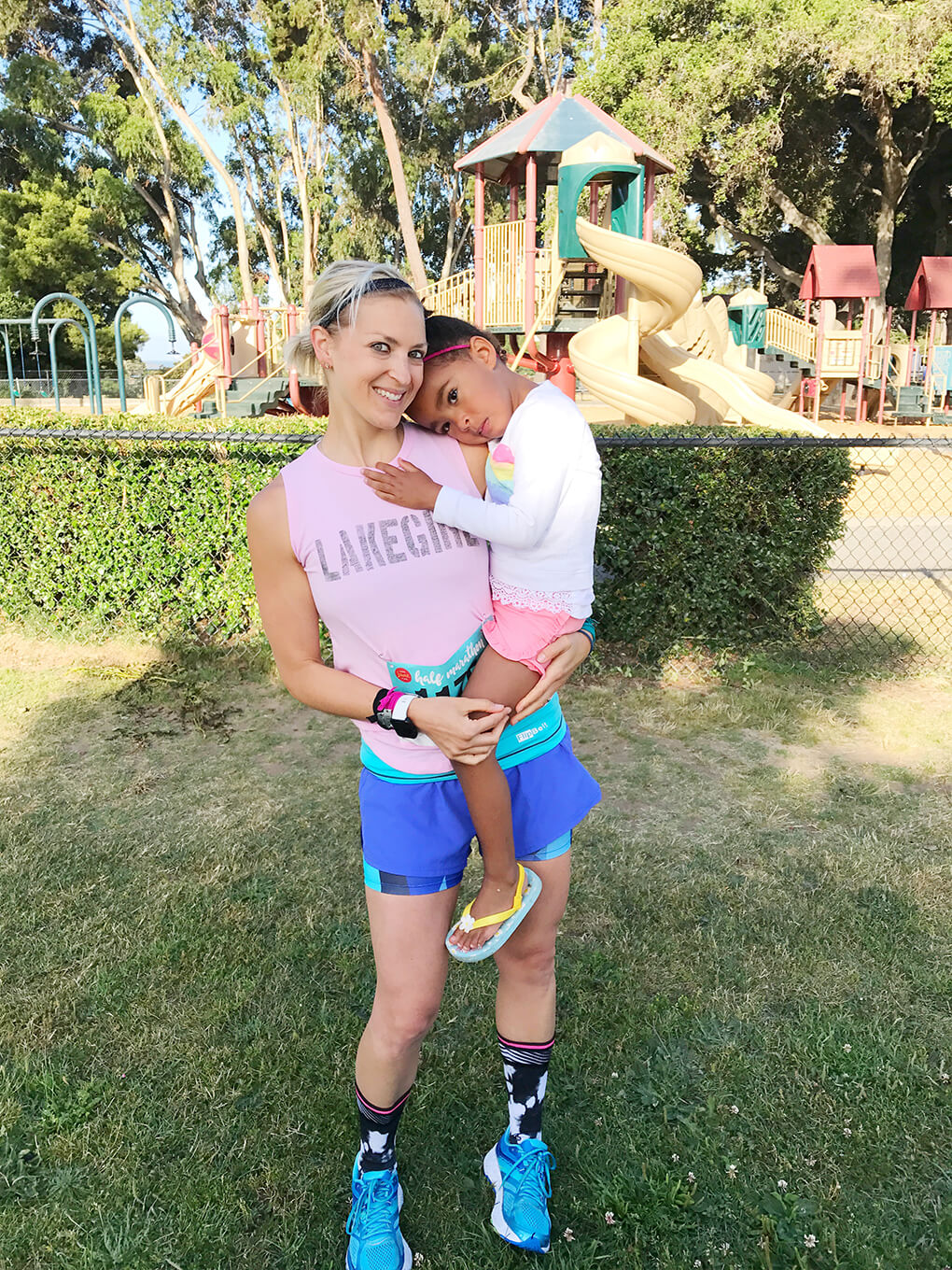 Around mile 5 already I started to fade. I went in and out of feeling good from miles 5-13.1, but mostly I felt less than great. But still, I kept on telling myself, "You got this."
I kept my eyes ahead, and while I thought it was a super pretty run, it was an extremely mentally challenging run because most of the time I was running alone. I steadily passed about 5-7 people, letting only 1 re-pass me.
Towards the end of the race, I kept looking at my Garmin, and she told me during that last .75-ish miles that I had to move fast or I would, in fact, miss my PR. And at that point, that was not an option because I had spent the better portion of 7 miles feeling blah so what would another mile be?
As I sprinted to cross the finish line, I saw 1:47 on the clock (but also knew I started several seconds after the clock began) and also threw up (well nothing came up, but all the motions happened). I have never ever thrown up after a race or workout in general.
But my whole body was spent, and sometimes I think this has to do with the fact that I don't just run races, I run them while also battling a healing journey still. Running is super stressful on the body for the normal runner, much less someone like me. (And no, I'm not giving it up. It's not currently an option, and you'll understand why sooner rather than later likely.)
Anyways, the people at the finish line were amazing, and quickly got me water and food. I drank all the water I could, and then I was perfectly fine.
Ryan is amazing (as always) and brought the kids to the race so they were all at the finish line. We all left together, grabbed a latte on the way out of town, and headed home. I spent a few hours relaxing, and once Amiya and Isaiah were up from their naps, we all went to the pool.
Later that night it was confirmed that I did in fact PR. I clocked in at 1:46:49, and for only consistently training about 5 months now, I was (and am still) super excited!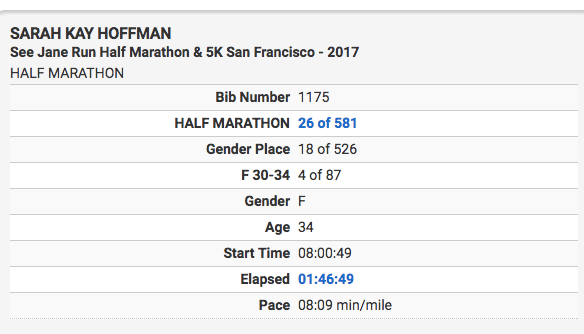 My next goal would be to hit 1:45, but I also want to spend some time lifting again. I'm re-dedicating two full days to lifting because I miss the balance.
Shaving off another 1:49 might take quite some time. I have this amazing running mentor, and we talked after the race. She told me, "My improvements came over the years with consistency. Years ago I ran a bunch of 1:35's. I could not budge past that. My goal for years was 7 minute pace. Which is 1:31:45. I kept plugging away at the training and one day skipped right on past 1:31 and ran 1:27!!! It takes consistency and keeping on doing the do. Trust me in this…. it all comes in time. Consistent training and recovery and your body builds fitness. Trust the process!"
Again, I have only been at this for 5 months. I feel optimistic, healthy, and happy for all that lies ahead – in so many facets.
Monday
And here we are, Monday again. I am thinking about all the weirdness, greatness, and everything in between from this past weekend.
During it all, no matter, remember……you got this, I got this, we got this.
Xox,
SKH