After spending 3 full days on the floor at Natural Products Expo West and sifting through hundreds of products, I have finally narrowed down my top list. For New Hope 360, I named my Top 5 products, and for here, I wanted to do the top 10, but it was just impossible. I was close, though, and so my list contains the top 15 overall Expo West 2017 finds.
Top 15 Overall Expo West 2017 Finds
Click HERE to save this post for later.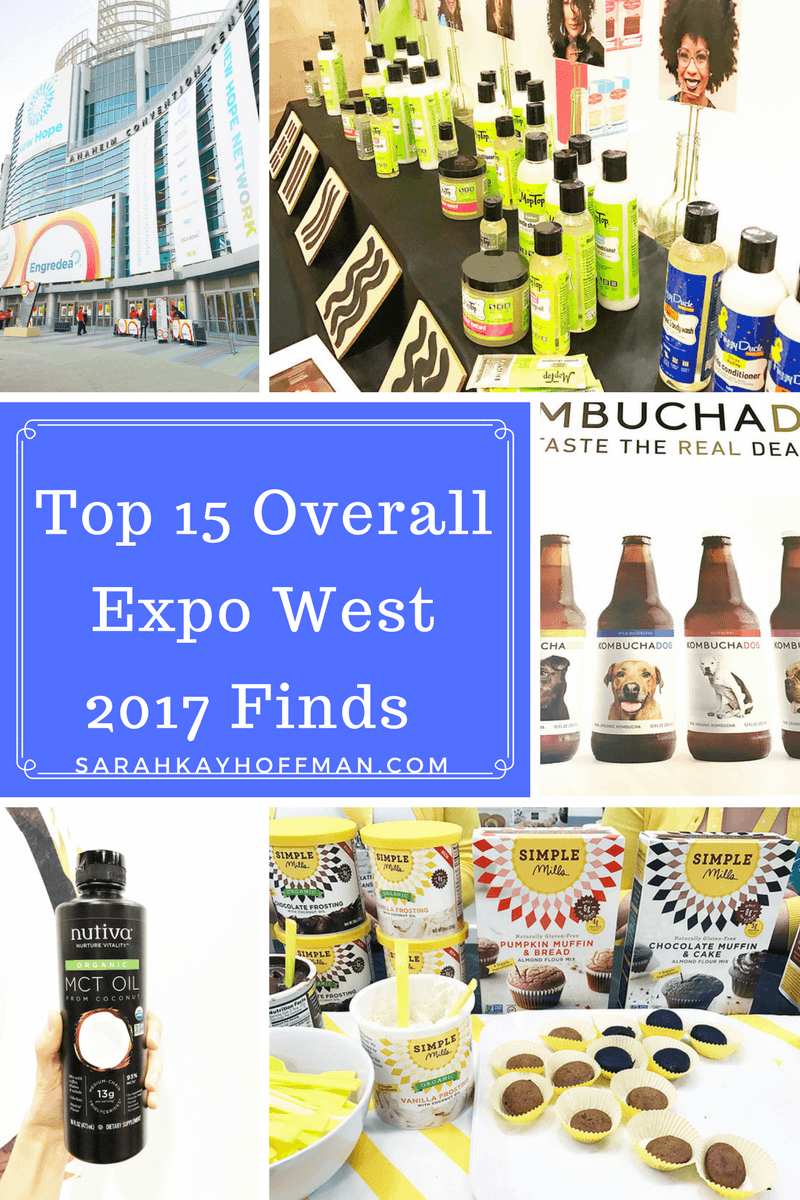 Nona Lim. The creamiest, best Paleo soup I tasted all weekend. The ingredients speak for themselves (water, carrots, coconut cream, onions, leeks, olive oil, lime juice, fresh ginger, candied ginger – ginger, sugar, garlic, thyme, fennel, kosher salt). Nona says, "As an athlete, I discovered the power of food; I performed best when fueled with clean, non-inflammatory, whole foods." The product comes in both a 12 oz size as well as an on-the-go soup cup size. On Wednesday night we made this soup. I threw it with some chopped kale, white rice, and ground turkey. Huge hit at our house!


Made in Nature. Filled Figgy Pops. It was love at first bite with these. They took their original Figgy Pops and made each bite even better by filling them with almond and cashew butter. There are two new flavors, Mocha Almond (with cocoa and espresso) and Nutter and Jelly (with cranberries and apricots). I tried the Nutter and Jelly at Expo West and absolutely loved it, but I gather that I'll enjoy the Mocha Almond even more. I'm a chocolate-coffee girl naturally. Bonus: these will soon be available in Single Serves, which is what I had at Expo West, and totally awesome. The filled Figgy Pops got top honors, but I would be doing you a disservice if I didn't tell you about the Pow-Pow nuts. They have taken the standard nut up several notches. They are not candied but taste sweet, and consist of two mixes of nuts, seeds (chia and sesame), and spices that balance it all out perfectly. The flavors are Chipotle Garlic and Sweet Heat. While waiting in line for my Surf and Turf, I ate a bag because it's the best Single Serve snack while waiting for a rice bowl. Obviously.

Siete Foods. Just prior to Expo West, I was asking around to see if anyone knew where I could find a great Paleo tortilla. Everyone said, "Siete. Check out Siete." And so I did. They were right! Their Cassava and Coconut Tortillas are so good. We are having (upgraded) taco night soon!
Nutiva. At Expo West, Nutiva launched their soon-to-market Organic MCT Oil. According to Living Maxwell, "Having spent more than two years developing this organic MCT oil, Nutiva CEO and Founder John Roulac has a serious hit on his hands. There is absolutely no reason for a consumer to be using any other MCT oil on the market because as far as I can tell, no other organic MCT oil exists." I'm super excited to have this product in our house.
NUUN. Nuun just released its "Vitamin" line which is a drink anytime for daily health, wellness, and hydration (vs. just a product for endurance athletes). This vitamin and electrolyte enhanced drink tasted awesome, and I think it's a great solution for an everyday supplement as well as long-distance electrolyte "boost." Someone asked me if the product contains "polyethylene glychol." No, it does not. You can see the ingredients here. I spent some time with the founder and their lead nutritionist. They are wildly passionate about what they do, and I'm excited to keep on learning more about and with them.

Mikey's. Every single thing I tried was amazing, but the Original Flavor English Muffins are incredible because they contain just 6 basic ingredients (non-gmo eggs, almond flour, purified water, coconut flour, baking soda, and kosher salt) are gluten and grain free and Paleo certified. Last night we had them for dinner.


The New Primal. Their Pasture Raised Chicken Jerky Date & Rosemary just had to make this list because rarely do I find a quality meat bar that is also AIP-friendly. Many of you follow (or are considering following) and AIP diet. If so, here's your meat bar!
Simple Mills. How had I never heard of this company until this year at Expo West? On the whole, for a company that has a comprehensive lineup of treats and goodies (crackers, cake, frosting, etc.) this is probably the best I've yet to come across. Everything I tasted was golden.
Lotus Foods. I could talk all day about their rice, we love the white rice. (Side note: Stay tuned because I'm working on something amazing with white rice. You're not going to want to miss it!) However, it wasn't rice that melted my heart. It was their brand new Matcha Rice Delights. Think Rice Krispies, but with all the right ingredients, gluten free, and unbelievable. I believe the product should be out in April sometime, and you should put a little note on your April calendar to check on them. I'm serious. The whole family will love them!
KombuchaDog. By now, most people know that Humm Kombucha and Revive Kombucha kind of top my list, but at Expo West, I met a kombucha company I had not yet heard of, KombuchaDog. While I did enjoy their kombucha, quite honestly, that's not why they are making this list. They made this list because of their beautiful mission with rescue dogs. According to their site, "Every bottle of Kombucha Dog is labeled with the picture of a rescue dog awaiting his or her forever home." They told me that once those dogs on the labels have been adopted, they take pictures with the new owners and post them. Like this one. One thing I realized at Expo was that the market is flooded with products. Now more than ever it's important that we spend our money with those brands who not only produce top-quality products but who also have a higher mission. Many of the companies on this list fit the bill.
The Maple Guild. The Original Maple Syrup is so yum, but the stand out product was their Maple Vinegar. The combination of super high-quality Maple Syrup mixed with vinegar was absolutely amazing. I can't wait to buy a bottle and use it for salad dressing. I'm not seeing it on their website, so not sure it's even out yet.
Peanut Butter Americano. Y'all remember my peanut butter company, A Loving Spoon nut butters, yes? Of all the peanut butter companies I have yet to run across, none reminded me more of my own than this one. And yet they are so different than me. I am planning to write an entire post about them, so stay tuned. (p.s. Did I tell you yet? We have decided to bundle up the A Loving Spoon nut butter recipes into one document and sell them! I am currently working with a designer to help me produce it, and it will be available soon. Soon enough you'll have access to Honey Vanilla Bourbon Peanut Butter 24/7, if you want! Make sure you're on my email list so you don't miss the announcement.)
Organic Valley. I basically wanted to include their entire product portfolio, but I'm hoping to be able to share much more about them in the coming months. For this list, I had to reserve a spot for the Mighty Bar, Uncured Bacon & Apple. I am going to need a 12-pack of it ASAP. Organic Valley takes a ton of pride in their business practices, and in fact, even had some of their farmers at the show. Their products are not just grass-fed, but also grass-finished, which I believe is going to be a hot topic in the future. Many brands are currently getting by with saying "grass-fed," when the reality is that they are not grass-finished. Big difference.

MyChelle. I was first introduced to this company about 2-3 years back at Expo West. A friend of mine uses many of their products. According to their website, "With natural products now the expectation, MyChelle's progressive 360-degree approach to beauty is to provide clean, conscious, and comprehensive skin care products that are bioactive, ethically sourced, and formulated with high-performance ingredients for superior results and a lifetime of natural, healthy skin." What I love about this company is that not only do they maintain superior quality, but they use proven dermatological ingredients. My favorite product from the show was the Creamy Pumpkin Cleanser. But everything we learned about and tried I loved, and immediately upon returning to the Bay Area, I stopped into Whole Foods and grabbed the Creamy Pumpkin Cleanser, Pumpkin Renew Cream, and Fabulous Eye Cream.
MopTop Natural Hair Care Products. Oh, babies, you have good hair and big hearts. I have looked high and low for a great, all-natural hair care product line for Kinky/Coily hair, and I finally found it! Kelly Foreman is the founder, and according to the website, "Through her MopTop and FuzzyDuck salon and retail lines, Kelly has made it her mission to change the world, one frizzy head at a time, by teaching adults, teens and kids how to embrace their natural beauty, naturally." I talked to a woman at the booth for a very long time. She, too, had the kinky/coily hair and she spent ample time with me on what the girl's need for their hair. Again, everyone has their own opinion about it, but the way she spoke to me (vs. down to me) made me love the product even more, and I am so excited to try the line out on the kids and report back!
After looking at this list, I realized that on-the-go snacking is getting easier and easier, and for the way we live today (24/7 on-the-go), this is more important than ever.
I also realized that there still exists a gap for those needing very stringent diets (AIP, low-FODMAP, SCD, etc.). And while some might say, "But that target market is still too narrow," I believe that in the future, even the near future, it's going to become more important than ever, as people are being diagnosed with SIBO, diabetes and other autoimmune conditions in general.
Consumers are not only more aware than ever before about products and ingredients, but the demand for high-quality meets custom diet meets higher mission will be at the forefront product purchasing.
Interested in reading more Expo West 2017 recaps?
Question: What were your top finds from the show?
Xox,
SKH
You will heal. I will help.