Yesterday marked the end of week 3 Bigness Project, the 14-week hybrid strength training journey I'm on.
Click HERE for the recap of Week 1 Bigness Project.
Click HERE for the recap of Week 2 Bigness Project.
The highlight from week 3 was probably not even a lifting day, but instead my weekly long run. Yesterday morning I set out to run a practice half marathon. In the process, I ended up running it very well and did my fastest half marathon ever with a pace of 8:04.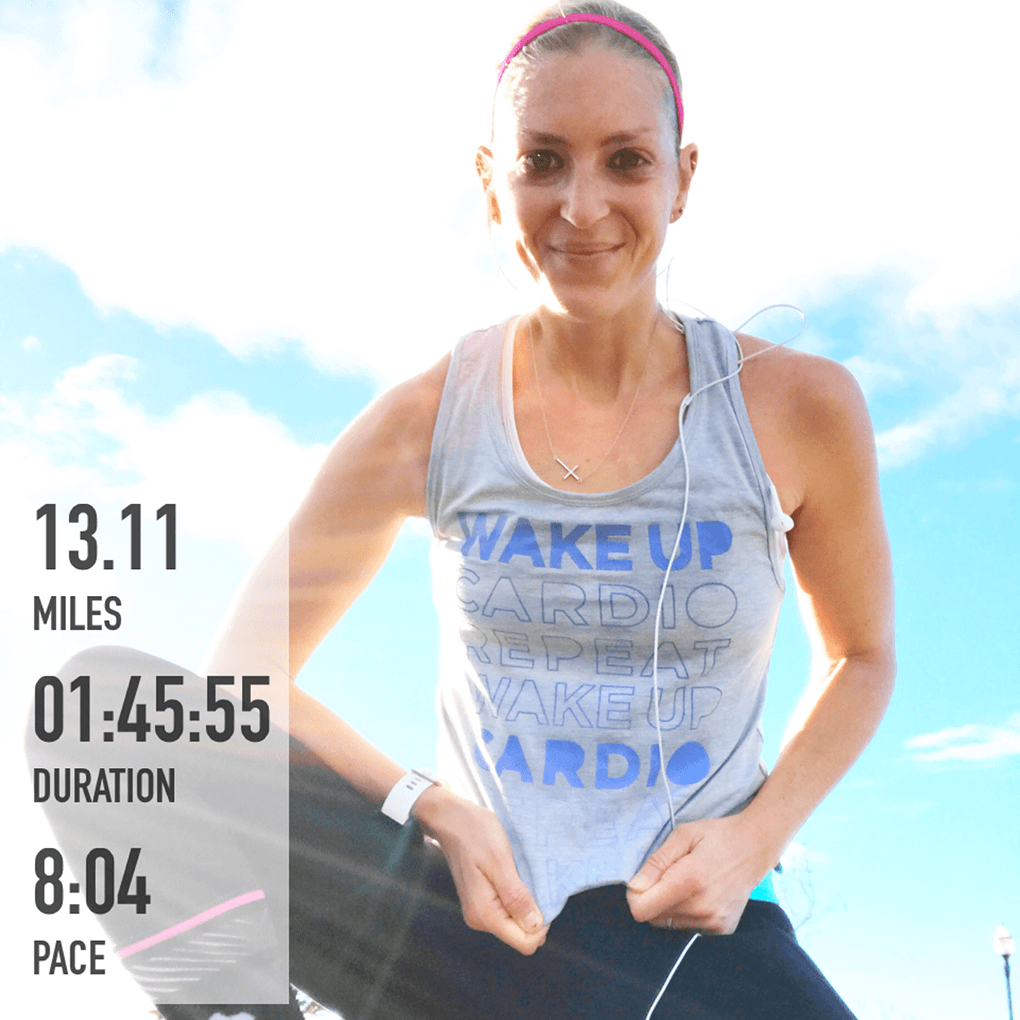 I am truly shocked by the energy I feel when I run. My breathing is spot on, and quite honestly, after reading How to Choose a Goal Race Pace by Amanda last week I had planned to do this run ensuring a LHR (lower heart rate). My heart rate stayed fairly low the entire time, and when the run was over, I averaged about 159 bpm. I know you're looking at that number thinking it's higher than the 140-150 range, but for me, that's low. My heart rate is already super low so my numbers are a little different.
Anyways, the point is that at no point during the run did I feel like I was sprinting or exhausted by any means.
My quads did, however, burn horribly starting around mile 9-ish. I'm still trying to understand if that's just because they still aren't used to long runs or if it's because they are already tired from 2 leg workouts during the week. Thoughts anyone?
The only lasting effects from that run included a few hours of feeling less than great, and day-after mild leg soreness. The hardest part about running more than 10-miles is that recovery is always a work in progress for understanding exactly how to do it properly for my body given the fact that I also battle an autoimmune condition, SIBO, and "adrenal fatigue." I'm beginning to work with a new doctor (in addition to Dr. Schweig) at the Institute this week so these are all things I'll explore. More on that in a later post.
Each week I do this program I feel stronger, that's for sure. I'm still not 100% sold on the idea that my body workout 6 days a week, but since I've been feeling so great, I am just trying to stay consistent. Once I need to pull back a little, I will modify somehow, and probably go down to 5 days a week or 4 days (with 2 of those "doubles") so that I can have a full 3 days of rest.
Week 3 Bigness Project
Click HERE to join along the journey via Instagram (+ I put a ton on my Instagram Stories, too!)
Monday: Tempo Run, followed by a 1-mile for time (1-mile warm up, 5K at 7:45/mile pace, and a final mile at 7:19 pace). Note: this week, my runs gave me the added challenge of that mid-cycle cramping. This is a huge concern for the day-of races because when they hit, I have no choice, but to stop running for a few minutes to let is subside.
Tuesday: Leg Day, Quad Dominant, followed by 4 x 800's at a 7:45/mile pace. And yes, it's hard to do these "sprints" after leg day.
Wednesday: Chest and Back. Still working on these eccentric pull-ups like a champ, but let's be honest, it's going to take my whole life to get them right.
Thursday: Leg Day, Hamstring Dominant. I really love these RDL's. I took the kids for a long walk that afternoon, too, because I needed to move my legs.
Friday: I had planned to workout today, resting on Saturday, but my body was screaming at me saying, "No, no you will not." So I listened. I took this day off and it was lovely.
Saturday: Arms and Shoulders. This is definitely a vanity-style workout, but it still leaves me sore for a couple days always, which is something new for that part of my body.
Sunday: Long Run (13.1 miles at 8:04/mile pace, and then an easy – about 9:45 – mile).
I am really beginning to embrace the idea that everything from a health and fitness standpoint improves when aesthetics are the least of concerns. I fully believe now that the reason I am able to workout and run like I am is because I'm finally fueling appropriately, without "rules," and listening to what my body needs.
I would rather stay strong, confident, and enjoying the journey for healing mind, body, and soul than to whip out abs like I'm still in my 20's.
The Bigness Project is totally helping see this all to fruition, so even if I made zero physical changes, those benefits are priceless.
Xox,
SKH
You will heal. I will help.