Here is how The Bigness Project went down for me.
Jen Sinkler is an old "friend" from the Midwest (I use the term "friend" lightly because it's not like we were having weekend brunch together or anything, just coffee once, but I've known her for a very long time now), and I think she's brilliant at what she does in the Fitness realm so when I got her email last week about The Bigness Project, I was intrigued.
I took it to Twitter.
I've been #running so much lately, @jensinkler, but I totally want to do the #BignessProject! https://t.co/8jxzSKR6Ys So conflicting! 🙂

— Sarah Kay Hoffman (@sarahkayhoffman) January 24, 2017
Really?! Well then….RT @jensinkler: @KThomasFitness loves pairing running with it, hmmmm…. 😀 hello there! Hope you're well, ladyfriend.

— Sarah Kay Hoffman (@sarahkayhoffman) January 24, 2017
We went back and forth, Kourtney and I, (and I also checked out her website for validation) until I finally decided to join the project.
The Bigness Project
Click HERE to save this post for later.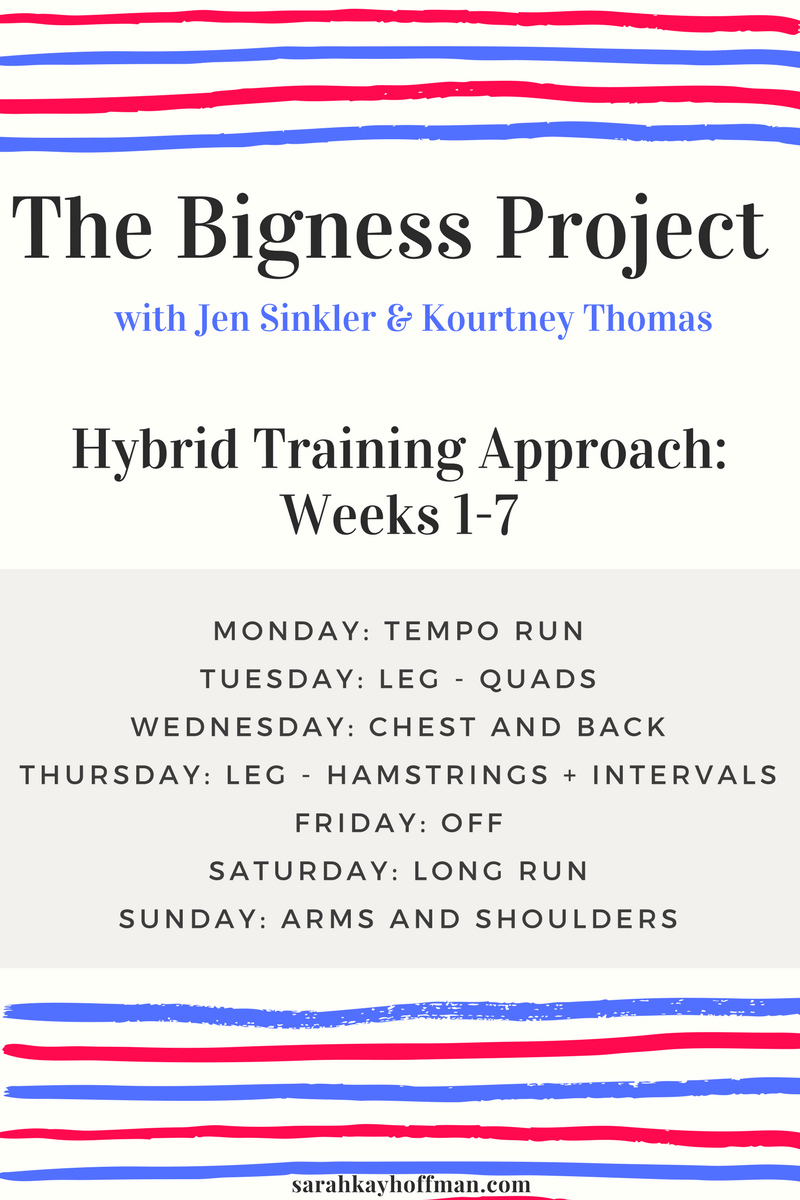 According to the program,
The Bigness Project focuses on growth, on Bigness in both muscles and mindset.
In so few words, mindset growth is what I am currently focused on in both my fitness and personal life.
It's hard to image "bigness" in muscles combined with running. Honestly, I'm a little unsure about the training and results, too, but when I asked Kourtney how she adds in her training runs, she responded, "Mmmmhmmm. I'm an endurance runner too 🙂 2 higher intensity runs/week (track + tempo), 1 long on the weekend."
Finally, someone speaking my language because that is exactly how I "scaled back" running these past few weeks (and feeling the runs stronger because of it).
I read through the program user manual and actual 14-week plan, and then I merged it with current running training.
The way I'll train these next 14 weeks is via Hybrid Training.
On page 35 of the user manual, it states,
Hybrid Training is a concept refined by Alex Viada, cofounder of fitness company Complete Human Performance. His concept involves stacking your cardiovascular training strategically throughout your training week to maximize recovery time and allow the best possible training effects of any sport or activity you participate in. In this instance, we're talking about bodybuilding and endurance sports of any kind: running, cycling, swimming, rowing, etc. This way of training allows you to stay cardiovascularly fit while not impeding or killing your gains.

With hybrid training your workouts have a specific purpose, and you spend your time between very low intensity and fairly high-intensity threshold work. Your volume won't be high, but you'll maintain your cardiovascular fitness.
There are 2 phases to the Bigness Project, so I'll lay out for you how my weeks will look, training-wise, for the next 7 weeks (this is a general guideline, not an absolutely because, well…..life):
Monday: Tempo run
Tuesday: Leg – Quads
Wednesday: Chest and Back
Thursday: Leg – Hamstrings + Intervals
Friday: OFF
Saturday: Long run
Sunday: Arms and Shoulders
And that's what Hybrid Training looks like.
The best parts of this entire program are three-fold:
I looked at The Bigness Project workouts. Not only do they look sane and doable, but they look fun, interesting, and will have me training my muscles in a way I rarely train them (eccentric emphasis).
The program also focuses on mindset. In fact, I heard Jen say that one of the things she enjoyed most about the program was the meditative factor she noticed. I reviewed some notes from my doctor last night, and he told me he really needed me to start meditating. I still have not, and I'm hoping he would count this:)
I can do it all from our home gym! I only had to grab a few misc. things from Amazon for the program because we have everything else. I'll share what's in our home (garage) gym this week because I believe that spending the time, energy, and money building this beast out has been and will continue to be a key to my fitness (and sanity) success.
I may share my Bigness Project updates on my blog (I'll tuck it under running), but for sure I'll share things here and there via Paleoishmama, so come follow!
p.s. the project is now closed so I don't think you can get it again for awhile.
p.s.s. Jen and Kourtney, if you read this, there is an extra bedroom at our house, in case you ever want to come to Northern California for one of your "in person Bigness Project workout stops." The garage awaits us.
Xox,
SKH
You will heal. I will help.