"You are my favorite hello and my hardest goodbye."
We returned from Minnesota late last Tuesday night so it was understood by all that first thing Wednesday morning we would celebrate Christmas with just the six of us.
Like clockwork, I woke up super early that morning, when it was still dark.
As I rounded the corner to head for the kitchen, I noticed a light in the room where our tree was. I thought it was strange, but then, "Ryan must have forgotten to turn the light off after he finished placing all of Santa's gifts out." I went to turn the light off, and instead of seeing a light on, saw this. (Totally get that this picture will not do it justice.)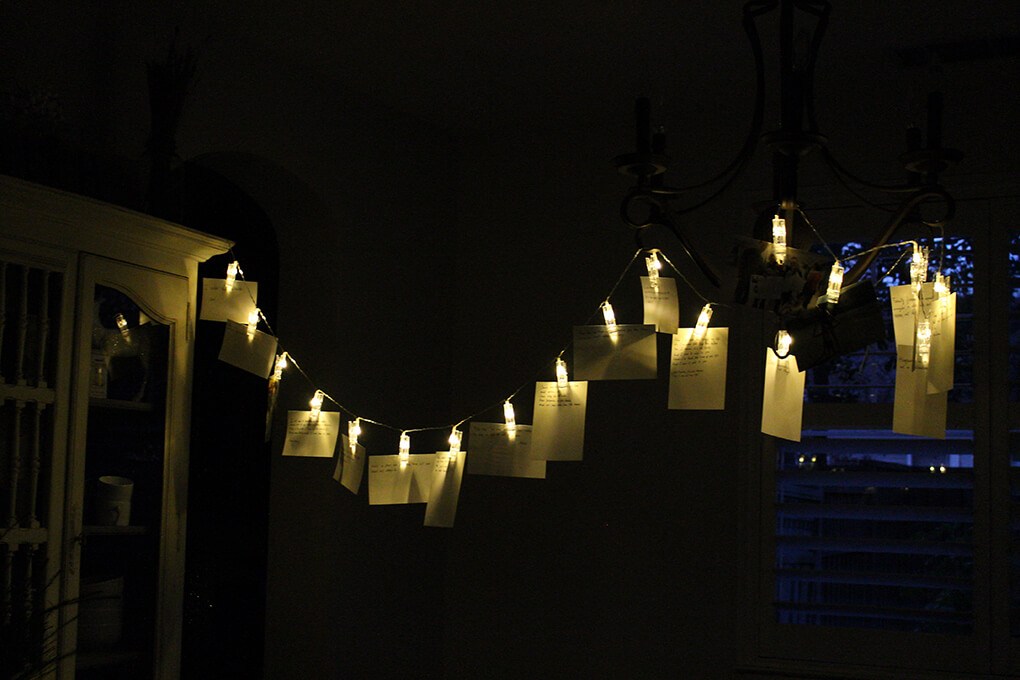 I literally sat there for like a half hour. I took all the pictures and video I could to capture how beautiful it really was. Sadly, there was no way to capture its beauty. It was so amazing, in fact, that we never turned it off. A couple days ago, the lights naturally died off.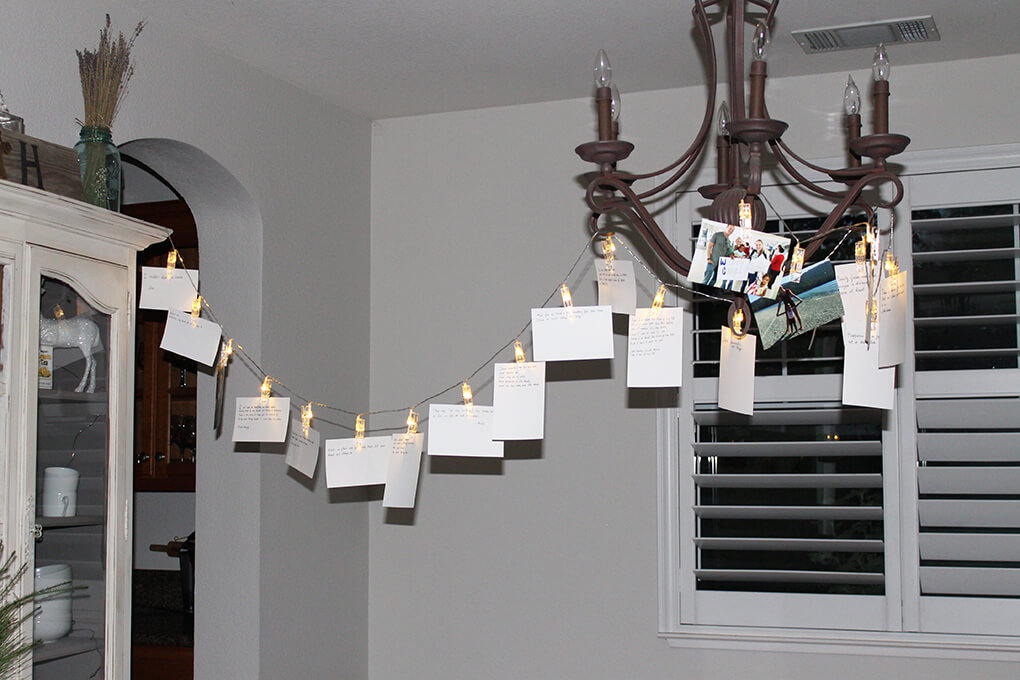 We got home from bringing Ceci to the airport around 5 pm last night. When we walked in the house, I noticed some stuff on our table. Ceci left more things for us, including this (already neatly placed on the fireplace mantle):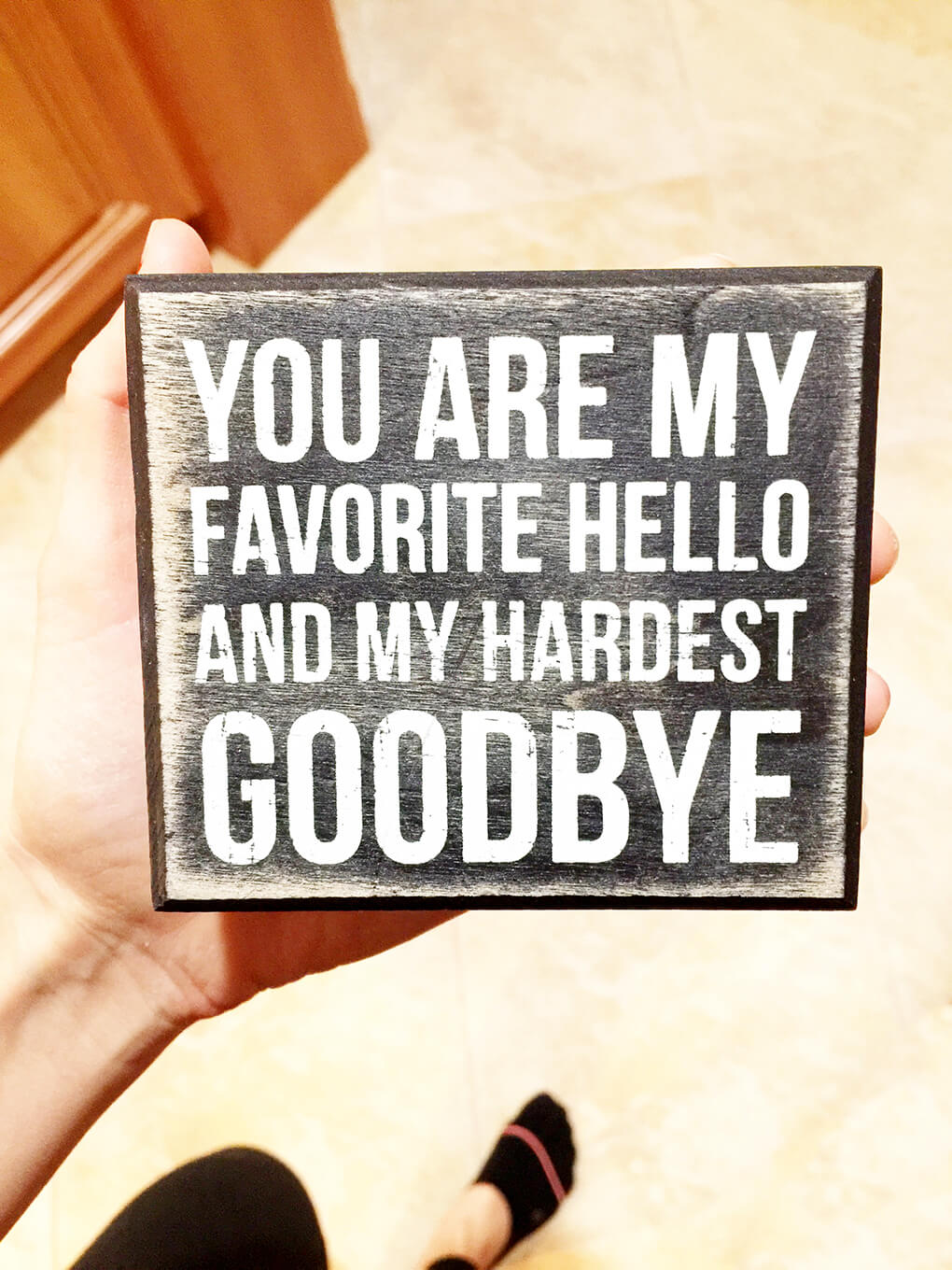 My eyes swelled yet again.
We ate dinner, and after we put the two littlest down to sleep, I began unclipping all the pictures from their clips. They weren't just pictures, either, Ceci wrote something, namely quotes, on the back of each one.
I read each, one-by-one, deep lump in my throat. (I cried a lot yesterday. A LOT.)
And then I knew I couldn't go to bed until I wrote this because I had to make sure that Ceci got it immediately upon getting back to Italy.
My Hardest Goodbye
On August 6, 2016, our adventures with Cecilia began, which means that this is the fifth and final "installment" of all things Ceci.
In case you missed month one, you can read it via Being Curious Makes You Richer, month two via Inspiration All Around, month three via Time Flies, and month four via Thankful.
Month 5: Me to Ceci
Dear Ceci,
I wrote you a goodbye letter but saved some little things from here-and-there that I hope we don't forget (Many of them are inside things that only Ryan, you and I will "get." And I like that about us!).
Appreciation for homemade pizza. Thank you!
Dah-di-dah. 'Nuff said. 🙂
Volleyball games. We loved your games.
Asian takeout 🙂
You always waited for us all to be seated for dinner before you'd start eating. That has never been done in this household until you.
The salad utensils you gave Ryan and me that your grandparents were given as a wedding gift. We feel so humbled to be invited into your family like this.
Grocery shopping, because you never turned down an opportunity to go with me.
No one knows quotes – good quotes – like you.
I will always think of you whenever I hear Adele. My heart will sink for awhile listening to your CD. ("Mommy, play oooooohhhhhh…..ooooooohhhhhhh.")
"Watch Ceci, watch daddy, watch mommy."
You and your pictures + video of Ryan (and John!)
Our weekly TV sessions of This is Us.
Venice Beach, Ryan picking up the ladies 🙂 (<- I'm still laughing.)
Pedicures
"The Last Supper." These were your last two (by request) dinners with us: 1. Bone broth, chicken, and rice and 2. Sweet potato fries, hamburgers, and my bread.
Speaking of which….sharing our faith with you.
Baristas coffee.
The Farmers' Market.
Christmas decorating with you.
Black Friday (early morning) shopping.
Peace and calm at The General Store with lattes.
Walks.
Your espresso coffee.
Weekend trips.
Someone who absolutely adores Lake Tahoe as much as me.
How much you love (and how much they love you) Samarah, Isaiah, and Amiya.
That you were able to fully immerse yourself here, which is something that I don't believe many people would be capable of doing, let alone at 17-years-old.
Your brilliance.
Your love for the world, life, and the everyday, even the mundane.
Ryan asked me as we left the airport what you said to me during goodbye. I told him I couldn't remember. I really couldn't because I felt so heartbroken.
Later, though, I remembered your most important words to me during goodbye, "Thank you for making my dreams come true."
But no, Ceci…..thank you for all the joy you brought to our lives these past 5 months. I feel changed, in a weird way, because of you.
I am going to miss you so much, sweet Ceci. Like terribly.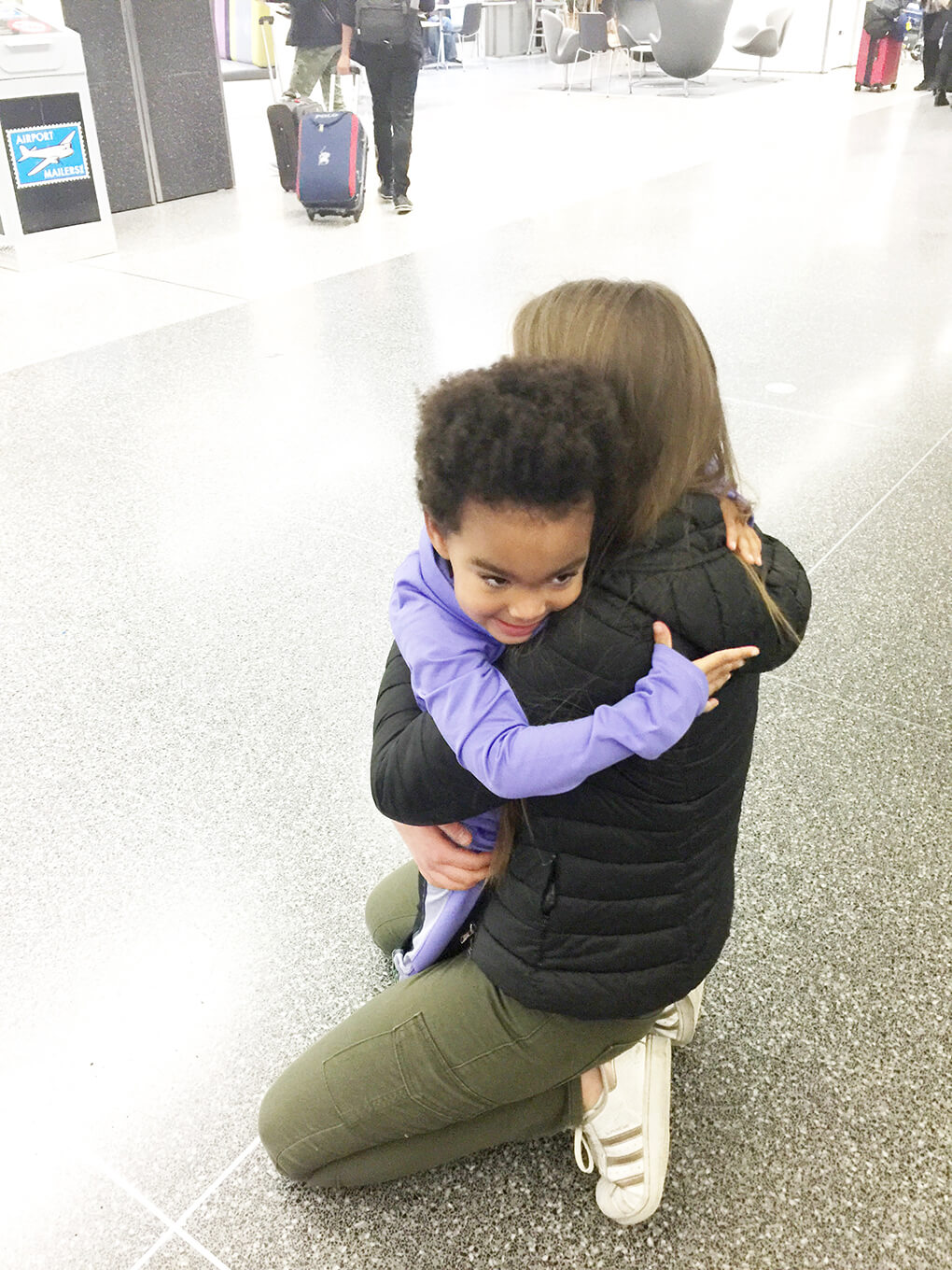 People always said how hard it would be having a foreign exchange student, two children and one on the way. Looking back, I'll tell you the only hard part is that now we had to say goodbye to that foreign exchange student because she wasn't a foreign exchange student…..she is family, like the 17-year-old daughter we just would never ultimately celebrate a Gotcha Day with.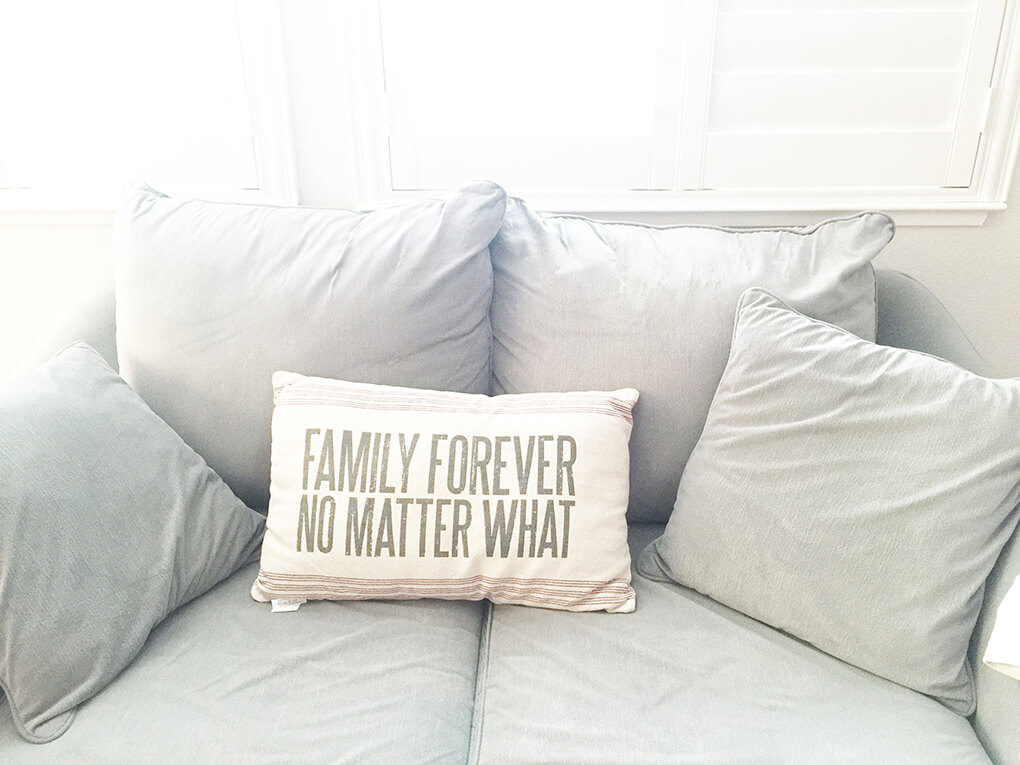 The back of one of your photos from the Christmas string of lights said,
I couldn't love you more. – Ceci
WE couldn't either, Ceci.
I know the days will get easier, and when I work in your room I'll feel more at ease, but for today, just kind of a sting. A big sting to my heart.
You're totally my hardest goodbye.
Xox,
SKH
p.s. See you on Skype, via WhatsApp, (Isaiah will see you in his dreams!) and in due time…..in person. 🙂
p.s.s Silvia and Massimo – thank you, thank you, thank you. The whole world should be brave enough to raise a daughter like you have.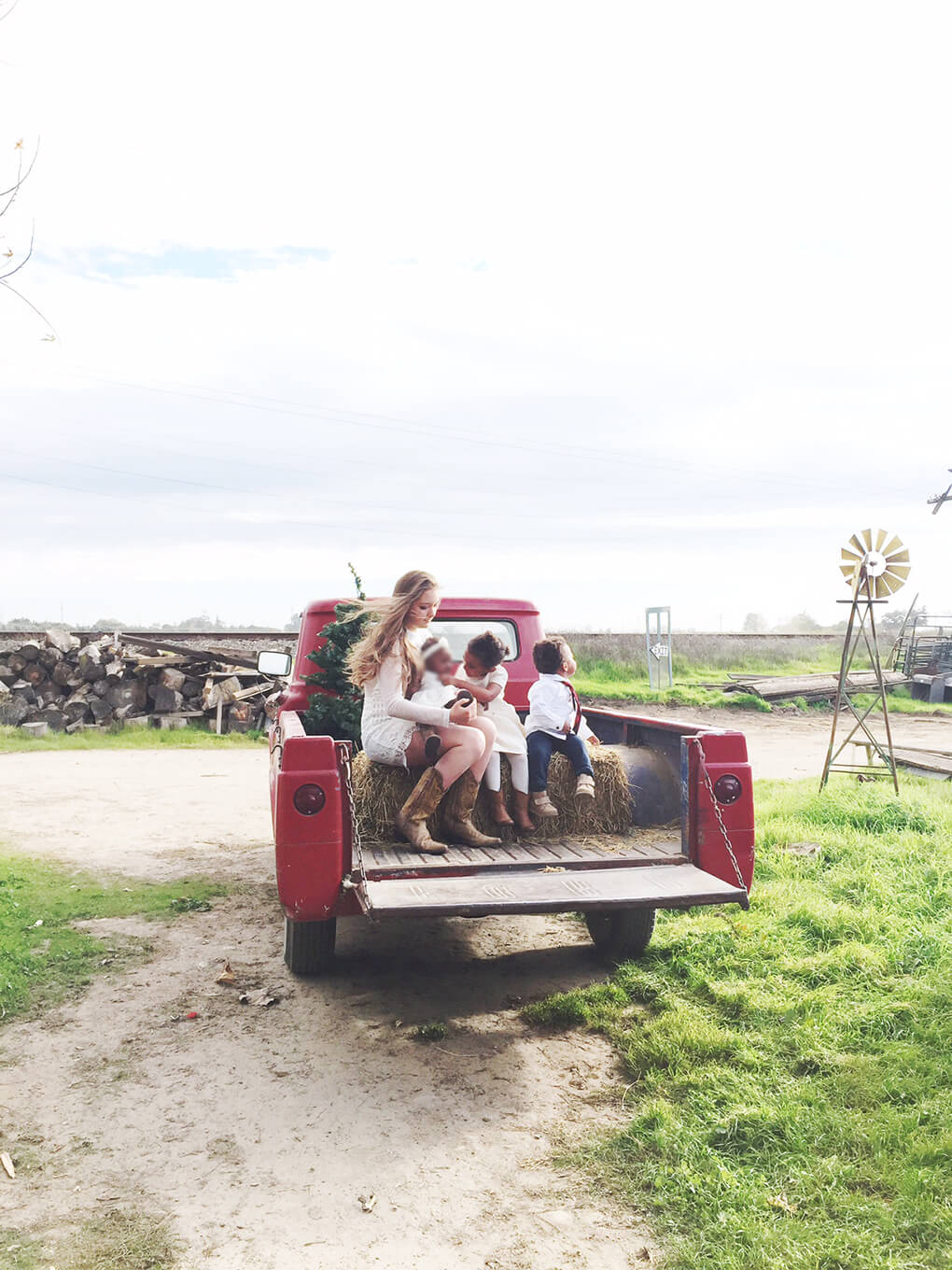 You will heal. I will help.