My one word for 2017 is unafraid. ((I have done the "my one word" now for 5 years. 2013: Life Unprocessed (ummmm….2 words?!). 2014: Unprocessed. 2015: Healing Through Intention (again…..one word?!) 2016: Less.))
I have, almost literally, been paralyzed by fear nearly my entire life.
Up until sometime in high school, I was so afraid to stay anywhere but home. I missed out on so many things because of it.
I have had massive snake phobia nearly my entire life. When I was really little, I ran over one with my little trike, and in grade school, while jumping on a trampoline, had a friend's brother throw them at me. To this day, I have a hard time doing a lot of things outside in summer, namely hiking, for fear of a snake encounter.
I was a gymnast for most of my youth, but as I got into junior high, I became massively afraid of "getting hurt" so much so that I did get hurt, and had to stop altogether.
Somewhere along the line, I became afraid of food, which trickled down into several years of eating disorder (which I've talked about many times on my blog in the past).
When "fitness gurus" made it seem like specific workouts wouldn't work or shouldn't be done, I became afraid of doing them because surely they knew my body and life better than I did.
And on, and on, and on….
Living a fear-based life has affected every single piece of my life, from my daily activities to my relationships and overall health.
Nelson Mandela has a beautiful quote that says,
May your choices reflect your hopes, not your fears.
And The Bible has an even better one,
Who of you by worrying can add a single hour to his lifespan? Matthew 6:27
Unafraid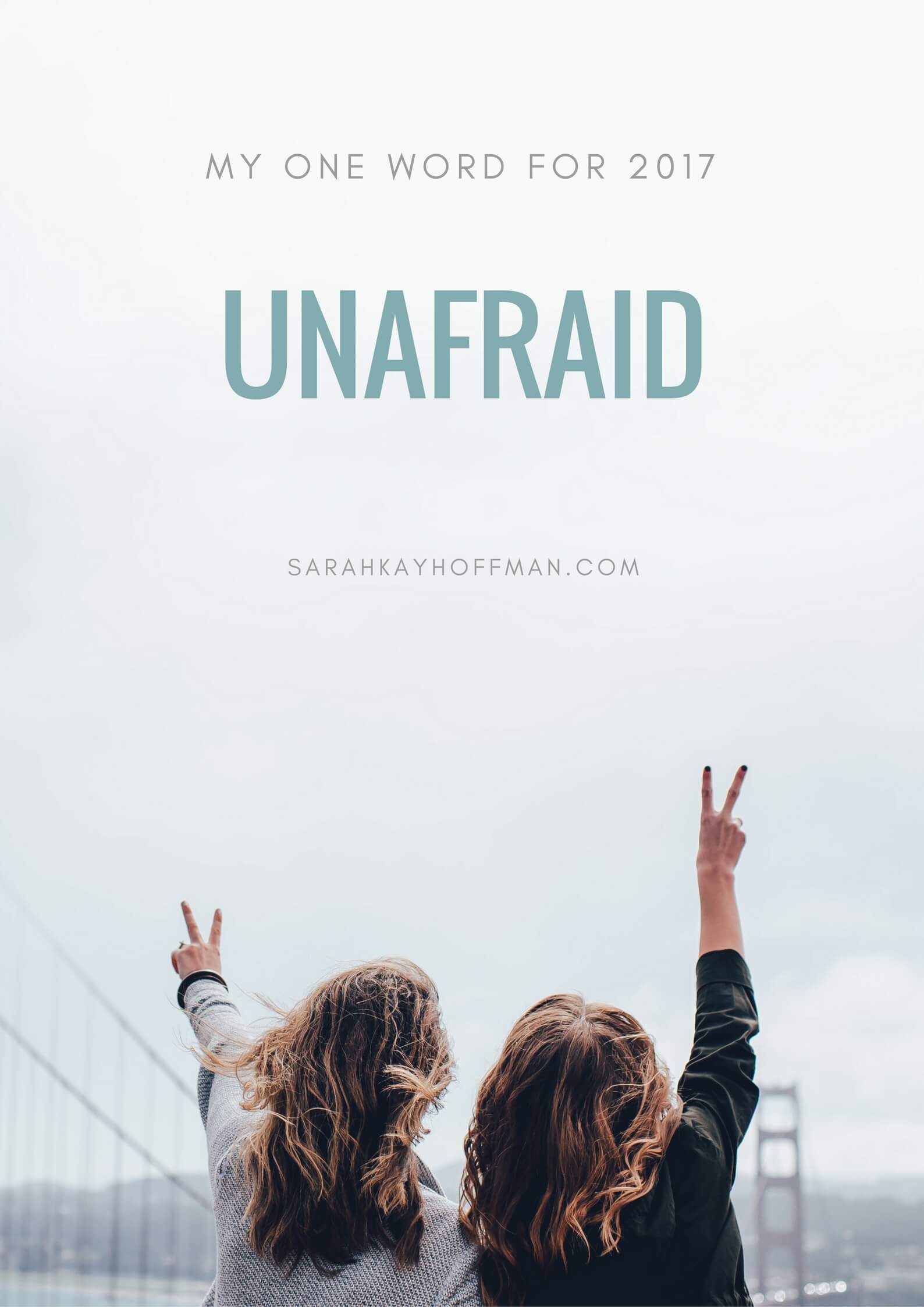 A few months back I began a new journey in my life, one in which I should have begun long ago, but did everything in my power to avoid.
I finally sought the professional help of someone to address these fears. There is no shame in me telling you this because what I began to accept from the beginning of this journey is that the very act of feeling shame or guilt is only fear creeping into my life and paralyzing me even more.
My book, Gravel Roads will see this through in detail, but how it relates to my one word and 2017 is that I am ready to stop living based on fear, and instead living in a way that says I don't need to control every single step of every single day out of fear for what could happen.
I can live unafraid, and really live, for all the millions of things that could happen.
It's a funny thing, isn't it? We either live with fear or fearless, but either way, something could happen, the possibilities are endless. Seems so much more peaceful to attempt fearless, being unafraid.
I mentioned my 2017 personal goals yesterday, but most of those don't really take any act of courage. ere are some 2017 goals that
Here are some 2017 goals that will take courage:
Running. I started running again, and I have been loving it. Sure, the first mile is awful, but such is life. I recently completed a 9-mile run and on New Year's Day, I will do my longest run to date, 10 miles. My debilitating mid-cycle through the beginning of the following cycle cramps have made me absolutely fearful of running. But I am not dying. There is nothing that is truly holding me back from running, so I'm doing it. Simultaneously, I'm working to figure out the triggers for it so I can get the pain under control because….

Race. Race. Race. Short Distance. I have a packed 2017 calendar full of races I want to run. The first one I'm doing is January 8th, a 15K, in San Francisco. I am not expecting anything phenomenal for this race, other than to get the butterflies out of my stomach for racing again. I was sick from November 10 – December 19 (when I finally got antibiotics for a severe sinus infection), and so my training runs were far below par. But I'm doing it! I plan to sprinkle in many other 5 and 10K's throughout the year as well.
Race. Race. Race. 1/2 Marathon. The only 1/2 marathon I'm sure I want to race is the Livermore 1/2 Marathon at the end of March (because, obviously, wine at the finish line)! My goal would be to do 2-3 more 1/2 marathons beyond that in 2017.
Race. Race. Race. Marathon. And finally, my top and main 2017 running goal is to run my very first marathon in Sacramento at the California International Marathon in December of 2017. But wait, that's not even the real goal. The real goal is to run at a pace that would qualify me for the Boston Marathon, which if you don't know would be a 3-hour and 35-minute marathon (or 8:13/mile for 26.2 miles). Many might say this is super lofty, and it totally is, especially given the female pains and an autoimmune condition. But I won't let fear hold me back. (Follow my running and paleo-ish journey via paleoishmama on Instagram.)

Additionally….
I have been afraid of heights my entire life, so we are entering the lottery to hike Half Dome. (We = Ryan and I — do you see the things I get him to do with me?! We might also mean the addition of my brother, who is also afraid of heights, and who I would love to have join us!)
I want to do another Spartan Race because I'm trying to get over the fear of that cold water, but currently, the one I want to do is one week after my March 1/2 marathon, so I'm still debating.
Ryan and I have been building out our home gym, so I began creating some lofty strength goals as well (I'll hopefully share those at some point, too).
And remember those snakes? Well, I'm going to start hiking period to prove that not every single time I step on a trail or anywhere a snake might exist will I see one (and then will it bite me).
This is my start, and I'm praying that 2017 sees me to living a full life, unafraid, in all aspects of my life.
Ceci's friend gave her this for Christmas, and I grabbed it from her immediately and took a picture.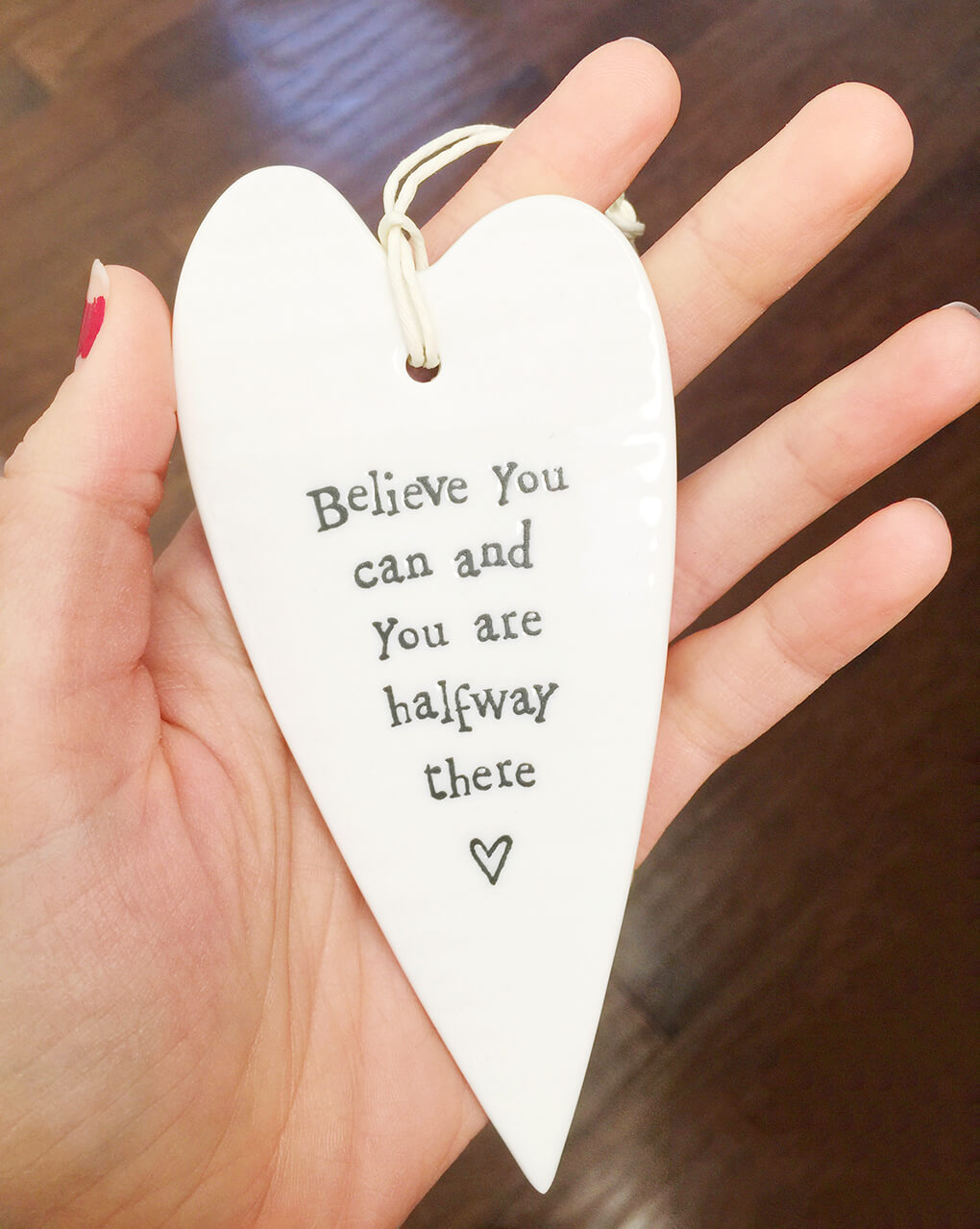 Simple. Perfect. And, well, just unafraid.
What are you afraid of? Now go….make it a part of your 2017 goals!
Xox,
SKH
p.s. What I'm not afraid of anymore? Food! I don't count calories, fat, carbs or anything any longer. I watch what I eat to the degree that I medically need to, choosing the foods that help me feel my very best (+ fuel me to run, run, run)….AIP Bread anyone?!
p.s.s. Interested in following along with the Pinterest board?!