We hit some adoption road bumps yesterday.
Let me tell you for a second how my blog works because I get asked the question a lot,
How do you know what to write about?
Here's how….I have a massive Content Editorial Calendar. For those of you who might be unsure about what that is exactly, it's just a calendar where I plan out posts (sometimes months in advance). These posts are dictated by time of year, seasonal foods, client work, and life circumstances. I have managed and maintained a Content Editorial Calendar for as long as I can remember since this is also a part of my professional background.
But like any great calendar that simply follows (or creates) a story (which is what I believe every single calendar should be doing), nothing is ever 100% set in stone.
The things I write about and the stories I tell can sometimes be predicted and planned, but many times they just cannot be.
This post is one of them.
Adoption Road Bumps
Amiya's social worker came yesterday.
Back up…..the morning was absolutely insane. I had help, but I did a big food photo shoot, edited images, and worked on various blog posts for clients. At 11:15 am, though, I stepped out for awhile to go to Samarah's preschool Christmas program. Adorable. 'Nuff said on that. I got back, went for a quick 2 mile run in the pouring rain, then came home, quickly showered, made some food, and then it was 12:55 pm. Isaiah was down sleeping, but Samarah told her nanny that she "wanted to make mama happy," and "needed mama to get her water." I was upstairs with her until just shortly after 1 pm.
I came downstairs and the social worker was here. I took the baby from the nanny, gave the nanny warm Christmas wishes, and, frazzled, sat down on the couch with Amiya (in my arms) and the social worker.
The social worker said, "We could have rescheduled." I told her no and that this time was just fine.
She asked about the baby, how her doctor's appointment went, how much she weighs, etc. (All of this is then kept in Amiya's files for the court.) She told me the courts put the paperwork through so that all was approved for her to travel with us to Minnesota (T-3 days, but who's counting?!).
"I read your blog. It's so nice. Those Christmas pictures are just beautiful!" For a second I panicked…..she read my blog?! But then, of course, the panicked subsided. There is nothing I do or say here that I wouldn't tell her about. I am very careful with Amiya, and I never show her sweet face.
It was such a lovely gesture on her part, though. She has been, by far, one of my favorite state social workers thus far.
As Amiya was staring at me, I said, "You know….this is her favorite activity." The social worker smiled. "You can ask anyone. When I hold her or she's hanging out in the Ergo, oftentimes she just looks up at me and stares." So vastly different from our first two.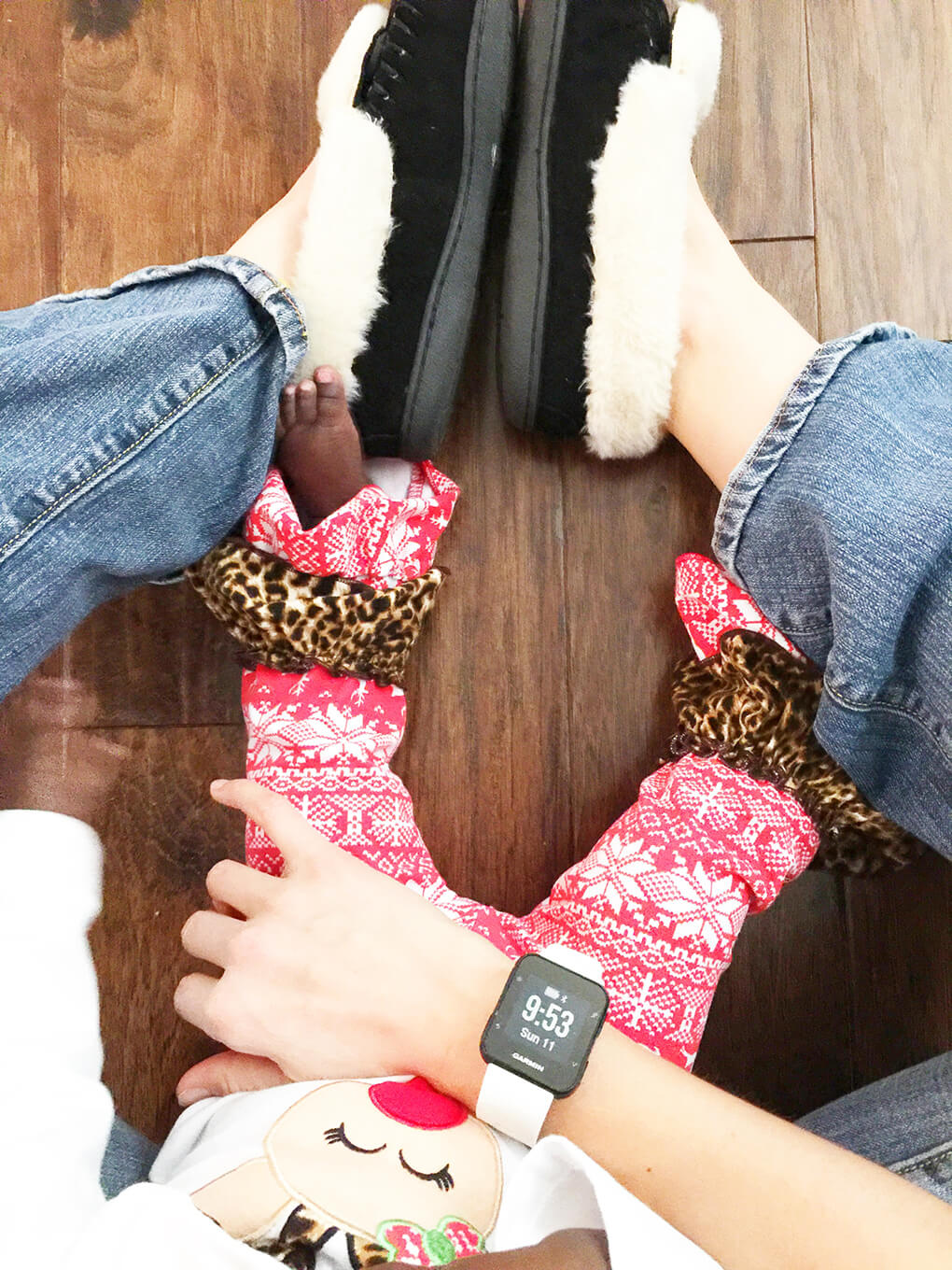 And then the social worker said it,
There have been some new developments in this case.
"Huh?" (I'm guessing that's all I said.)
She went on to tell me about something very significant that was found while the court worker was doing their "due diligence" about a week ago.
It hit me out of nowhere, completely unexpected.
The social worker said she would have called, but knew she would be seeing me in person and wanted to talk in person.
I just kind of looked at Amiya, my eyes glossy, but I was not really going to cry because it didn't feel like the time or place.
The social worker sensed my worry, and said, "I really don't want you to worry. I promised I would tell you guys everything so there were no surprises, but anything can happen."
Without a doubt, though, this will affect the .26 hearing, the one in January we were really thinking would give Termination of Parental Rights. (If you're interested in learning more about the process and steps, this site on Q&A: Juvenile Dependency Court sums up California law nicely.)
I feel very shocked, mostly because when the issue was brought up to us at the beginning we completely brushed it off, knowing the history of people involved. In fact, if you want the truth, it seemed so false that we really only saw it as that.
I learned yesterday that even the wildest stories just might be true and that on the foster-to-adoption road, anything can happen.
Our journey with Amiya might now be just beginning, but I love, love, love this baby so much, and there is no way she's going anywhere but here.
One day at a time, one step at a time, one court ruling at a time.
I have faith that these adoption road bumps are just that, bumps, not a new road in a different direction.
We had some similar road bumps with Samarah, and every single bump was worth it.
With foster-to-adoption, though, nothing is forever until you meet the judge in his chambers or big courthouse room to sign on the dotted line.
We've already been blessed to do it twice, and by the grace of God we will do it yet again.
If you have an extra thought or prayer, we'd take it. And for those of you who will get to meet our beautiful and sweet baby girl in Minnesota…..you'll immediately see all that I've been gushing on her!
p.s. Now, does this love make me politically correct?! I rest my case.
Xox,
SKH
You will heal. I will help.