Yesterday was filled with happiness and heartbreak.
Let me tell you about it.
I told you last week that on Monday, Samarah, Ryan and myself would be going to see the baby. We were all so excited to her, and I was especially excited to see Samarah and Ryan see her for the first time.
When Samarah woke up in the morning and came walking down the stairs, I met her halfway and said, "Do you know what today is?" She replied, with a big smile and hopeful eyes, "The baby!"
Around 9:40am we all piled in the car and headed for the foster parent's house. It was quiet when we opened the door because she was sleeping in a rocker. Her current foster mom and a woman from the foster mom's agency were there.
Samarah and I sat in a rocking chair next to the baby, staring quietly at her while Ryan and I began asking the foster mom questions.
"What time does she typically go to bed at night? And how long does she sleep?" She replied, "She usually goes to sleep between 6-7pm at night and will sleep until about 6-7am the next morning, or about 12 hours."
Would it have been awkward if I jumped up right then and there screaming, "Oh thank you, Lord?!"
I didn't, but both Ryan and I let out a sigh of relief. At four months old, you never know what sleeping habits are like. Samarah was still up every few hours, but Isaiah was sleeping pretty much through the night from the beginning. Sleep, quite honestly, is the only real concern I had with getting another baby and having so many little ones. Side note: I have a post coming on this soon, "Mommy Spoonie."
Anyways, I digress.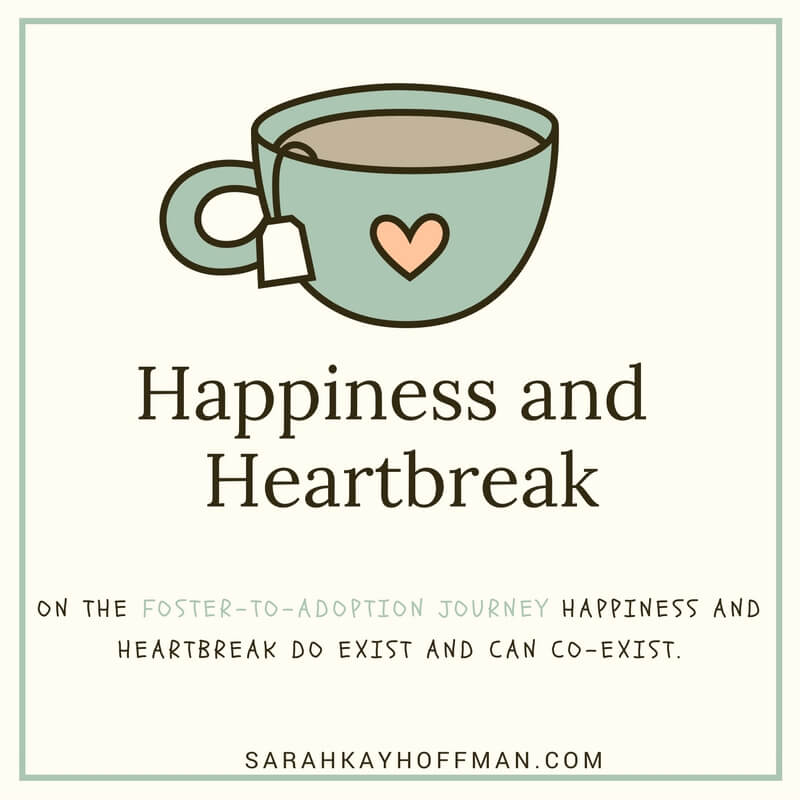 Happiness and Heartbreak
The visit was filled with happiness, over an hour of it. My heart was so content staring at our new little angel, watching Samarah want to mother her like crazy, and (of course) falling in love with Ryan over and over again as he fed her her bottle, and held her little fingers.
We took several pictures, and afterward, I found myself staring at them countless times. The agency worker even snapped a picture of all four of us. (And yes, I do wish Isaiah could have been there, but even with just Samarah there it was a little much. It's hard to ask questions and get facts when you're trying to tend to other littles. Samarah is old enough to semi-understand what was going on, but Isaiah would not have likely, so Thursday will be his day!)
But something happened during the visit yesterday that was really unexpected.
Prior to meeting her yesterday, we didn't know anything about the current foster mom. (You typically wouldn't, so that's normal.)
We only met the foster mom, and she is young…. probably my age or younger.
It wasn't long after we got in the house and she started talking about the baby when tears filled her eyes as she described how she got the baby at just 5 days old, how she can't have children, and that because she didn't know there was a sibling (or Ryan and I in the picture) how desperately she wanted to adopt this baby.
With pure love in her eyes, she told us how amazing our little angel is. How she is big for her age and circumstances, stronger than doctors can believe (doing tummy time well before her time, apparently), that she has pretty severe stomach issues and eczema (um….is this all babies or does God know that I need those babies?!), and how this little one completely stole their hearts.
"But I am so happy she will be with her sibling," she said.
Later in the visit, we began making future plans. Tomorrow (today), I would be going to her house, yet again, to visit the baby alone with just foster mom, myself, and the state social worker.
"And then," I asked, "What would be best for you to transition on Thursday?"
Her eyes filled with tears. A lump in her throat. It took her several minutes to begin talking. And even when she did, it took quite some time for her to sort through what that day was going to look like for her.
She asked if they could have the morning together so that her mom, who had also fallen in love with the baby, could say goodbye. She also asked if Ryan and I could go to her (vs. she bringing the baby to our house) since she would be so emotionally upset afterward and likely not able to drive home.
Thursday will play out as such.
Ryan, Samarah, Isaiah and I will pick our newest addition up late afternoon. By then, all her bags and belongings will be packed. Her current foster mom (and the only mama she has ever known) will likely shed many tears, give her one last kiss, and say goodbye.
I will feel empathy for her, not because I know what it's like to have to say good-bye to a child you've fallen in love with but because I know what it's like to be infertile and to think that your chance at loving a child forever might never come. Shortly after getting Samarah (since she was so little and there were so many unknowns), everything she feared, I feared. It literally made me sick, and I've described this in past posts. The only difference is that her worst fears came true.
And for that, I feel so much heartbreak for her.
On the foster-to-adoption journey happiness and heartbreak do exist and can co-exist. In fact, almost this exact same situation happened with Isaiah.
Nothing is black and white, and yet I believe that God has a plan for all of it. Her forever baby is still out there (or almost here) just waiting, perfect in its time.
p.s. I know what many of you are thinking right now, "But how could this happen that she didn't know about you guys and the sibling when you knew just 1 day after the baby was born?" Legit question. My head is spinning with the same question. There is really no sense in trying to blame anyone or find fault, but if you want my honest opinion, it's the state's fault. They knew immediately that not only was there a sibling but also that we wanted the baby (our social worker communicated that via the very first phone call when the baby was 1 day old). They knew when they placed the baby there. They should have placed her with us from the beginning and/or they should have told these wonderful people that her staying there was 100% sure just a temporary placement.
Xox,
SKH
You will heal. I will help.