Crossing county lines for foster adoption is a whole new thing for Ryan and I, as both Samarah and Isaiah were born in the same county (the county where we reside).
We want this baby, and the state's goal is keeping siblings together. But even with real and raw intentions and true emotions that come with a baby, a set process is still in place and must be followed (for better or worse).
Every state, and even each county, is different when it comes to crossing county lines for foster adoption. But I'm sharing our journey because I believe that at the core of each process, the foundation is the same.
Crossing County Lines for Foster Adoption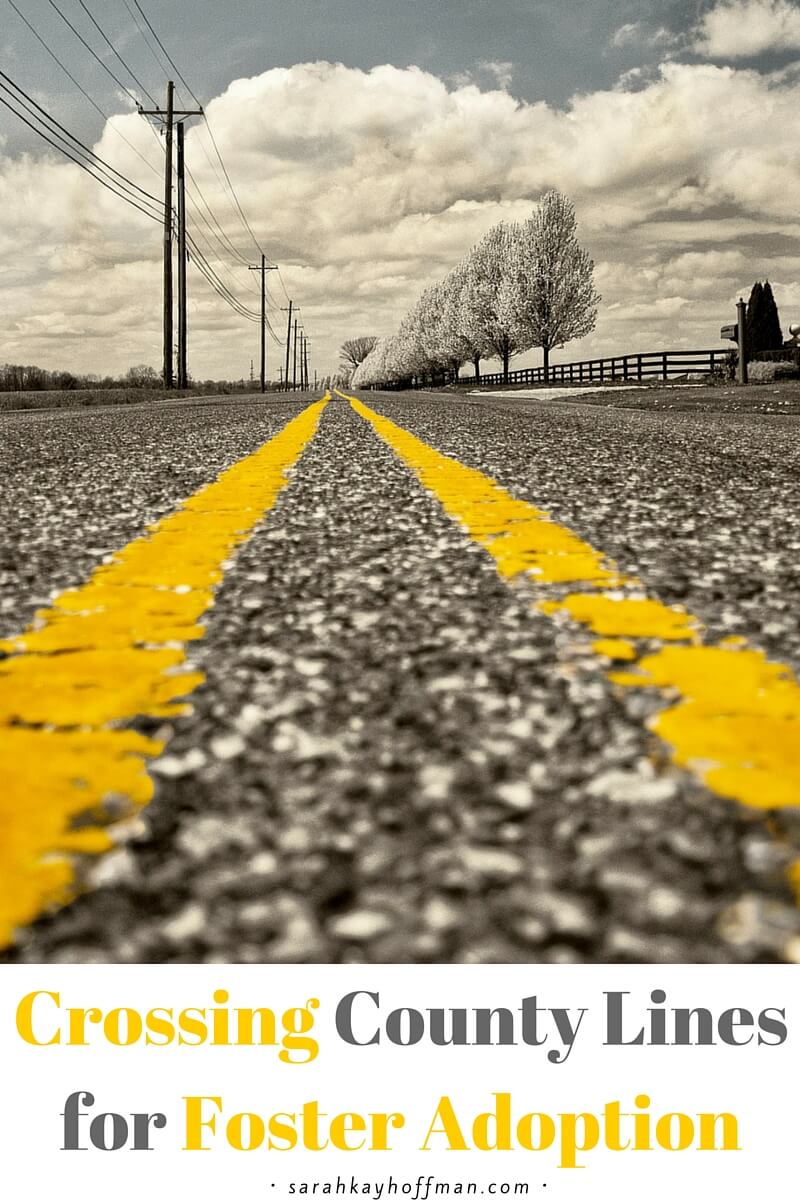 In order for us to have the baby sibling placed in our home, here is what has to happen:
Live Scan Fingerprinting. I detailed last October what happens in a 'Home Study Refresh.' With that, there are fingerprints via Live Scan. When you cross county lines for foster adoption, you have to re-do these fingerprints. This step is already done! Friends, I'm telling you, when I have my mind set on something, I make it happen….like yesterday. On Friday evening, July 1, 2016, around 6:30pm, the baby's placement worker called. She went over next steps and how we would be able to proceed forward. She mentioned that the first thing we needed to complete were these fingerprints. She said that first thing Tuesday morning, July 5, 2016, I should call the county and ask to have the paperwork mailed to Ryan and I so that we could take it into our local Live Scan Fingerprinting place to complete the task. I asked her if there was any way she could email me the paperwork since we were leaving that following day for a longer stay in Minnesota. "Unfortunately," she said, "I can't." "But," she said, "If you are certain nothing will pop up on your results, once you do them, it will go quickly." First thing Tuesday morning I called the county. The woman I spoke with was extremely helpful. She said that she could fax the paperwork to us, and did so immediately. Within an hour, Ryan and I had the paperwork filled out, brought it into the Live Scan Fingerprinting place (which, by the way, was just our local UPS store) and completed that task. Yes, I'm a total rockstar….it was complete before we left for Minnesota!
Placement Assessment. While we are in Minnesota, our fingerprinting results should be returned to the placement worker. At that point, she will call me and we will set up our date and time for her to come assess our home. I know, it sounds absurd to me, too, that we have to have yet another home inspection, but we do. She just wants to see what our home looks like, the environment, to make sure it's "safe" and that we are set for a baby to come. I asked her, "Should we have the crib set up?" She replied, "It's not necessary, but you already have a crib?" I responded, "Yes. We already have the crib. We have car seats. It's all ready. We are very serious about this." To which she said, "Wow! That's so great." (This woman has no idea how driven I am. She's going to learn real quickly.)
Approvals. The placement woman told me that usually the paperwork she completes on our home assessment has to go through three rounds of approvals. Since we have the sibling and have already adopted two children through the state, though, it will go from her directly to the top for final approval. "At which point," she said, "you will be able to have the baby placed in your home."
Matter of factly, this should all be very simple. One would think the baby can and will be placed with us shortly after we arrive back in California.
But I'm not sure this will be the case. Things go on behind the scenes that we have no idea about. In fact, that court date I told you about last week? We still haven't heard the outcome, so we have no idea what is happening with birth mom.
Crossing county lines for foster adoption is a hurdle, but it's only one of many hurdles.
Ryan and I have leaped over many hurdles. Hurdles, to be quite honest, don't affect us nearly in the ways they used to. I think this process forms thicker skin, a coated heart and even more drive (is that possible for me?!)
Each day I wake up, I believe that today will be the day we hear more news and that the news will be in favor of keeping siblings together, building our forever family.
We appreciate your prayers and good thoughts. I am grateful that you share our journey with us, and share with other people who are considering adoption from the foster care system. It is really, really beautiful.
Xox,
SKH
You will heal. I will help.