William G.T. Shedd stated, "A ship is safe in harbor, but that's not what ships are for."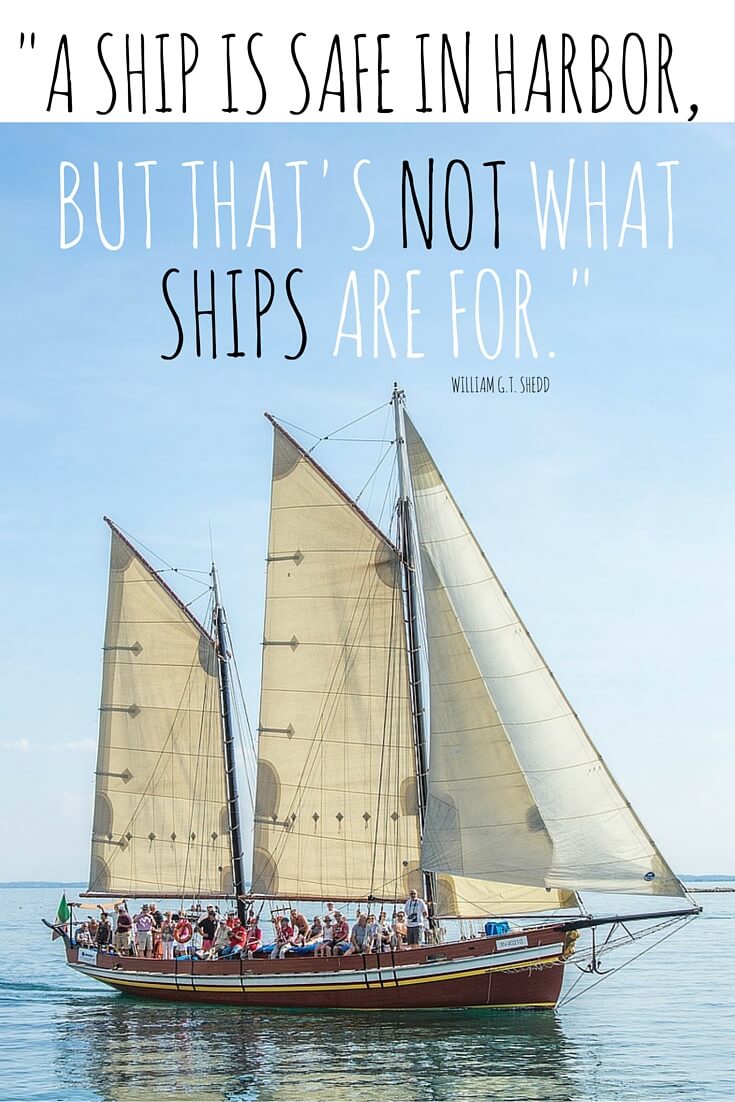 I have these old, handmade and beautiful kitchen towels that I used to stash away, collect and save for when the timing was right.
The goal was to build a collection of kitchen towels that meant a lot to me, but then never actually use them out of fear that they would get dirty, torn and tarnished.
Until one day, I realized that the towels were not given to me to sit in a bottom drawer just waiting for the perfect time to use them. I realized their function was to enjoy daily and wipe away dust instead of taking up space merely collecting dust.
Like this Blog
This is sort of what has happened in my life. I have been collecting stories, experiences and moments, but never truly sharing them out of fear for one reason or another.
Reader emails continue coming in at a rapid pace, and the underlying message is very clear.
The straw that broke the camel's back occurred this past weekend when I received a lengthy email from a new(er) reader. She began the email with,
I have a great deal of admiration for you being so open about the challenges you face, and in turn helping so many others.
And here's the thing. On and on she went, but at no point in the email did she say, "Thank you for sharing a list of FODMAP foods and telling me how the sweet potato might be causing my digestive distress."
I know that the information I have provided over the years on gut healing has benefitted thousands.
I also know that that isn't really what has made the difference in someone's life. In fact, I could argue it has had the opposite effect for many.
And yet still, I stayed the path of sharing all the gut healing knowledge with you because a ship is safe in harbor….
A Ship is Safe in Harbor
…..but that's not what ships are for.
What has always been "safe" to me on my blog must change, partly because of my goals, desires, thoughts, and ideas about this little slice of the Internet, but mostly because I've changed.
No longer do I have this deep desire for helping you dissect every single morsel that enters your mouth. I desire to write from 33 years of life experiences and to help inspire your own vision for finding beauty in the dust.
More Soon
My goal is to make this full transition over the course of the next few months so that hopefully by the end of summer I am no longer merely safe in my harbor, but instead writing about, talking about and focusing heavily on the things I believe this ship was truly meant to do.
The changes and topics I have mentioned are fairly vague. I get that. I am still sorting through it, and hopefully working on a little blog redesign with the awesomely talented Carissa!
There will be more "how to" gut healing posts through the summer, but then as summer fades to fall, so will that information, those topics. (If there is something you are dying to see me write about as it relates to that, please be sure to CONTACT ME soon for consideration.)
Soon, I hope to share with you more about what all of this means to help you better understand.
For many, this is exactly what you have been wanting to see. For others, my blog might not be your cup of tea (or broth!) anymore. And that's okay because, during the transition, I am going to give ample resources to help you find the very best gut-healing blogs out there.
Where are you keeping the ship safe in a harbor? And more importantly, how can you steer it differently to do the things it was truly built to do?
Xox,
SKH
You will heal. I will help.