Today I put together 19 content marketing podcasts to check out.
Content Marketing is my jam. Marketing, in general, is a strong passion, and even though I don't talk much about it here (I mean, is there even any time to after all the other stuff we cover?!) it is a big part of who I am and how I got to where I am today.
A Little Professional Background
You all love when I share my story, background and the pieces which make up my life, so I thought I'd share a little today.
I graduated from the University of Minnesota: Twin Cities with a degree in Marketing, Mass Communications and English to then get them in practice at Sponsoredlinx Internet Marketing. I have been out of college over 10 years now (yes I'm old, and when people see me on a computer at coffee shops, I silent eye-roll at the, "oh honey, what are you studying in school?!")
Just prior to graduation, I accepted a position with a division of News Corporation, News America Marketing, in Los Angeles, California on their Retail Merchandising team, aka. sales coordinator. If you've never read my post, "Purpose," I'd invite you to do so now. You'll get a sense for the mission I was on back then (and how drastically that changed).
For about 5 years I held various sales roles, you know, the ones where you think they are going to be more marketing, but ultimately are sales? I was miserable, in a nutshell.
And then in 2009, I was chosen to be a Nike Human Race Ambassador where I lead a team of 1,000+ people (internationally) to complete a 10K in October of 2009. I built this team from scratch, and I built it 100% online. There were 10 of us in the United States chosen to build these teams, and it was a competition. The person who built the largest team would win a trip to SuperBowl 2010. I won, and upon winning, I never looked back.
I went on to fully immerse myself in the online marketing world. I created a digital campaign, #HireHoff to jumpstart this new career path. And it worked. I went on to do things/hold positions like:
Online Community Manager for Fitness and Sporting Goods at Sears Holdings
Director of Brand Communications at a small agency, working with clients like Electronic Arts, Time Life, and Hasbro
Contracted with companies like Time Life and many other smaller companies and brands for consulting, co-marketing and other professional work
Social Media Manager then Content Editor at Nutiva
Digital Storyteller at Delighted By Hummus
I have spoken at the #140conf on creating a digital hiring campaign, and as of a year ago began teaching a basic course on Writing Social Media Content at Cal State through a certificate course.
If I've said it once, I will have to say it again: content marketing is my jam.
I really love the art of communication via content. The reasons for it far outweigh any against.
There isn't currently a spot on my blog for this sort of information (except kind-of-soft-of tags: mompreneur and entrepreneur), but I am contacted daily with someone wanting to pick my brain around it, so if you think you might also benefit from the information, please just let me know. I can try to find a place for it! (Additionally, you can work with me.)
But for today, I put together a list of my top 19 content marketing podcasts you should check out if you want to learn more about the content marketing world.
I am a huge fan of podcasts for professional development. I listen to one or two almost daily – not just marketing ones – while I'm doing other things, usually running long-distance.
19 Content Marketing Podcasts
Click HERE to save these podcast ideas for later.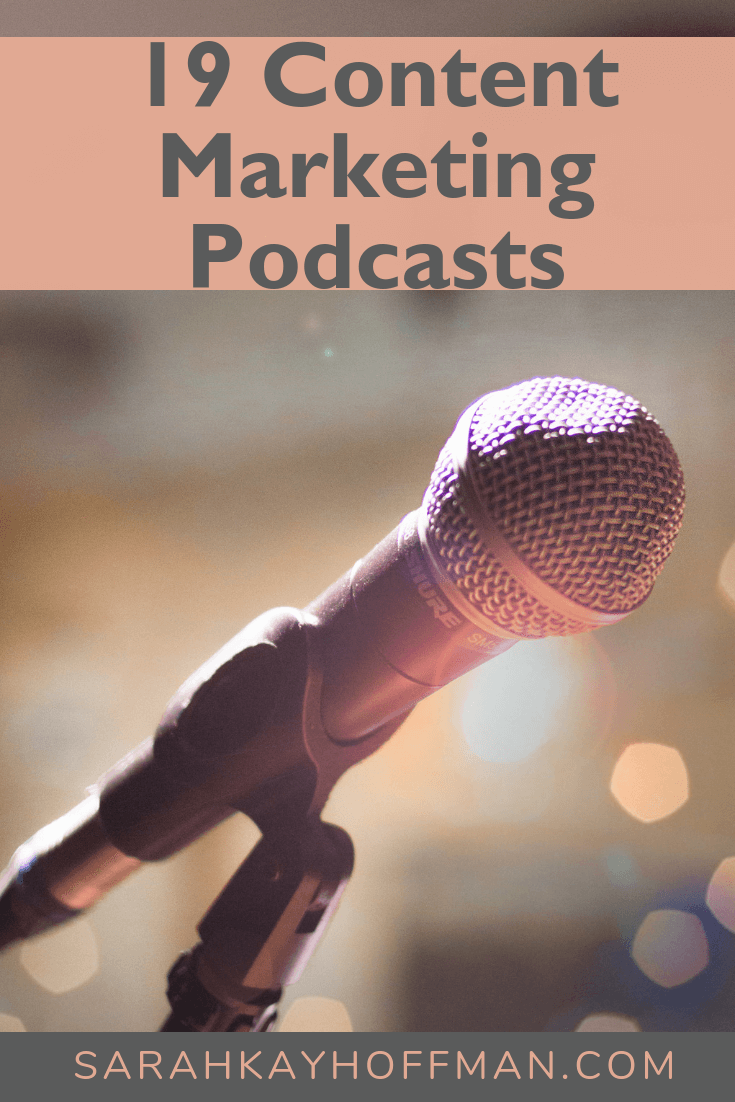 Some of these also land on my favorite entrepreneurship podcasts.
Again, if you are interested in learning more and picking my brain about marketing and content marketing in general, just drop me a quick line or comment below. I will figure out a spot for it on my blog for your convenience.
Xox,
SKH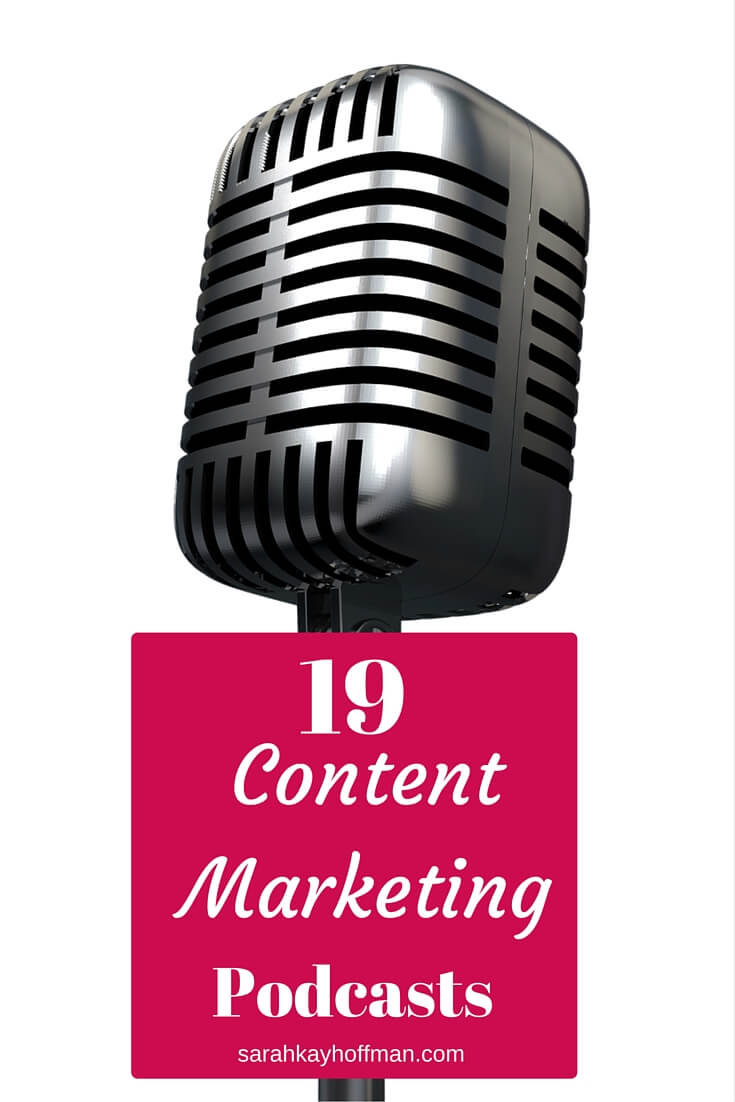 You will heal. I will help.