Last week I started my WWDW, Stay-at-Home Mom Adventures series. Many people told me they loved it, I enjoyed it and so I'm going to try to make it a weekly thing around here. So here we go for WWDW – Number 2.
Day 92: Follow Your Bliss
The more positivity and enthusiasm you can build into your life, the healthier, happier and more satisfied you'll be. Happiness breeds healthiness. Revolutionary Act #92, powered by Experience Life
I did not skip day 91, I just didn't write it out as such when I published my post yesterday. In case you missed it, you must check out A Grand Adventure Filled with Memories because those Paleo Chocolate Drop Cookies are divine. Seriously.
Alright, come enter my messy kitchen….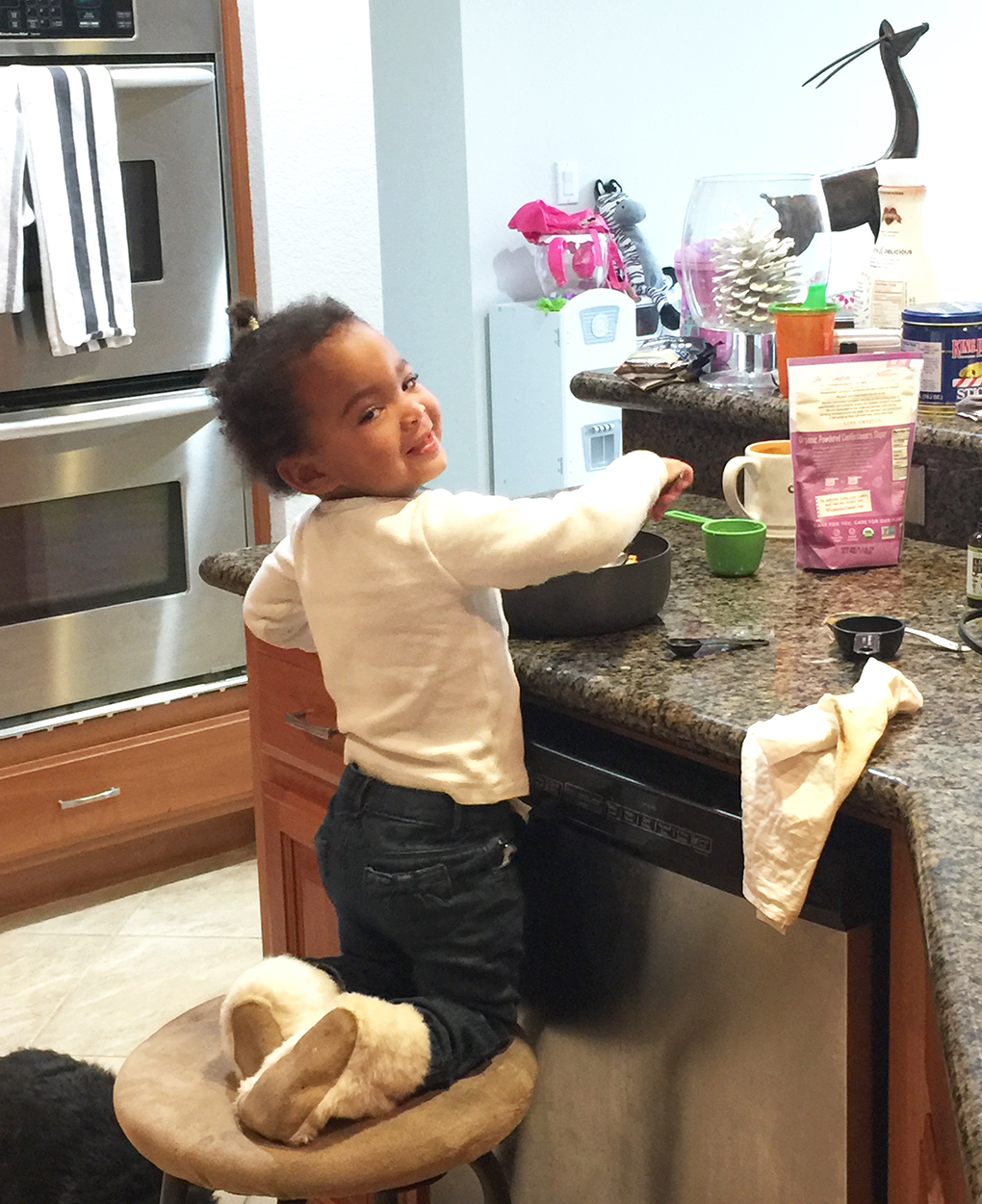 WWDW, Stay-at-Home Mom Adventures (Number 2)
I was up, per the usual, by 4 am. I hobbled downstairs, let the bratty dogs out, made a little java and nestled up to my computer to write and answer emails, publish the day's post and plan out the things I wanted to do with Samarah for the day.
At 5:50 am, I picked up my friend Bethany. We went to the gym for a quick but intense workout. Side note: We started working out together on Monday. We want to workout Mondays, Wednesdays and Fridays for a quick 30-40 minutes, just in time to get home for our babies waking up (she has 3 boys, including a baby). We did 6 Tabata rounds (jump rope, burpees, jump squats, mountain climbers, abs and quad extensions) and then I finished with 5 minutes on the stair master. The total workout was 29 minutes. I was absolutely exhausted by the end of the workout, which reminded me that 3 times a week of that is all I really need. It also further reminded me that anyone who says 30 minutes is not enough, clearly has never done Tabata workouts. I'm totally loving them in a love-hate way.
I got home right around 7 am, and Samarah had just gotten up.
Ryan brought her downstairs (while I was chugging water), and then she helped me make the oatmeal she and I share each day. I said, "Sam, do you want to help mama make oatmeal?" Instantly, she pushed her chair over to the counter and started climbing up. We made a version of this, which is what we make almost every morning. While she and Ryan had a little breakfast together, I got my shipping stuff together (A Loving Spoon nut butter) and took a quick shower.
When I came downstairs, Ryan went upstairs "to work."
Sam and I finished nibbling on the oatmeal and some bacon.
After breakfast, we played with her new Little People Nativity Playset that Grandma Judy sent. It's adorable, and when you push the angel on top downwards, it plays, Away in a Manger. She loves it, and puts it on repeat so I'll continue singing to her. We talked about baby Jesus, his mommy and daddy and all the other people who were there.
By 9 am she was already rubbing her eyes, but there was no way I was putting her down for nap time then. So I said, "Are you ready to help Mama make Puppy Chow?" She has no idea what that is, clearly, but anything that begins with, "help Mama make…." lights up her eyes. Again, she grabbed her stool and headed for the counter. We made Puppy Chow together, and it's the perfect Christmas baking recipe to make with a little one because it uses just 4 ingredients and is simple enough for them to help. Her favorite part was the vigorous shaking of the bag at the end! (Click HERE for the recipe.)
After making and eating Puppy Chow, we went upstairs to her room to play in her new Teepee. Once I get her "big girl" room done, I'll write a whole post and share it with you. We read the adoption book in the Teepee, and I may or may not have had tears in my eyes while reading it. It's my new favorite book to read to her (she doesn't sit still for more than half of it yet, though).
She was hungry, so she had her bread along with rice, chicken, veggies and salsa.
And then I finally let her go down for a nap. During nap time I: wrote and answered emails, had a call with Nutiva, made and photographed a new recipe and started editing some pictures.
She woke up a couple hours later, around 1 pm, and then we immediately got in the car to do my post office run. This was the only thing we did outside the house yesterday because I was craving an entire day to just stay at home with her.
When we got home, we spent quite some time in the kitchen. Earlier in the day, my friend, Bethany and her boys brought over dough so Samarah could make her handprint ornament. I got out a large baking sheet, sprinkled it with flour and rolled out the dough. We molded Samarah's hand, and then I placed it in the oven on 200 degrees for almost 3 hours. (We are planning to finish it today.) She wanted to do it more, so I left her sitting up there, grabbed some of the homemade play-doh I made, a cowboy hat cookie cutter and a chopstick and let her play. She played with that (while nibbling on the Puppy Chow + popcorn I had made for my recipe earlier) for a very long time. Note to self: Great toddler activity, albeit messy.
She then helped me sweep because the floors were a disaster.
For the next hour, we just did random playing, and mostly whining and hanging on mama's leg wanting more "bum, bum" which is her way of telling me she wants me to bounce her on my leg. Girl loves a thrill 24/7.
Around 3:30 pm I gave her a bath and she played and played and played in the tub. Is there anything cuter than a baby in the bathtub?
From that workout early in the morning, I was basically famished all day so by 4 pm I was already ready for dinner. Most Wednesdays Ryan takes off from the gym, so I chopped up our sweet potato chips, coated with coconut oil, sprinkled with cinnamon and placed them in the oven. Ryan was finished with work a little before 5:30 pm and we ate immediately! Can you guess what dessert was? Yay! Puppy Chow!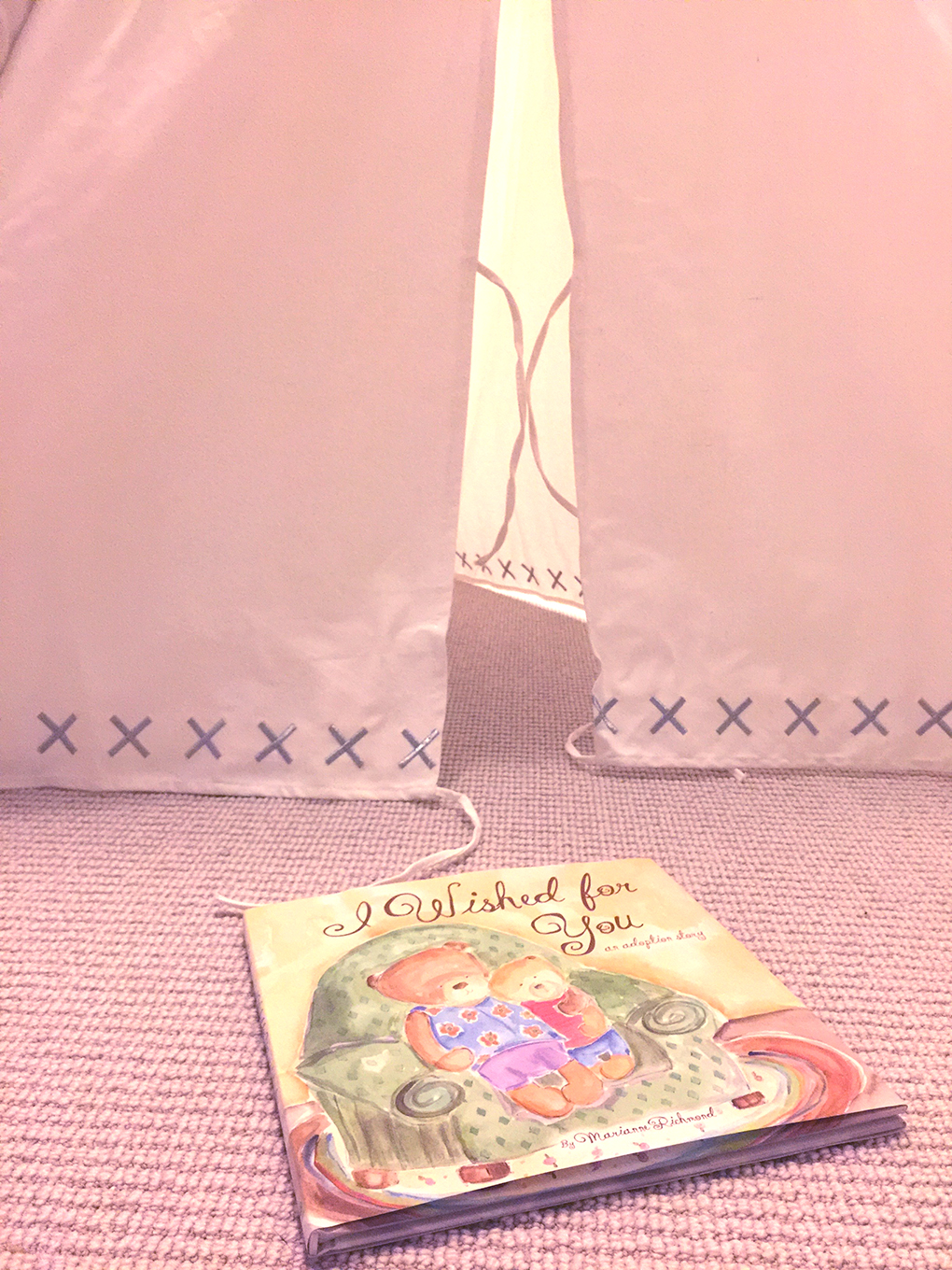 I have now had days where we have barely been at home + a day of purely being home under my belt. I learned that most days we should, in fact, do at least one activity outside the house. Being at home all day is good to do every once in awhile, but definitely not every day.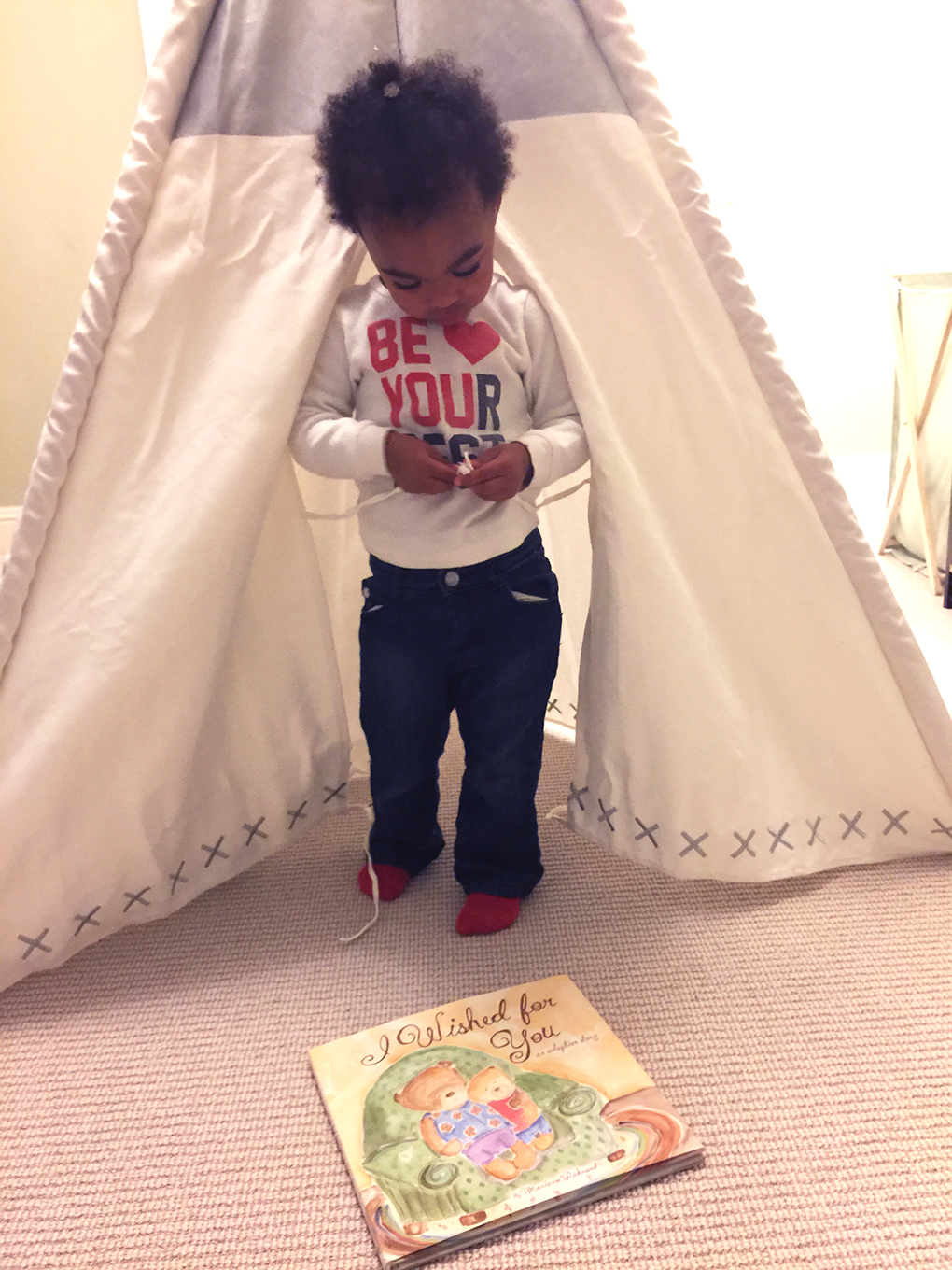 Yesterday while Samarah looked out the window for her Great Dane, Reagan and said, "Where's Wagon?" my heart burst with the emotions that I made the best decision when I decided to stay home with her full time.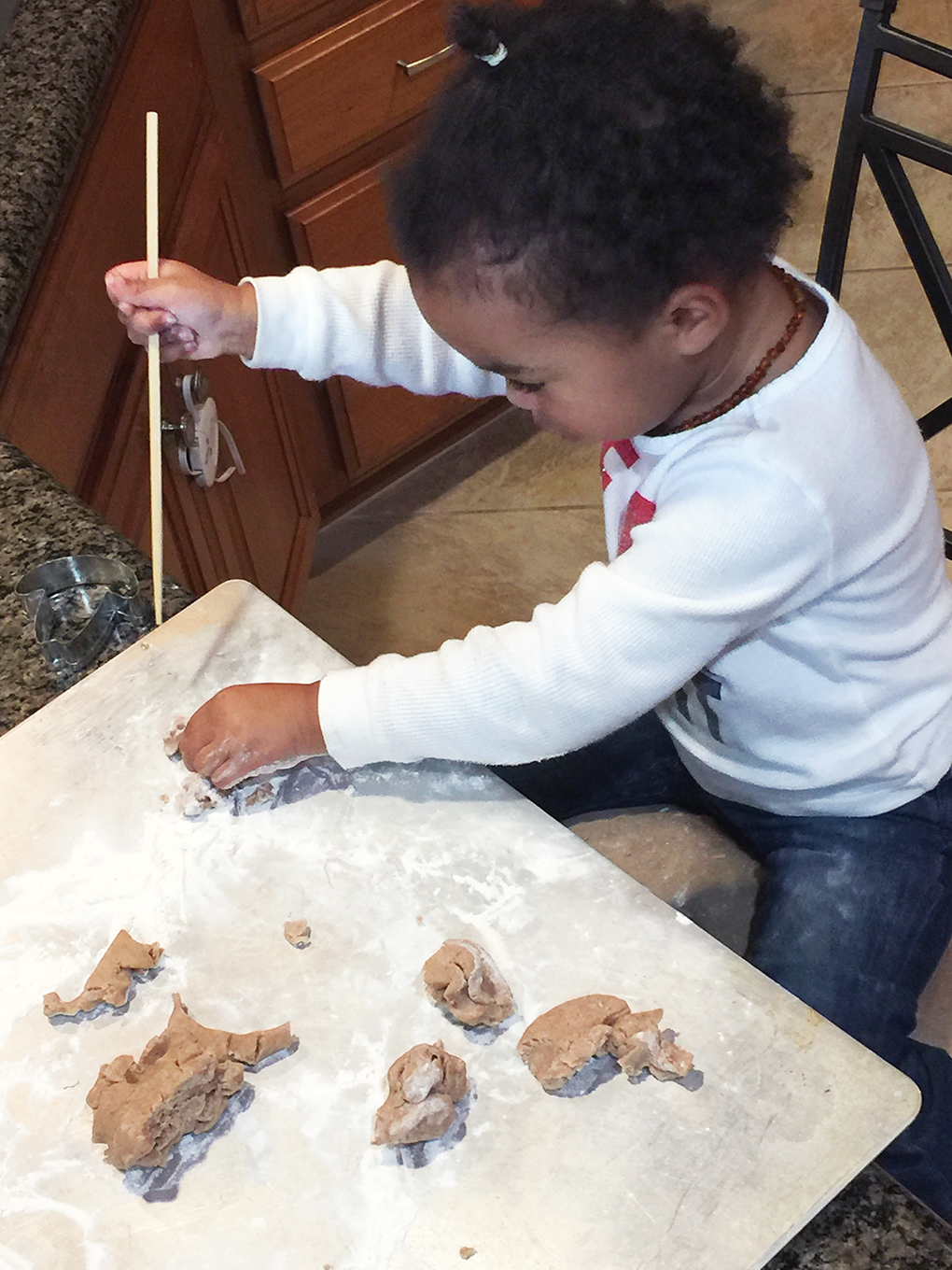 The house is a disaster (and this is going to change!), I now barely have enough time for "me," I sing toddler songs all day and am becoming a master 2-year-old translator, but my heart feels fuller than ever before.
Samarah needs me in ways I never knew before now. She runs around, "I yuv me, Mama." She wants me to, "hold me, Mama." I get to translate her words and watch as she learns more of them and how to put them together cohesively.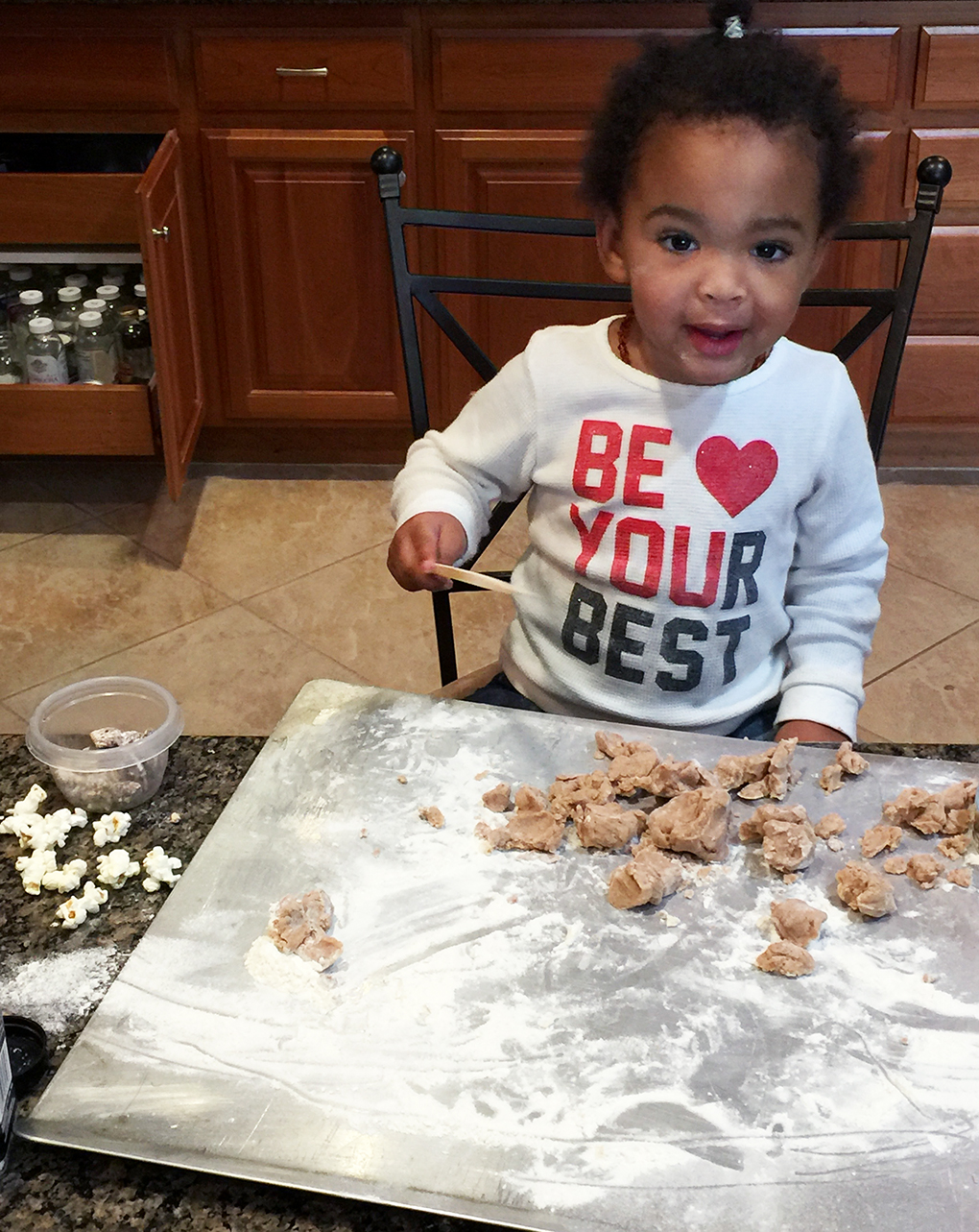 Making this decision might have me never see the money and growing business portfolio I once thought I'd have, but I know a thousand times over that there is nothing and no one that could replace everything that is in these moments, during this season.
Xox,
SKH
To get involved in the #MyRevAct campaign, follow @ExperienceLifeMag on Instagram and post your own revolutionary ways to be healthy using #myrevact. In the meantime, read the best in healthy living at ExperienceLife.com.
You will heal. I will help.