Spartan training, week 1 is in the books.
I thought it would be fun to share my workouts each week during this training, so you can see how much I am (or am not) doing.
Day 6: Redefine Your Role
You are not a "healthcare consumer." You are a human being. You may be experiencing an illness or other health challenge right now, but remember that good health is your body's natural state.
I started officially training while in Hawaii but started "real" training last Monday, September 7. By then, though, I was already on "day 4."
Monday: Spartan 300
Tuesday: 30-minute run
Wednesday: OFF
Thursday: Spartan 300
Friday: OFF
Saturday: 6-mile run
Sunday: OFF
This is the Spartan 300 workout (I did it on days 3, 4, 7)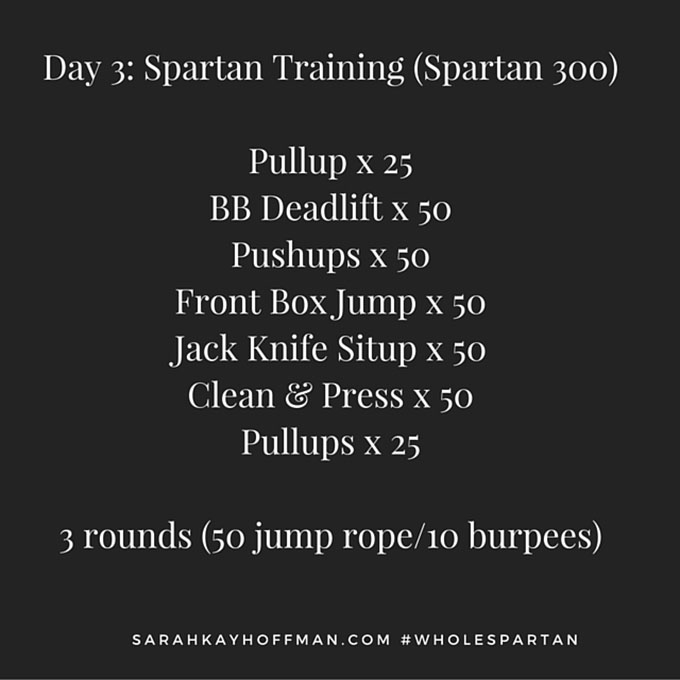 I did the Spartan 300 so many days last week because it is my "base" workout. I did them each for time. Each day I improved, but the goal now is to improve that workout throughout my training.
At the end of each strength session, I do some sort of HIIT. Lately, I have been doing uphill sprints, alternating between body weight and running up the hill with 25lb sand bags.
This type of training is foreign to me, anyways foreign within the past couple of years.
But I'm liking it.
I must admit that the 6-mile run on Saturday was hard! My friend Bethany and I headed out on Saturday morning around 7am. We planned to cover just 2-4 miles, but then we got going and figured we might as well "loop" vs. out-n-back. We had no idea how long the route was until we got back and measured it. This is the longest run I will do for about 4-5 weeks. There is just no reason to do more, and I am still being very cognizant of how I feel to ensure my adrenals stay in check.
The four workouts I did last week were hard. My body is telling me so, and therefore, I am going to bed between 8-9pm most nights. I am also eating a lot, and refueling each time my body says, "I'm hungry."
The combination of all these things are making me excited to be training for my first Super Spartan.
Xox,
SKH
To get involved in the #MyRevAct campaign, follow @ExperienceLifeMag on Instagram and post your own revolutionary ways to be healthy using #myrevact. In the meantime, read the best in healthy living at ExperienceLife.com.
You will heal. I will help.