Because of my faith, not religion, I am getting baptized this Sunday, Easter Sunday.
I have been thinking about it for quite some time now, but after my testimony at MOPS about a month ago, I knew it for sure.
My testimony that day ended by reciting something I had blogged exactly 2 years ago this Easter via Hope. It went like this:
Friday is the day when we "celebrate" Good Friday, the day Jesus died on the cross.

Sunday is when we truly celebrate him rising.

But Saturday. What is Saturday for? What is the day all about?

Hope.

Wherever we are at in our lives, Saturday reminds us that our own Sunday is coming. After the rain always comes the rainbow, but it's the bridge at getting to that rainbow that can be scary and filled with heartache.

The hope of knowing that new life, a new day – our very own Sunday is around the corner is a blessing to this beautiful life.

He has never failed in my life.

Ever.

Saturday always turns to Sunday.

Hope.

It is my wish that you are filled with the same today.
Faith, not religion, is the primary reason I am getting baptized on Easter.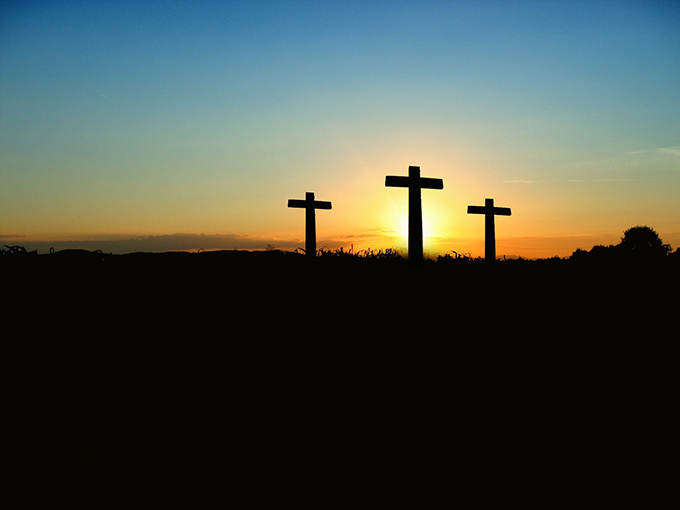 I was born Catholic. As a baby, I was baptized Catholic. I grew up Lutheran and Catholic, but I attended Catholic elementary school. I was confirmed Catholic. Ryan is Lutheran, but we were married Catholic.
And so, quite honestly, being baptized again this Sunday is going against a grain I was born and raised with. In the Catholic religion, once you are baptized as a baby, you are baptized for life. I do realize how this might look to some.
But this is about faith, not religion.
My convictions are strong.
Being baptized as a baby proclaimed faith for me. I am grateful for it. We will do the same for Samarah once she's ours forever. But being baptized as an adult allows me to proclaim this faith for myself.
These past several years have taken me through emotions I never knew would be possible. During this time, Ryan and I found a church we love – Southwinds. I know many might read this and think it crazy for me to say, but the church (and how I've grown in that church) has helped lead me to a place where faith is what I cling to most.
I have cried to the Lord in deep, dark hours and truth be told I have oftentimes found myself questioning everything I'd ever believed.
I have always smiled and thanked him profusely for beautiful things I could not have ever imagined coming to life.
But through all of this, I have learned that He owes me neither this nor that nor anything I may have or not have.
He has already paid it all, and He gives daily what is found consistently and constantly nowhere else – love and forgiveness.
Baptism for me is about faith, renewing my faith, choosing faith and doing the very best I can to live out this faith in the ways He calls me to live it out.
I listen to subtleties in my life now more than ever because of this faith.
For it is by grace you have been saved, through faith….it is the gift of God – not by works, so that no one can boast. Ephesians 2:8-9
When I wrote that blog post, Hope, two years ago, I was in a much different place. And yet, my faith had already started to bloom. Today I am reminded how awesome and true it is that Saturday always turns to Sunday, that He has never failed me and that faith, hope and love continue to be the driving forces in my life and in my heart.
Xox,
SKH
You will heal. I will help.