Since early Friday morning, I've been finding brand new ways for finding beauty in the dust.
Gigi's 4th Birthday
Gigi (my friend Susan's little) turned four, and so Samarah and I went to her 4th birthday party together on Saturday. Samarah wore a cute, little girly and purple tulle skirt, long-sleeved princess shirt and a purple headband. As soon as we got there, Susan grabbed Gigi (away from the herds of people) and came over to us saying, "Gigi, Samarah came to celebrate your birthday." Gigi looked at Sam, touched her headband and said, "Hi, Samarah. Thank you for coming to my birthday party. I like your purple headband."
(Lump in throat. Carry on.)
Fast forward about 45 minutes when it was time for us to sing Happy Birthday to Gigi  and to watch her blow out her candles. We sang, she smiled and then, innocently, she blew them out.
(Lump in throat. Getting larger. I held back tears.)
Later that night, Ryan put Samarah to bed at the usual time. She woke up around 10:30pm screaming and after awhile, I went in, picked her up and rocked her back to sleep.
It was now just Samarah and I, there in the silence, with nothing but each other – and my thoughts. I stared at her as she slept so peacefully in my arms. The lump returned again, and this time a tear fell.
Early Friday Morning
Last Friday morning started out like many before, on the days when Samarah's social worker/our adoptions worker comes to visit.
But this time was actually very different than all the other times, and I was not prepared for it. For the first time in (over) the 10 months that we've had Sam, the social worker brought letters upon letters from Sam's birth mom.
I have read through the pile just one time since, as I can't bring myself to read them over-and-over.
Where I once thought "the end was in sight," suddenly seems so far away.
What the letters say will never be shared, but the feelings they left me with that day are feelings I wouldn't wish upon anyone.
These are the tiger stripes on my heart I was talking about so long ago.
One mother carries this child for 26 weeks and 4 days, the other has prayed for this child and has left her heart on the line for this child since the very moment we got our call.
There are things I can never understand "from the other side," but what I know more than anything I've ever known before is that Samarah truly is a miracle baby, a miracle baby who has never known anyone but Ryan and I, and a miracle baby that would shatter our lives if she left.
I never knew my heart would fall completely vulnerable to a child I did not physically give birth to. But it did.
Gigi's 4th Birthday
Gigi blowing out her candles at her birthday party, surrounded by family and friends and more love than she could ever know had me digging deep to fight back tears.
I saw my own little Sam in her shoes.
I found myself thinking, "Dear God, please let us see the day when Samarah is blowing out her own 4 candles, smiling and happy. Please."
Her 1st birthday should be just the first we get to share with her…..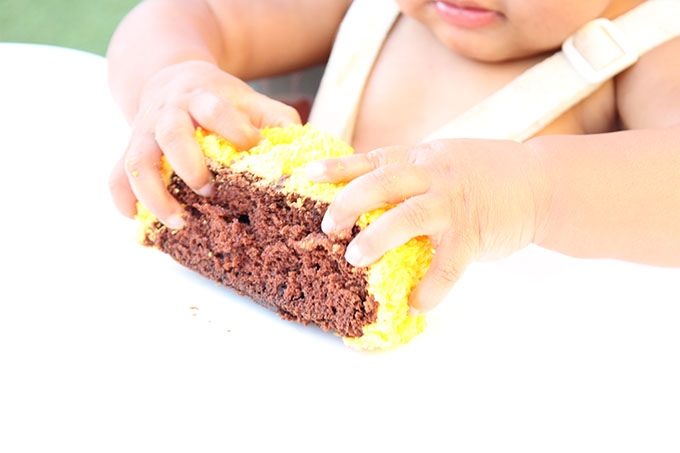 The Dust
A woman that I barely know wrote the following to me Friday morning after I told our private adoptions group about the morning:
Stay strong and enjoy every moment with that precious baby – your own blog has the best advice for you – find the beauty in the dust, and take each day one at a time.
(As a side note, this is a group I would never take for granted. Each and every single person in there knows these feelings all too well, as they deal with them daily.)
I thought about this a lot this past weekend. I'm still proud of these gravel roads, and I do maintain that I find beauty in the dust. Even though we are going on almost a year of "dust," there has been nothing but amazing and pure beauty in our lives.
When I live in the present, and when I give this to God, I feel so much more at ease.
There is a plan for this baby girl, and even though there are multiple parties involved currently, I have to remain positive that the day is coming when we won't have to worry any longer.
Today I won't worry. I don't have it in me. Today I only have love (and giggles) to give her and share with her.
And ps. tomorrow my company (A Loving Spoon nut butter) will announce the organization we are partnering with. If you're guessing it has something to do with children….you would be correct. My mission is just beginning…..
Love your guts,
SKH
Needs To Improve Grades To Bring The Industry To Grow
Louis Vuitton Taschen
When several stories deal with children
The Beatles The Monkees And Fashion
burberry scarf
But unlike the A Team
just have fun from the girls games
Murnauer Kaffeerösterei
4 strangely professional units in most seth rogen movement allure
How To Buy Jewelry Online
louis vuitton taschen
How to Get Free Magazine Subscriptions In The Mail
Toshiba PORTEGE T210 Notebook Review
Pandora Charms UK
grant me a Gucci
Design Trends of the 1940
woolrich jassen dames
Flying off the shelves in Wales
Keep It Local reflect on Portland fashion and get a fast
hollister france
Escape from the ordinary
To Obtain a Polished Look
woolrich outlet
it's located 90 miles 145 kilometers south of Key West
Shop Macy's doorbusters on Friday and Saturday
woolrich westminster parka
Season the pork well on all sides with salt and pepper
Shop Macy's doorbusters on Friday and Saturday
woolrich
Season the pork well on all sides with salt and pepper
You will heal. I will help.