11 Week Half Marathon Training Week 1 ended today.
Whew. Here we go!
I have decided to give you my weekly workouts each week throughout this training, to tell you how I'm feeling and what I'm learning. I am mostly doing this to stay accountable to myself, but I'm also doing it to prove that even with Colitis, fitness goals can be worked towards and even achieved.
You're going to see that it's not easy. I never really know how my workouts will play out because I never know if the Colitis will act up, if my energy is spot on for the day or if my horrible cramps will show up at any given moment.
This documentation is my way of helping you get through your own first half marathon, PR'in a half marathon and/or proving that no matter what, the things we strive for are in fact possible.
11 Week Half Marathon Training Week 1
Click HERE to save this post for later.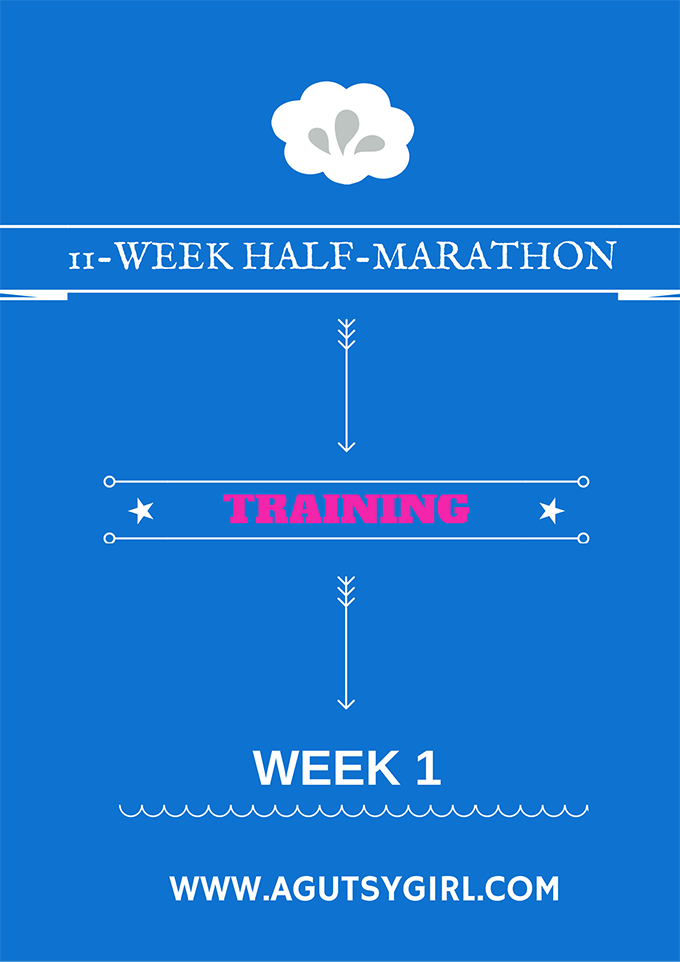 The basics
This will be my 5th half marathon. My best time thus far was in 2009, with a 1:48:30 finish. My last recorded time was in October, with a 2:00 finish.
I am aiming for a 1:45 finish time, and I am running the San Diego Rock 'n' Roll Half Marathon on Sunday, June 1, 2014.
1:45 equals an 8:00/mile pace.
Creating the plan
I have been running for quite some time, so I already understood the basics of creating a plan. What I didn't understand were more in-depth tactics, speeds, training runs and putting it all together. One of my Instagram buddies recommended the book, The Daniels' Running Formula. I bought it immediately, and most of my runs were formulated from information in the book.
I do not follow anything to a "T" in the book, but I do follow the VDOT values pretty closely. I'm hoping they make a difference with my overall results.
I also have incorporated weight training, stretching and foam rolling each week. I am not doing any heavy weights – higher rep, lower weight for more of an endurance aspect. I am also not doing strength training based on any rhyme or reason, but instead mostly just intuitive weight training. This type of training falls in line with what Nia states, "Listening to your body's feedback and adjusting accordingly." I do what I have the energy/will to do on any given day.
I am trying to run and/or workout just 5 days per week, with 2 full days OFF. I had planned for 6 days, but after meeting up with my friend Marci this week, I think I've decided to drop that extra one, put in a little more on 1 or 2 of the other days and give my body 2 full off days.
Ready?! Let's dig into Week 1.
Week 1
Monday
Today was supposed to be a 30 min. "E" (E = easy pace) run. I got sick during the run, so I was only able to do 21:30 with a 6.4 – 6.7 pace on the treadmill. (Note: anytime I'm on the treadmill, I'm always at a 1% incline.)
Tuesday
Workout: 30 min. "E" + 6 "ST" (ST = strides, kind of like sprints, but not full out like sprints) and shoulders.
This is the workout that I was supposed to do yesterday. I decided to do it again, and start fresh with my training. Bumps in the road don't stop me. I always know that "tomorrow" is a new day. I ran a total of 36 minutes and 4 miles. My E pace was 6.4 – 6.8 and the ST were done at 8.0.
I kept the shoulder-dominant workout basic.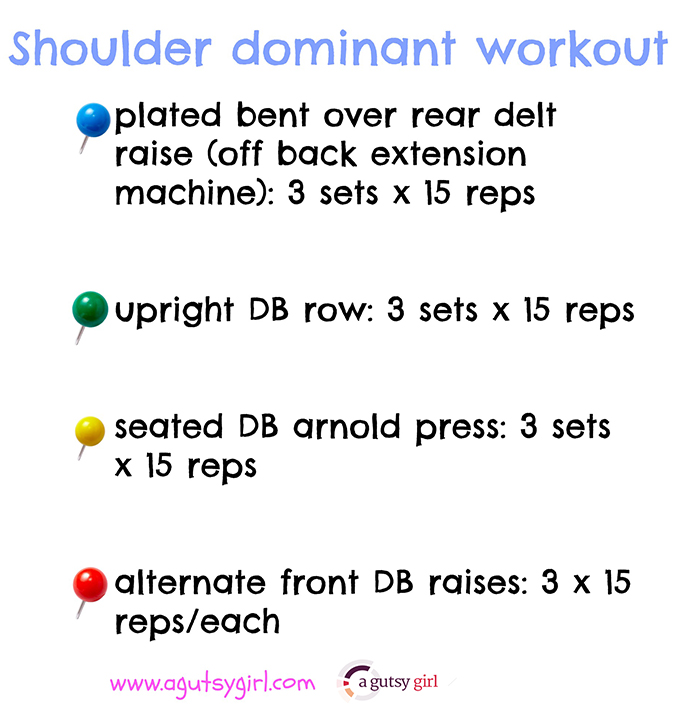 Wednesday
Workout: sets (200R + 200jg + 200R + 400jg + 400R + 200jg) (R = hard, that's all you need to know!) (jg = jog, I take those fairly easy)
I began with an E 10 minutes, and then completed 2.5 "sets" of the above. It was a super hard workout for me, but I felt great. I learned today that these more intense workouts must be done earlier in the morning vs. later in the day. I only made half of the 3rd round because my stomach was extremely jumbled and everything went through me, ending the run early. I did just 2 minutes of E cool down, along with some foam rolling.
Thursday
Workout: Legs
Remember, my legs days are not with heavy weights. As a matter of fact, many of the exercises are body weight only and I add plyometrics in as well for more "endurance-based" leg exercises.
10 min. E running warm up
3 sets of all the following
leg extension, 15 reps
jump squat, 20 reps
seated hamstring curl, 15 reps
standing calf raises, 15 reps (<– this one I do go heavier at 195 pounds)
jump split squat, 12 reps/each
glute bridge on the floor (off heels), 15 reps
BB squat, 10 reps
BB stiff leg deadlift, 15 reps
deep plie squat, 20 reps
Friday
Workout: 3 miles at T pace + 4 x 200R with 200jg in between (T = tempo pace)
This was a total of 40:50 minutes and 4.8 miles on the treadmill. I did a 5 minute warm up at a 6.5 E pace. The next 2.5 miles I did at 7.6-7.7. The last .5 miles I increased to 7.8. I recovered for .25 miles. I ran the 200R's at 9.3, with jogging recoveries.
I completed the workout with one super set "core," which included 3 sets of:
plate side-to-side, 15 reps per side
plank, 1 minute
Hardest workout for the week thus far.
Saturday
OFF. Well, Ryan, Samarah, the dogs and I did go for an hour walk and it was lovely 🙂
Sunday
Workout: L run (L = long), 5.5 miles
I struggle most with these workouts, not because they are the hardest, but:
I mentally think that I need to run them at the 8:00/mile pace I'm aiming for.
My body isn't used to running more than 5 miles currently.
I like doing my long runs outside, and it was beautiful out this morning for the run. I finished in 45:50, which made it an 8:34 average pace, which is a lower pace per mile than what I'm "supposed" to be at. I'm supposed to do these runs with a maximum pace of 8:50/mile. My breathing was good, but legs felt heavy and tired. They are not heavy and tired from overuse, but instead from lack of overall mileage training. I realized today that I need more overall miles to build up that memory.
Upcoming Week
I'll be increasing my mileage each week. I'll work to get it all in in 5 days.
I'm looking forward to this next week. So much more information to share!
Xox,
SKH
You will heal. I will help.