This is my Monday – Sunday minimalist workout schedule.
As I've mentioned several times over the past few weeks, I no longer have the time or desire to spend countless hours in the gym. My goals and priorities are different. I'm loving the change, and so is my body!
Less is more for me, for now.
I currently have 3 workouts I toggle between. I'll break them down for you.
Monday – Sunday Minimalist Workout Schedule
Click HERE to save this post for later.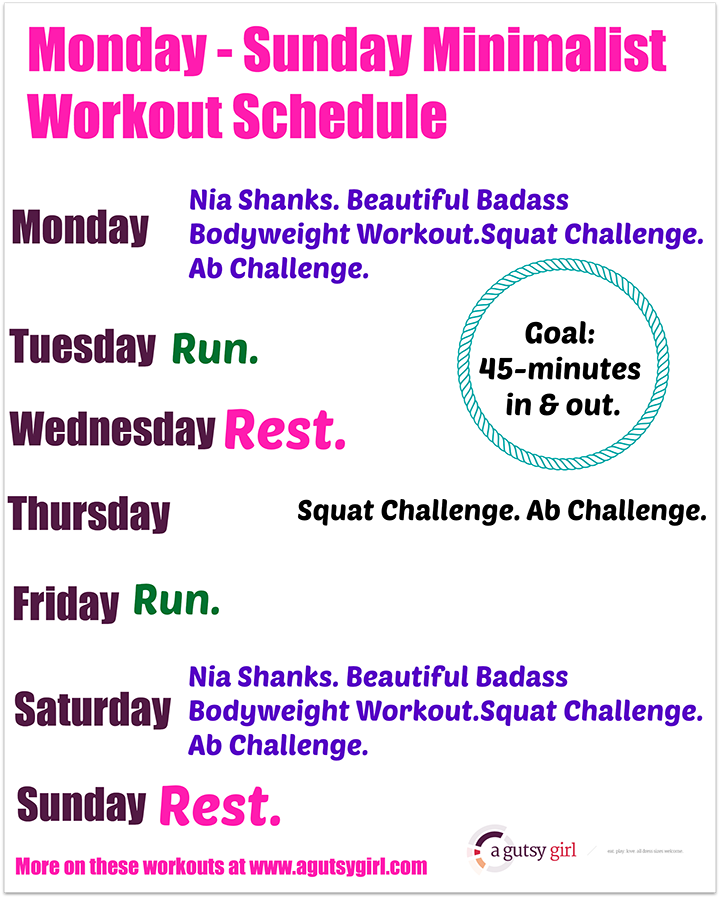 Running
My first goal with running in 2014 is to run a 1:45 half marathon in June at the Rock 'n Roll San Diego. In case you don't know how that breaks down, it's an average pace of 8:00/mile for 13.1 miles.
Currently, my half-marathon PR was in 2009 with a 1:48:30 finish at the Nike Women's Half in San Francisco.
The "true training" begins Monday, April 7. I used to train for months on end, but I learned that that did nothing for my gut healing and/or fitness levels.
Less is more, and being smart is critical.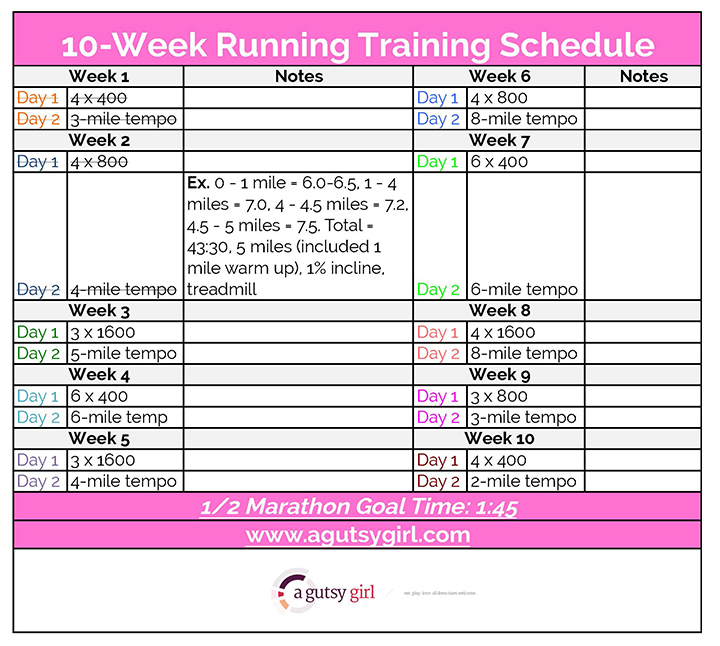 I began training a couple weeks ago. And I only run two days per week. On those days, I only run (and foam roll, stretch). Nothing else; no cross training, lifting, etc.
I run fast (intervals and tempo), and I am not doing any "long runs" yet. Instead, I am saving these for my true training. This running schedule will take me to about mid-March, which will allow a couple week break before true training begins.
Lifting
I am doing the 14 Week Total Beautiful Badass-ification Nia Shanks Workout Program. It's a bodyweight program. My 14 weeks will actually be longer because I'm only doing it 2 vs. 3 days per week.
I'm finding that the more balance I put into my workouts: running + strength + cardio-strength, the better I feel, quicker I heal, and stronger I get.
Random Challenge-ing
So I'm "that girl" who decided to take on a 30-day challenge.
No, I'm not doing the 30-day squat challenge and 30-day ab challenge because I want my butt to lift higher or abs to pop.
I'm doing it because they are both helping with cardio-strength for me, which is an added benefit for my half-marathon training. I need to get stronger and quicker if I'm going to run a 1:45, so each day when I do these challenges, I don't take breaks.
I don't do 10 squats, rest, 10 squats, rest, etc. Instead, I crank them all out at once. I am currently up to 150 squats and 100 abs.
Again, this 30-day challenge will last longer than 30 days because I don't do it every single day.
45 minutes is all I allow myself (some of the longer tempo runs will take more than 45 minutes once I get to them – the only exception).
I take two FULL rest days, and one day where I'm only doing something for about 15-20 minutes.
This new, more minimalist way of approaching workouts is working for me.
If you're burned out, not seeing results or simply just have shifting priorities like I do, I'd strongly recommend creating your own minimalist workouts. Feel free to copy mine.
Xox,
SKH
You will heal. I will help.