I have been living life vs blogging life, so I stopped blogging my 21 days early.
That was kind of a preview.
Living Life vs Blogging Life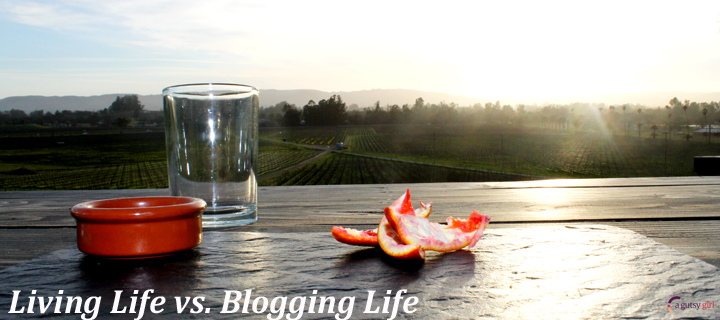 My blog is an outlet, a home and a place for me to share what I know to help Gutsy women not just survive but thrive.
I have written thousands and thousands of words, and I have published almost 800 posts. I have given countless things for free, on most days of the week and have been consistent with giving away the information I used to crave while reading other people's blogs.
The truth (for me) is that spending so much time and energy doing this – blogging life – has taken away from the true essence of existence – living life.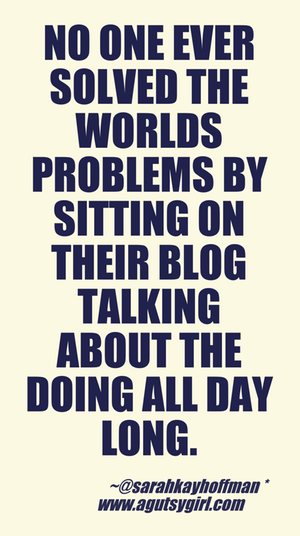 Would I love to blog three times a day and have my blog readership grow immensely? Of course. Who doesn't want a popular blog? More importantly, who doesn't want to inspire thousands and thousands of people?
But I believe, no I am certain, that living life more will ultimately mean that I can do more to help and inspire more.
Why?
Because no one ever solved the world's problems by sitting on their blog talking about the doing all day long.
Am I leaving my blog for good? No way!
Am I making changes immediately? Yes. I must. Life isn't waiting for me.
How am I scaling back? I will probably only blog 1-3 times per week. In return, I have so many things up the sleeves.
Upcoming Spring + Summer
Cabo. Rest, relax, eat, play, love, drink, be, zen

Training for a half marathon
Prototyping a physical product for A Gutsy Girl
Chronically On-the-Go. But not like you think, planning "travel-related" things for A Gutsy Girl with one amazing travel woman
Helping my "digital clients" with their online projects and planning so that they too can enjoy life more, work less
Hershey, PA. Traveling to the sweetest place on earth
NYC. #140You
Releasing a summer desserts e-book
Focusing on my own gut, continuing to heal
Leading a #FitBlog Chat with the awesome Katy Widrick
Working out early in the morning so that it's done for the day, allowing me to engage in fun activities (which may or may not include wine strolls with my friend Jenna) at night
Minnesota. Homeskillet, family
Developing new group programs
Park City, UT. Adventures for said "half marathon training"
Knowing and being with the Lord more, making peace with the things I cannot control – learning to fully trust
Do you see what I mean?
There is so much life to live….and I am so excited to live it.
p.s. Living begins today. Ryan and I are taking our 9-year-old nephew to Tahoe for the night. No blog. Just: eat. play. love.
Get out there and LIVE, friends!
Xox,
SKH
You will heal. I will help.