The million dollar question today is can you survive on 35 dollars for one week?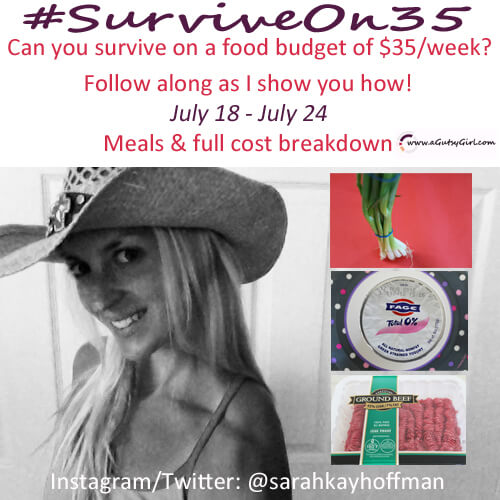 I have been chosen, along with 9 other FitFluential Ambassadors, to participate in this challenge, which is sponsored by Anytime Fitness. The challenge was inspired by Chuck Runyon and Dave Mortensen's appearance on Secret Millionaire. (Did you see it?! We did, you know, because we are homeskillet Minnesota kids at heart out West!)
The challenge has provided me a total of $70 ($35 for me, $35 for Ryan) to eat 3 meals a day for the next 7 days.
The breakdown: 21 meals or 42 "plates," with each plate costing about $1.67.
From the second I stepped into my first (of 4 – yes 4) grocery store, the hands were clammy and a sense of anxiety took over.
This food show I run around the Hoffman household doesn't include boxed mac 'n cheese, cookies, Ramen or Twinkies. It does include fro yo, but that's only once a week, at a fro yo shop….and wow -> now I'm really getting off topic 🙂
Can You Survive on 35 Dollars for One Week
Create 21 meals with the food I bought (all food pictured below)
Photograph receipts, food, and meals
Detail each day, RIGHT HERE, I'll post the pictures and ingredients, directions, meal total cost and day total cost for you
I would love for you to join me! Something to note: All of the Ambassadors participating in the challenge are entered into a contest sponsored by Anytime Fitness. Two of us will be selected as "winners." According to Anytime Fitness co-founder, Chuck Runyon,
Challengers will be judged by Anytime Fitness staffers based on budget, health, and taste. It also doesn't hurt to get great feedback in the form of likes, shares, comments, etc.
The "prize" is something that does not behoove me personally. It would give back, which is the most amazing part: "a $1,000 donation to the food shelf of their choice."
This is how you can help me:
Share, like, comment, tweet or anything else your heart desires any of these posts/ideas. Use #Surviveon35
Join in with me for the week if you feel inclined. It is an eye-opening experience, that's for sure
Come tweet with us during the culmination Twitter chat next Thursday, July 26th at 9 pm EST/8pm CST (Hashtag -> you guessed it: #SurviveOn35)
The end. If you like what you see, just share it or join in
Will you participate?
Are you looking for health and on-a-budget ideas?
Do you think you could do it?
Ask me any questions!
Xox,
SKH
Below is my full gallery of every single item I bought to get started. Feel free to purchase them and follow along for the week. Meals start tomorrow so stay tuned!
You will heal. I will help.