Simplifying with silence; it seems like an oxymoron for me, but alas goal 8 silence is really a goal.
Think about all the noise "pollution" we are faced with each day. From our cell phones to music and television to constant chatter and commotion. Even when there's "quiet" via whispering or a reduction in noise, the sound still lingers.
I am making it my goal to have 15 minutes of pure silence per day. This seems like such a short amount of time, but consider the fact that (other during the night while sleeping) you probably never have even 5 minutes of pure silence per day.
Goal 8 Silence
Click HERE to save this post for later.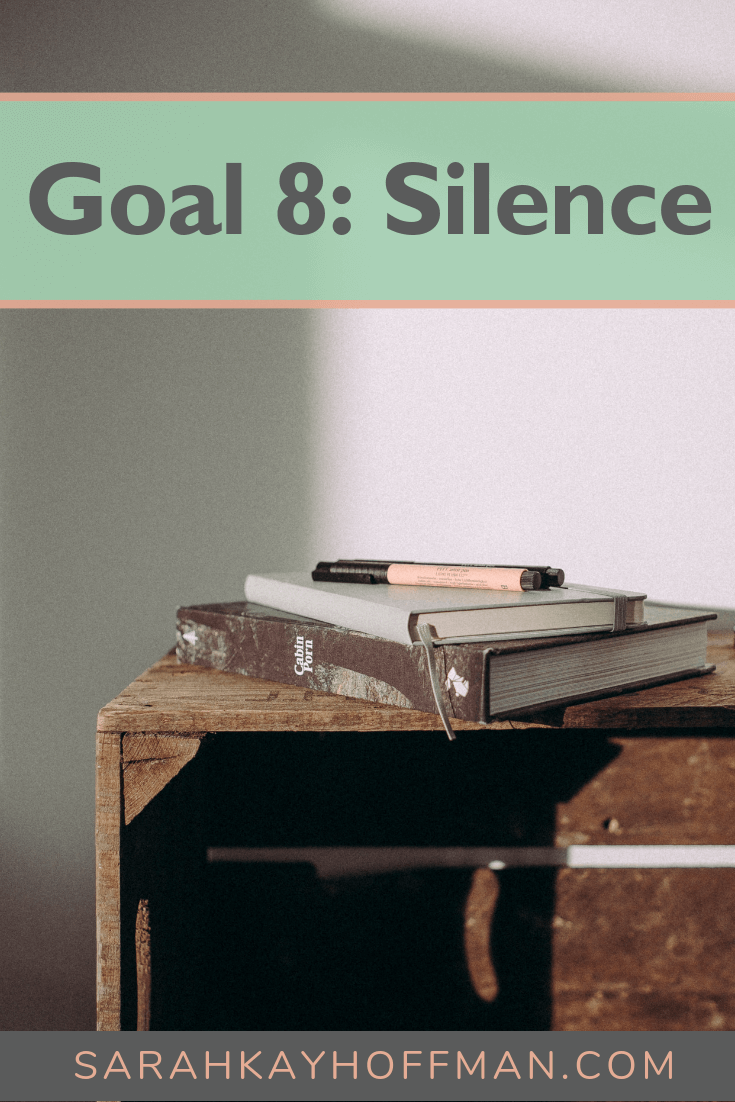 So what could you do during 15 minutes of pure silence?
Here are some ideas:
Journal. Whether you take to a notepad and paper or keyboard and monitor, just start writing. Writing is a huge outlet for me, and even if it's not for you, you might discover something new about yourself while writing in silence. Just 15 minutes.
Yoga. There is no need to talk while practicing yoga. Yoga is good for the body, soul, and mind, so you'll be getting many benefits during this period of silence.
Walk outside. Go for a walk, all alone. You don't need headphones or anything; just yourself and your thoughts.
Sip tea. Or coffee. Or whatever. You can enjoy a beverage while sitting in complete silence.
Read. Read the Internet, a book, the newspaper, or anything else. While it's completely quiet, you'll absorb more than ever.
Sketch. Sit in silence and draw. I'm the worst drawer in the world, but I sure can doodle. You can, too.
If all else fails, just sit there; yes, sit still in silence. For me, this is one of the hardest things in the world to do; it might be for you, too.
But that's the point of this goal – to do things that put us outside of our comfort zone, for the better.
Xox,
SKH
Other Goals
Goal #1: The Scale
Goal #2: Simplify – Get Rid of Things
Goal #3: Simplify – Food
Goal #4: Habit
Goal #5: Nothing Financial
Goal #6: Hydrate
Goal #7: Workout….but with Acceptance
You will heal. I will help.