Goal 7 Workout with Acceptance.
I have spent most of my life, like many of you saying, "My New Year's Resolution is to be in the best shape ever." Some years I have succeeded; some years not so much. But during all of those years I never had 100% happiness with and through it because I have never worked out and had acceptance. Typically I have worked out, truly focused and then (over) worked out and (over) focused because I never reached true acceptance.
Goal 7 Workout with Acceptance
Click HERE to save this post for later.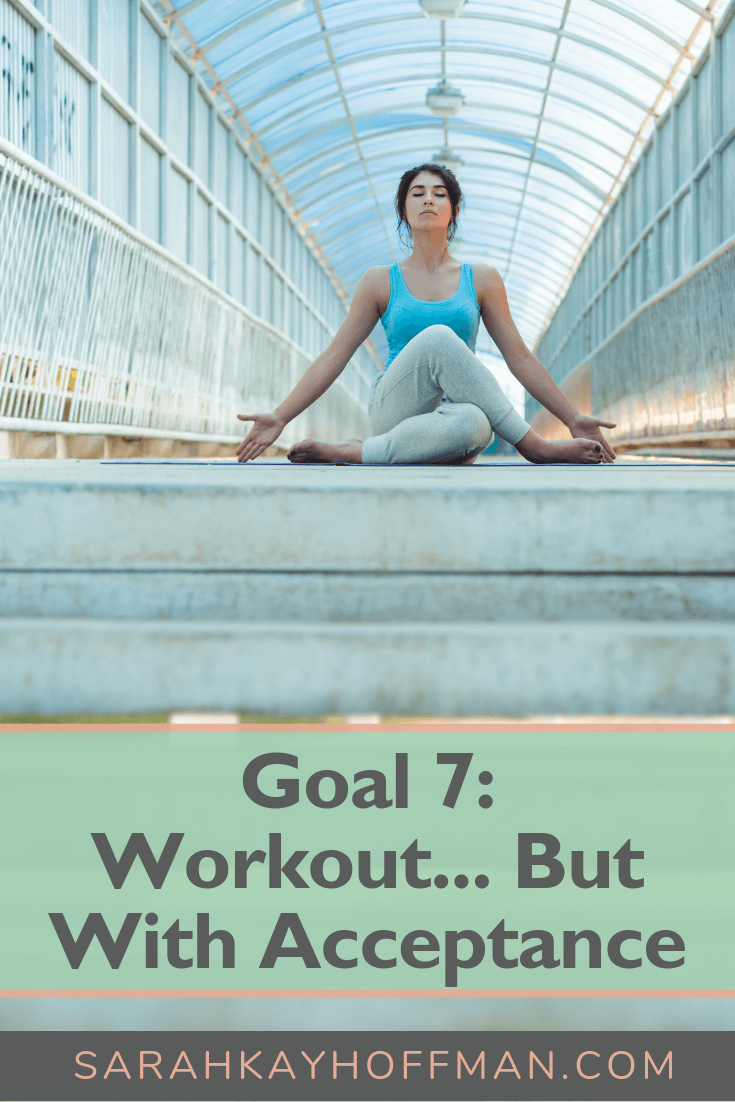 This year, I am making it my goal to continue with my workouts, but in a slightly different way. I have 2 goals with my workouts:
Workout or move every single day (just not intensely). It is very important to me to always schedule me in each and every day and to not let other things get in the way of the me of tiME. Because I work at home and am addicted to my work, there are many days when I could sit for 8 hours on end without realizing that I need to get up, move and hit the gym. But here is what I've realized – when I move, when I am active, and when I get all my energy out at the gym or in some other way, shape or form, I am a more motivated, happy and am a less-anxious person. I am more calm, productive and ready for new challenges. I will move each day at least 30 minutes because it's good for the body and soul; not because I feel the need to achieve any mammoth goal.
Changing it up. No more day-in and day-out of the same workouts. I'm changing it up, and I am going to do so constantly to keep this fresh and exciting; never allowing boredom to creep in. I'm planning on more balance – a lot of strength training, intervals, biking, running, various cardio machines (ah – I still want a Peloton for the home gym!) circuits, yoga, core, hiking; all of it.
And this brings me to the second part of all this: Workout….but with Acceptance
I love working out so much that there are many times my body screams "no," but my mind screams "yes." I've been working on listening to my body more. The goal this year is to workout….but accept that when my body screams "no" that's exactly what it means.
I workout for many reasons. One reason, like most everyone else, is to stay fit ad healthy. But my goal for this year is to accept the things about my body I cannot change – to embrace and to love the fact that I take care of myself. Working out and staying fit should exude confidence. I refuse to spend hours and hours anymore working out and staying healthy to not have this confidence solely because of things I cannot change. And yes, this is yet another reason I'm giving up the scale for the entire year!
I believe that getting to this point of working out with acceptance will lead to more simplicity, peace and happiness in how I treat my body and even more importantly how I treat myself. And ladies, this is key.
Read Through the Complete Goal List
Goal #1: The Scale
Goal #2: Simplify – Get Rid of Things
Goal #3: Simplify – Food
Goal #4: Habit
Goal #5: Nothing Financial
Goal #6: Hydrate
Want more for your New Year? Check out The Gutsy Girl's Bible: an approach to healing the gut and/or consider working with me 1-on-1.
Xox,
SKH
You will heal. I will help.