Seems so basic, yet most people are never properly hydrated (I'm also raising my hand). So goal 6 hydration is where it's at.
The human body contains anywhere from 55% to 78% water depending on body size. (Wikipedia)
We need and depend on water. Water not only is essential for survival, but it also just helps the body move properly and filter everything through us.
I know this.
So I'm embarrassed to admit, but will admit: I hate water. I rarely drink it.
Goal 6 Hydrate
Click HERE to save this post for later.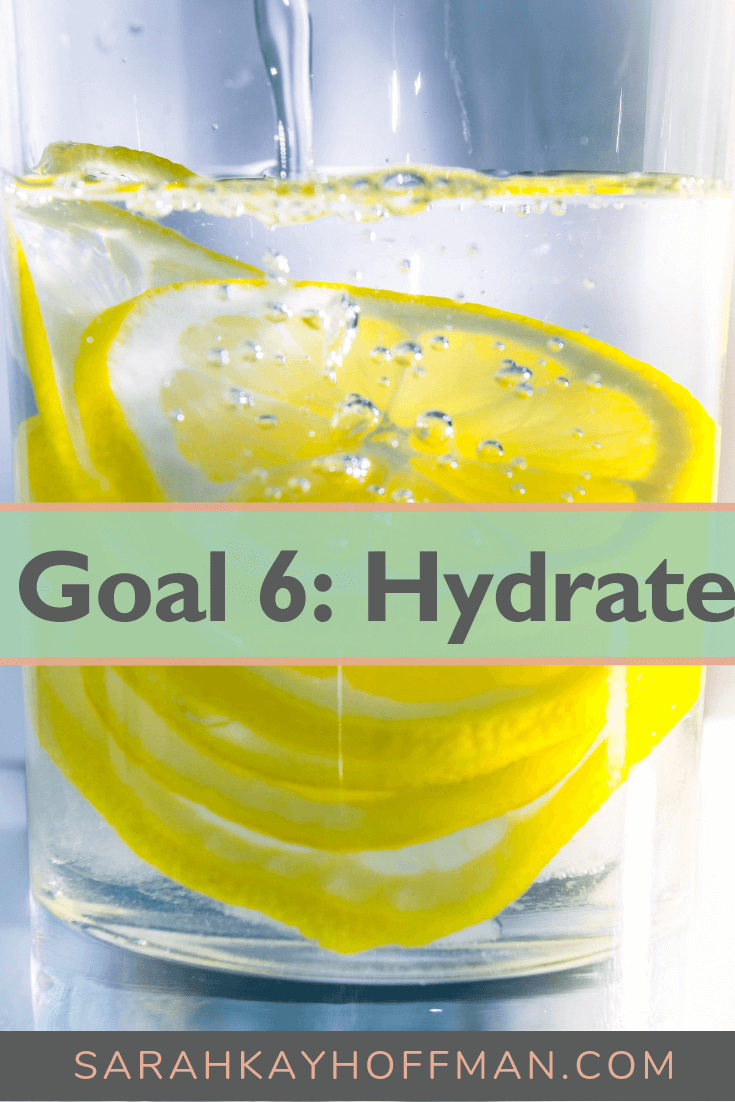 But this is going to change. I am going to make a habit out of drinking water, always staying properly hydrated and utilizing that (simple goal) in helping my digestive tract thrive.
So how much? Danny McLarty says to "drink half of your body weight in ounces per day."
This will mean I must commit to roughly 62 ounces per day.
Drinking water doesn't mean you have to just drink plain water. For me, I can use my homemade vegetable broth towards the goal.
I can also use my new tea hobby (which I'm excited to talk about in the next couple of weeks on here), and also my Lemonade Recipe to get it all in.
I'm realizing that in order to reach 62 ounces per day, there can be so much more to it than plain old, boring water!
I am looking forward to feeling more vibrant, clearing my body and maintaining proper hydration with this simple step to achieving more peace and happiness!
p.s. If you are an athlete, hydration is even more critical. HERE are 5 great alternatives to Gatorade.
Goal #1: The Scale
Goal #2: Simplify – Get Rid of Things
Goal #3: Simplify – Food
Goal #4: Habit
Goal #5: Nothing Financial
Xox,
SKH
You will heal. I will help.