Yesterday I talked about simplifying by getting rid of things and clearing the clutter. Today is goal 3 simplify food – all the food simplifying.
Goal 3 Simplify Food
Click HERE to save this post for later.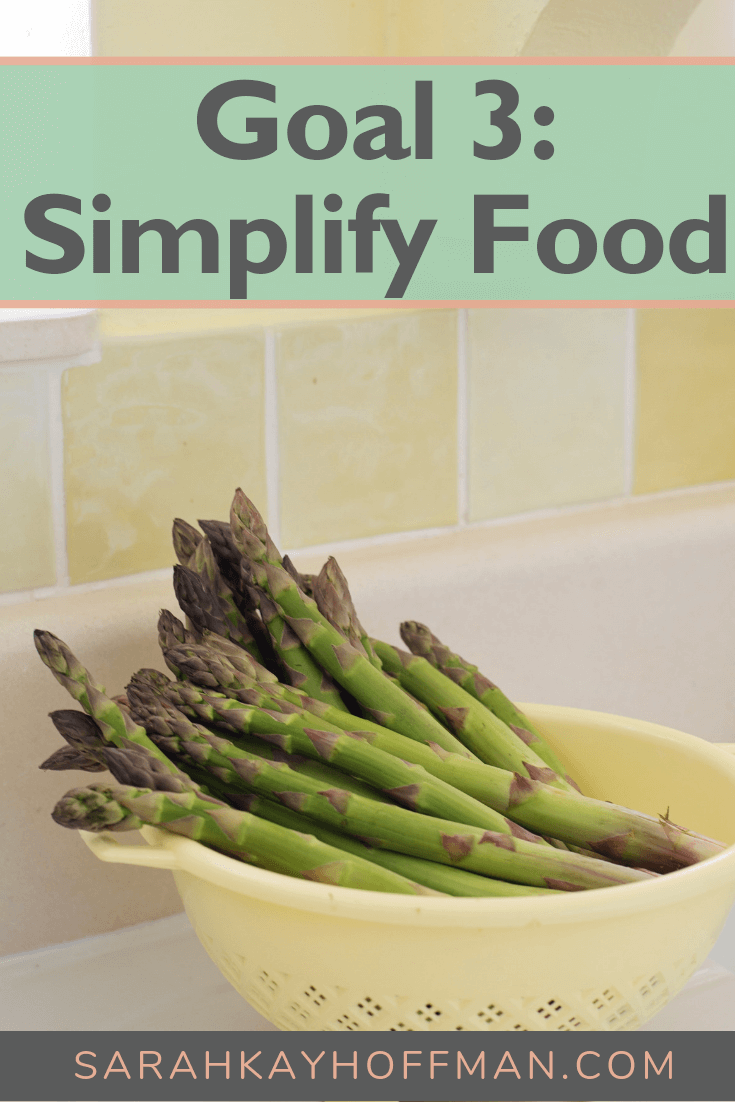 I bet this confuses you, right, given that I can barely eat many things the way it is? There are not many more things I can be doing to simplify my food, so this goal is more of a "reminder" to keep doing what I have been.
Sauces, seasonings and dressings are not important to me. What is important is that I continue to think in the simplest terms and as a "food minimalist."
Simplifying food to me means eating the best quality of things I can eat. Since I eat a lot of meat and fish, this would mean eating organic meat and wild-caught fish as often as possible. The same goes for fruits and vegetables and anything else where "organic" might make sense (and no, cookies are not a part of this).
This also means making it through the whole year gluten free. This upcoming Monday marks my 6-month anniversary gluten free! At the beginning of 2012 I want to be able to say, "I am 1.5+ years gluten free."
I have taken major leaps, bounds and strides in the right direction for simplifying food and making it as healthy for my body as possible. But I know there is still work to do. And I am looking forward to this new and continued kind of simplicity, peace and happiness via simple ingredients/food and food minimalism.
Xox,
SKH
Other Goals
Goal #1: The Scale
Goal #2: Simplify – Get Rid of Things
Goal #3: Simplify – Food
Goal #4: Habit
Goal #5: Nothing Financial
Goal #6: Hydrate
Goal #7: Workout….but with Acceptance
You will heal. I will help.