Half of you were waiting for this part of the series. The other half of you were dreading it. It will probably depend on your current commitment to fitness. From the questions off the original list, "Do you workout daily? 3-4 times/week? Once a week? Never?" This post includes all the basic information on fitness for the professional.
If you Google, "How much exercise do you need," this is what you get. The answer varies depending on the link you click on. So what does that mean? It means that there are studies upon studies done with regards to this question. I have heard (more often than not) 30 – 60 minutes of exercise every day. You can accept that if you'd like. Or you can accept whatever other theory you'd like. That is not important.
What is important is that you are working out or being physical, consistently. If you don't fall into this camp, I know what you are thinking right now. You are thinking either:
I don't have time or
Yuck! I'd rather be….(anywhere but working out)
And so I'll address both.
You say, "I don't have time." I say:

There are 24 hours in a day. You must have at least 20 minutes to get a good sweat in.
Have you ever tried "scheduling" your workout right into the rest of your work day?
Do you need to watch 5 TV shows at night?
Can you wake up 30 minutes earlier each day?
Do you have time to gain weight? How about to feel miserable every single day? Or pay more in medical bills?

You say, "Yuck! I'd rather be….(anywhere but working out)" I say:

Why is that?
Do you think working out equals running aimlessly for hours on end via treadmill only?
Fitness for the Professional
Click HERE to save this post for later.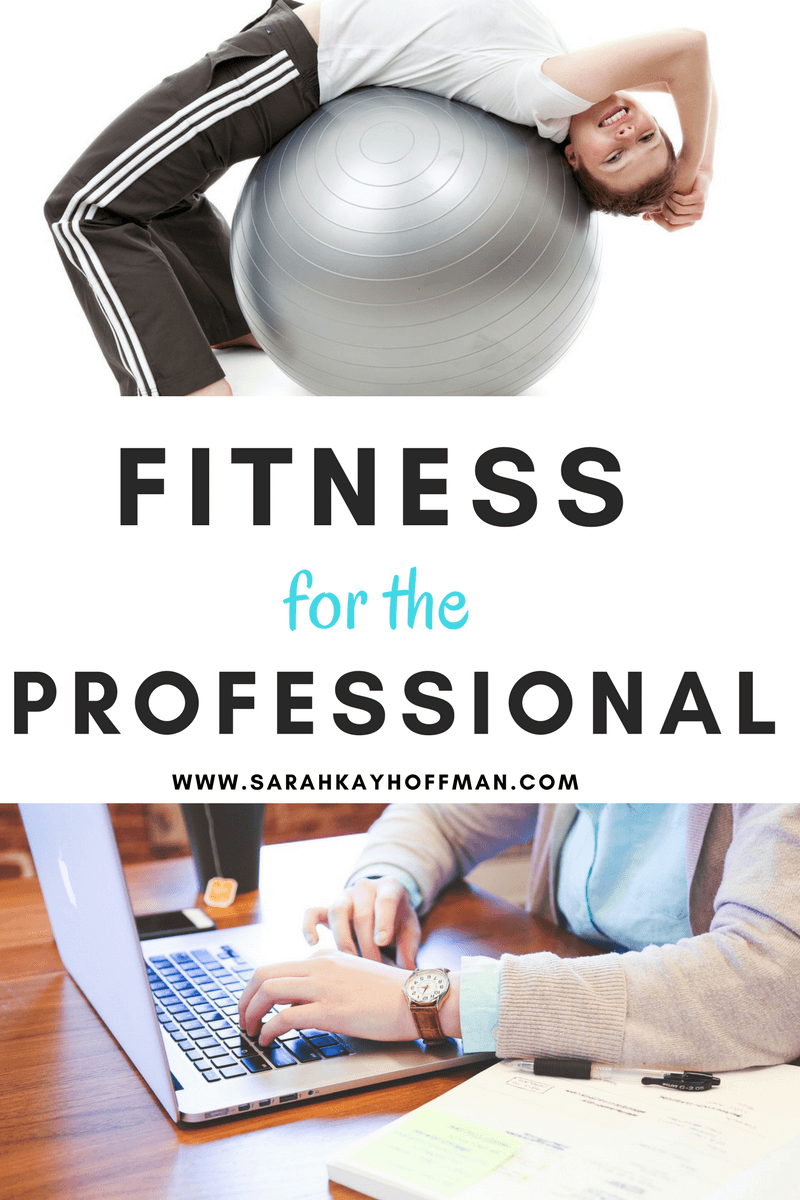 The best way to fitness is through a holistic approach, meshing weights + cardio + diet.
If time is your concern then try this:
Got 10 minutes? Do jumping jacks, jump rope, do squats, pushups, situps, kickboxing moves – anything – right from your home.
Got 20 minutes? This is the perfect amount of time to do intervals and/or Tabata training. Interval training spikes your metabolism and keeps the body burning calories for a long time post-workout. I will run 20 seconds hard and 40 seconds recovery for a total of 20 minutes. You can also do this walking on an incline, via elliptical, stair stepper or even with short bursts of body-weight movement.
Got 30 minutes? Definitely, pick up some weights! Building muscle is the best thing you can do for your body. Muscle weighs more than fat and burns more calories. The more muscle you have, the more calories you will burn just by sitting at your desk tweeting away.
Got 40 minutes or more? Mix it up. Do a little cardio and some weights. Work hard and be efficient. You don't need to spend more than 60 minutes working out if you are pushing yourself to the max! (Some workout programs I enjoy include: 14-Week Bigness Project and anything by Nia Shanks.)
However, if boredom is your concern then try something new:
Always do cardio? Try weights.
Always do weights? Try cardio.
Hate the gym? Go for a walk outside.
Not motivated working out alone? Find a workout partner, club or class to keep you accountable. Or, do like I do and stay accountable with your "fit social friends."
Always bike inside? Try biking outside.
Write a new program.
Try yoga. Or a new form of yoga, like Bikram.
Get a new playlist.
Buy some great new workout gear/clothes/shoes. This one always get me re-motivated!
Sign up for a race or competition.
Add something physical to your bucket list that also conquers a fear.
I could go on forever. The bottom line is that you absolutely, positively must make time for your fitness. You are the only one who can make it happen.
Not only will you look better, but you will feel better and you will perform your daily tasks better. I am happy to dive into any one of the points above further, please just reach out to me!
If you can remember just 3 things and take them today as your "To-Do," I would encourage the following 3:
Write your workout sessions right into your schedule. No excuses.
Figure out what form of fitness will get you motivated to move. And then do it.
There are 24 hours in a day. Surely you have 20 minutes to get your sweat on.
Any questions?! Class is dismissed for today….up next, '"When you had the mid-afternoon "slump," what did you reach for as a "boost?"'
Xox,
SKH
You will heal. I will help.